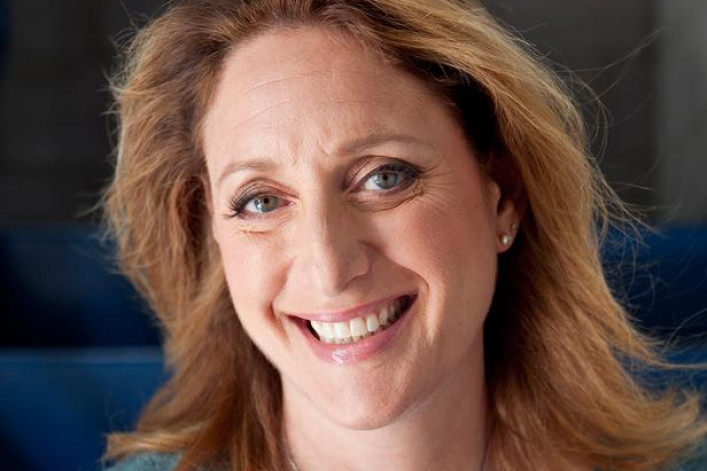 Emmy Award-winning actress and stand-up comedian Judy Gold has appeared on "Celebrity Wife Swap," "Rachael vs. Guy: Celebrity Cook-Off" and "Chopped All-Stars." A former writer and producer for "The Rosie O'Donnell Show," she is also the creator of two one-woman plays, "The Judy Show—My Life as a Sitcom" and "25 Questions for a Jewish Mother."
Gold has lived on the Upper West Side for 30 years, arriving in the city after graduating from college in New Jersey. She now rents a two-bedroom in the West 90s with her family, but before that, she had her fair share of weird roommate experiences.
My sophomore year at Rutgers, I shared a dorm room with a girl who I'd met during my freshman year. Everyday she used to put on her makeup while listening to Pat Benatar and then would spray her face with AquaNet, a hairspray that's thick—it's the reason there's no ozone layer—​in a 10-by-10-foot room. I'd wake up each morning to "Hit Me With Your Best Shot" and the smell of the ozone layer disappearing. 
We were really good friends, and I don't know what happened, but something really pissed her off. She and her boyfriend were mad at me about something, but I can't remember. Imagine listening to Pat Benatar and spraying your face with AquaNet everyday, there has to be some anger there.
One night I was in bed and she and the boyfriend threw a bucket of ice water on me while I was sleeping. Since I'm a Jew, my mother called the head of the dorm to complain. I'm 18 or 19 years old, and my mother calls to complain. That was a bad year. 
It turns out they had stolen all of my clothes and put them in a suitcase before they threw the water on me. Then my mother called the Resident Assistant, Howard, who was my best friend. It was so embarrassing. We were in a dorm so I had to stay with her for the rest of the year.
Then I moved to New York after college and I got this one-bedroom ground-floor brownstone apartment on 81st Street between Amsterdam and Columbus. I think the rent was $400 a month for me. I got the back room, which had an outdoor area attached to it. It was 1984, so the area was not that nice at all. 
My roommate in that apartment was an opera singer whose bed was in the living room, and he traveled all the time. I found him through a gay roommate service that I think advertised in the back of Backstage magazine. He had a cat, and the cat would use the outdoor area off my room as a way to bring dead pigeons or other little birds in the house, like a gift. So I would wake up and there would be a dead pigeon on the floor of my room. We would have this battle where I would be like, "I can't handle the dead pigeon," and he would be like, "It's a sign of affection," and I was like, "It's a dead pigeon." 
He was on the road a lot but when he wasn't I'd wake up and he'd be standing there in the living room in his robe drinking coffee and eating an Entenmann's Danish ring with the cat. And then I'd come home at 5 p.m. and he would still be there with his coffee, and the cat, and his Danish ring would be gone. Whenever I see a Danish ring I think of him.
I bumped into him 20 years later but he wasn't wearing the bathrobe and the cat was dead.
Related:
Q and A with actor/comedian Amy Schumer: NYC is the only place I feel completely at home with the possibility of a stranger peeing on me
Amy Schumer: I had a thing for my doorman. Usually it was vodka
Q&A with NBC's Cat Greenleaf: At her Brooklyn brownstone, she stoops to conquer
Brick Underground articles occasionally include the expertise of, or information about, advertising partners when relevant to the story. We will never promote an advertiser's product without making the relationship clear to our readers.