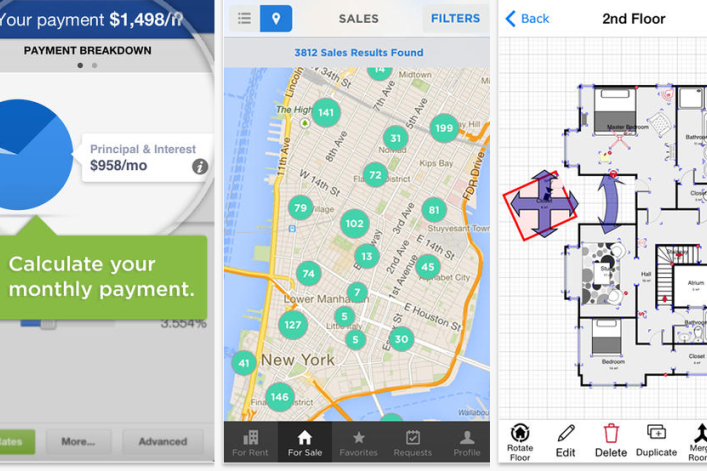 Real estate may be made of bricks and mortar, but the process of finding real estate is now moving almost entirely into the virtual world. In the last few years, the marketplace for real estate-related mobile apps—from apartment listings portals to renovation tools to mortgage calculators—has grown at an ever faster clip. But which ones are actually helpful and which ones just clutter up your smartphone?
We test-drove more than 20 apps recommended by readers, brokers, lawyers, property managers and tech wizards to come up with a list of seven of the most useful offerings. One of the most important considerations was ease of use—who wants to spend precious minutes tinkering with an interface that doesn't make sense? We also looked for apps that streamlined the real estate search and made it less hair-raising and more efficient. 
Check out our finds:
Name: Home Improvement Calcs
Cost: $1.99
Available: AppStore
Home Improvement Calcs is one for both the data and the DIY-obsessed, with its encyclopedic roster of 115 different calculators tailored to different home improvement and maintenance projects. Really, you name a fussy detail of home repairs, and they've got an extremely specific calculator for it (and you can check out the full list of options on their website).
A lot of their material would come in particularly handy during serious construction or home improvement projects, with calculators that'll tell you anything from how many bricks or drywall panels you'll need in a wall to caulking-length estimates to how many amps of electricity an appliance will use based on its wattage. The tool is both vetted by and useful for contractors on the job, making it easy to send out estimates for a project's cost, materials, and time once you've calculated them. 
There's also a lot of useful material for us civilians, though, with conversion of tools for measurement units, water flow rate, electrical current units, etc., and another section for estimating how much A/C power you'll need to cool down a room, or the amount of carpet you need for your floor, plus how much it'll cost. And if you do embark on a longer-term undertaking (or if your contractor does) there are more advanced tools (at an extra cost of $0.99 apiece) for estimating time, materials, cost, staffing, and the schedule of a given project--and a place to manage all this information once you get started.
Name: Houzz Interior Design Ideas
Cost: Free
Available: AppStore, GooglePlay
We could envision wasting more time than is strictly healthy swiping through the seemingly endless, crisp photos on this app, from the popular design inspiration site Houzz. Like a Tinder for interior decorators and homeowners, this app lets browsers save pictures to their "Ideabooks"—in styles from farmhouse to industrial—while little green price tags mark objects available for sale, letting the more serious decorators buy the items directly through the app.
Fans of Houzz will recognize many of the site's features in mobile form, including expert advice on user-submitted design quandaries and a rollicking community of commenters clamoring for product specs. In fact, nearly every part of the app is interactive—so not only can you submit your own questions, you can also offer up your own answers for other readers.
However, while the photos and comments certainly spark ideas for sprucing up your own place, New Yorkers should be aware that this app is geared toward a national—and deep-pocketed—audience. If you're not in the market for a $6,300 bubble chair or a backyard cabana, you may find the app inspiring more envy than action.
Name: MagicPlan
Cost: Free; $2.99, or $9.99/month
Available: AppStore, GooglePlay
This one might take the all-important "coolest-looking" superlative. Whether you're apartment-hunting, planning a move or just constantly redecorating, the idea with MagicPlan is straightforward: create a floor plan of your room so you can map your furniture layout without breaking a sweat (or wrangling with a tape measure during a showing).
Using your smartphone's camera, the app asks you to get clear images of the edges where your floors meet the wall, as well as every corner in the room. (The process is a little bit like depositing a check with your phone, where you hover your phone's camera until the app snaps an image and uploads the information.) Though it's designed to work well on a smartphone, it can take a while to get lined up just right, and we found ourselves momentarily a little frustrated with the process. Once you get it, though, you'll have an exact floor plan of your room, complete with dimensions, and after that, you can choose from their wide selection of standard-sized objects like furniture, windows, large appliances doors, shelving, etc. and move them around the room to get a sense of potential layout.
This level of planning is free, and also allows sharing and exporting of floor plans in various formats, including PDF and JPEG. If you're a business owner looking to use the commercial option, that starts off free, but adding larger features--escalators, etc.--will require upgrading to a paid plan, which will run $2.99 for a single map, $9.99 for a monthly subscription, and $99.99 for the entire year.
Name: Zillow Mortgages
Cost: Free
Available: AppStore, GooglePlay
It takes a lot to get us excited about a mortgage calculator: there's nothing particularly sexy about home loans. But for the apartment hunter who's serious about financing a purchase, the mortgage app from listings site Zillow is the way to go.
Not only is it intuitive to use—for example, you can type your exact income, purchase price and down payment, rather than using an imprecise slider bar—it's also packed with useful information. You can look up current and historic interest rates in New York State, calculate how much interest you'll pay each month and over the life of a loan, and budget for monthly apartment expenses like property taxes and mortgage insurance.
However, the most useful aspect of the app is that you can get real quotes from scores of local lenders. While Zillow's app isn't the only one to offer this feature, it had the most lenders available (by far) during our test run, and we appreciated the hundreds of star ratings and comments from other borrowers—so you don't have to base a decision on which lender to contact based on their quote alone.
The only downside is that you can't specify what type of home you're looking for (condo, co-op, townhouse or multi-family) to specify what type of home you're looking for, you have to open up the "advanced" options in the "get custom rates" section. That piece of information is a big deal because it could affect what kind of mortgage you get and how much you'll pay.
Name: StreetEasy
Cost: Free
Available: Appstore
Perhaps the slickest apartment-hunting app on the market, StreetEasy does what many other listings apps do, allowing users to search for apartments on the go.
The recently re-launched app seems largely devoid of glitches, and has search options for sales and rentals either in your direct vicinity or in a selected neighborhood. You can further filter the search by price range, number of bedrooms and/or bathrooms, amenities, size, and broker's fees, among other options. (Worth noting that in addition to NYC, the app also has features for searching in New Jersey and the Hamptons.)
The layout is largely intuitive--you can look at your search results either as a list with photos, or as dots on a map--and easy to swipe through. There's the option to save your preferred searches, and once you see a property you like, it's easy to save it, contact the agent directly, or share it with someone else via text, email, or Twitter--a particularly nice feature for anyone searching in tandem with a roommate or significant other.
The same information that this app offers is available in a lot of different places and formats, but StreetEasy's version is far more comprehensive and easy to navigate than most.
Name: Venmo
Cost: Free
Available: AppStore, GooglePlay
​While not an app that's geared strictly toward real estate, it's easy to see why Venmo—a service that lets you pay or bill fellow users instantly—could come in handy at just about every stage of your life in a New York apartment. (The process is also foolproof--once you've connected with someone as a friend, just choose their name, select "new," hit either "pay" or "request" money, and enter an amount.)
It makes roommate relations, like the splitting up of utility bills, far easier, and could also be a speedy way to get money to a broker in a hurry without the frenzied trip to the bodega ATM. Now if repairmen and landlords started universally accepting Venmo payments, we'd really be in business.
Name: Urban Compass app
Cost: Free
Available: AppStore
A growing number of the city's real estate brokerages have launched apps in the last few years, but most of them only provide information on the firm's own listings. Which begs the question: how many of those do you have to download to get a comprehensive picture of what's on the market?
One brokerage that's taking a different approach is Urban Compass, which has touted its technological savvy since launching in 2013. (Indeed, the app is "definitely the calling card of the firm's numerous on-site engineers," per a company publicist).
Their app has rental listings from lots of different brokerages, and it's blissfully easy to navigate. For one thing, apartment and building features are arranged in a list of bullet points, so you don't need to read through paragraphs of broker babble to get the pertinent details, like price, pet policy, square footage, and so on. (In fact, it seems that only listings from Urban Compass brokers include descriptions, rather than just a list of features. To be honest, though, this doesn't feel like a great loss, since the relevant info is there.)
You can also see the place on Google Maps, eliminating the chance of showing up to a "Park Slope" apartment that's actually in Bay Ridge.
However, if there is one failing—and this is a big one if you're looking to buy a place—the sale listings seem to be spotty at best. In our test drive, we didn't find any in Brooklyn, for example.  [Update: To get the best results, according to an Urban Compass rep, you have to clear all your search filters, reset them and then search again. We tried this method and came up with 626 sales listings in Brooklyn.]
Related:
Test Drive: 6 expense-sharing apps for roommates
Moving to NYC? Here's a crash course in finding an apartment here
Brick Underground articles occasionally include the expertise of, or information about, advertising partners when relevant to the story. We will never promote an advertiser's product without making the relationship clear to our readers.