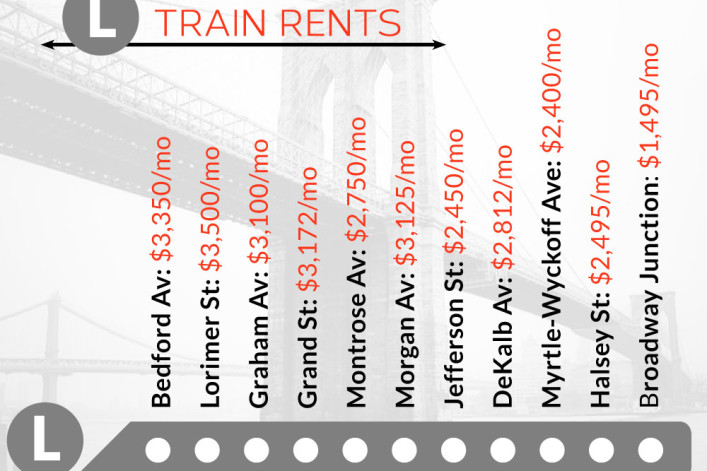 Shooting straight off the East Village into north Brooklyn, the L train is almost like a road map of gentrification and future rent hikes. For years now, the city's budget-conscious and/or artistically inclined have found accommodation off the L, and as landlords have hiked prices, they've steadily moved stops farther from Manhattan, ​adding a few minutes to the commute to save on rent. The pattern is so well-established that the L has earned the nickname "the line of gold" from Andrew Barrocas, founder of the real estate brokerage MNS. 
But, as news came last week of rents in Brooklyn rising once again, we wondered: how much do you actually save if you move a stop down the line? At what point will you really see a break on rent? And what kind of apartment will you get? 
We asked StreetEasy to crunch the numbers on the median rents within a five-block radius of each stop; their data reflects rentals available on their site as of late May. (Since it's a close radius, the numbers also exclude ultra-expensive waterfront apartments, or places that are cheaper but actually a 20-minute walk from the nearest train stop.)
As a rule, moving farther East from Manhattan (or the Bedford stop) will save you some cash on rent, though there were a few surprises in the numbers: rent near Lorimer, two stops into the borough, is actually higher than near Bedford, Williamsburg's pricey epicenter--$3,500​ per month versus $3,350 per month, respectively.
StreetEasy data scientist Alan Lightfeldt chalks this up to the mix of apartments on the market right now, not "a significant cooling of renter interest in Bedford or Lorimer," he says. "These neighborhoods are among the most expensive to rent in Brooklyn." For example, expensive new developments like 55 Hope Street--where a two-bedroom goes for $3,950--could skew the data from month to month. 
It's also worth considering the bang for your buck. While the areas near Bedford, Lorimer and Graham come with what tend to be more desirable neighborhood amenities--proximity to grocery stores, restaurants, bars and entertainment, as well as a shorter commute time--you'll often get bigger apartments further from Manhattan. (And, of course, a lot of people would rather live in, say, Bushwick, than the heart of Williamsburg, so prices don't reliably decline with each eastward move.) 
"In Williamsburg, listings are dominated by one-bedrooms," says Lightfeldt, "whereas at Halsey, you can find very large units with more bedrooms. Even though the total rent might be higher than you expect, the rent per room is quite low." 
Another thing worth remembering: aside from the cost, you may have a more difficult time finding an apartment further down the line, as there are fewer developments and housing stock tends to be more variable. In fact, there were so few listings for the areas around the Wilson and Bushwick Avenue-Aberdeen stops that StreetEasy didn't have sufficient data to come up with averages. Both stops are wedged in tightly between Halsey and Broadway-Junction (meaning there was a lot of overlap), and not a ton of new buildings have gone up there in the past couple of years. 
With that in mind, let's take a look at the actual numbers (and representative apartments at each stop along the way):
BEDFORD
Median rent: $3,350 
Commute time to Union Square: 8 minutes
For better or worse, this is the heart of Williamsburg. The apartments tend toward the small and expensive (other than the ones in new luxury buildings, which are large and even more expensive). While you can't argue with the convenience--it's easy to get to Manhattan in just a few minutes or opt for a far more pleasant commute by East River Ferry, and there are scores of options for bars, restaurants, music venues, shops, gyms, etc.--you'll be sharing the convenience with crowds that are nearly on par with Times Square, particularly on the weekends. It'll never be boring, but the artists who made it a destination in the first place are long gone.
LORIMER
Median rent: $3,500
Commute time to Union Square: 10 minutes
Long the laid back neighbor to Bedford, the area around the Lorimer stop is just a short walk away, and has more than its fair share of places to grab a meal or knock back a few beers. Lacking the same weekend crush of tourists, it's probably the more pleasant place to live. A lot of people have figured this out already, though, and prices for the area's often rundown older apartments have shot up along with rents at the expensive new developments.
GRAHAM
Median rent: $3,100
Commute time to Union Square: 11 minutes
Only a few blocks farther out than Lorimer, the area around Graham has its own row of restaurants and bars all along Graham Avenue. It seems a new one opens up every day, but maybe that's just us. You'll find much the same crowd as at Lorimer, with a few more longtime residents. 
GRAND
Median rent: $3,172
Commute time to Union Square: 12 minutes
A little farther south and a little more removed from the area brokers have taken to calling "prime Williamsburg," the area around Grand has a large Hispanic population (and thus, a lot of excellent Hispanic food), and a more even mix of old and new neighborhood residents. There's a huge new grocery store (and plenty of nightlife) right on Grand Avenue, so while it's less of a destination in its own right, you'd be set for your day-to-day needs. 
MONTROSE
Median rent: $2,750
Commute time to Union Square: 13 minutes
This is the first area that sees a significant drop-off in price, and it makes some sense--Montrose lands between Williamsburg and Bushwick's epicenters, and is relatively removed from both. Still, several new bars and restaurants have cropped up in the past year or two, and there's reliable, old-school Italian food nearby, too. It's also a short walk to beloved local watering hole The Anchored Inn and stalwart venue Shea Stadium, as well several other, generally unnamed warehouse venues. If DIY shows are your thing, you'd be pretty well situated.
MORGAN
Median rent: $3,125 
Commute time to Union Square: 15 minutes
The trade-off of paying more than could ever seem fair for a room in a glorified warehouse in a neighborhood with little green space? Having Roberta's as your neighborhood pizza spot--pro tip, they take to-go orders--as well as access to art galleries and studios, vintage shops, some of North Brooklyn's best food options, a surprisingly wide range of bars and an honest-to-gooodness chocolate factory. This part of Bushwick is a destination in its own right, rather than just a stepping stone to Bedford, and the prices match. The apartments here tend toward the large and loft-like, so be ready to share.
JEFFERSON
Median rent: $2,450
Commute time to Union Square: 19 minutes
Truthfully, we're surprised prices here weren't a little higher. Just as Lorimer has gotten some of the calmer runoff from Bedford's occasional "Disneyland for adults" vibe, the area around Jefferson tends to feel more like a neighborhood and less like a tourist destination than Morgan. (So much so that it's earned its own, controversial nickname: "Jefftown.") It's also home to an ever-expanding roster of good restaurants like farm-to-table mainstay Northeast Kingdom--well worth a pilgrimage--plus a couple of health food stores, small art galleries, huge new venue Radio Bushwick and, you guessed it, a whole lot of bars. Considering the amount of time you'll want to spend in the immediate neighborhood, this is one of the better deals in Bushwick. 
DEKALB
Median rent: $2,812
Commute time to Union Square: 20 minutes
The area directly around DeKalb feels a little more residential than its environs, and your neighbors are as likely to be families as they are young people with $3,000 a month to burn on rent. According to StreetEasy, the past year saw a major influx of larger apartments with more bedrooms, which would explain a 22 percent spike in median rent compared to May 2013 (and its higher median asking rent than the generally more popular area around Jefferson). It's got solid grocery stores, so your basic errands should be taken care of, even if you end up making the five-minute walk over to Jefferson for most of your entertainment. 
MYRTLE-WYCKOFF
Median rent:  $2,400
Commute time to Union Square:  25 minutes
The basics will be covered here--drug stores, groceries, good delis, a gas station--and there is the added bonus of being able to catch the M nearby, not just the L. But the elevated train makes the area noisy, and other than a couple of reliable cafes and restaurants (as well as many top-of-the-line taco stands), this tends to be an area people commute out of in their off-hours. You could end up with the entire floor of a house or a cramped, oddly shaped (and overpriced) apartment here--the housing stock is hugely varied, which means a fair amount of options, but also that you should read between the lines on listings. Assess your options carefully, and you'll likely be able to find yourself a solid deal.
HALSEY
Median rent: $2,495
Commute time to Union Square: 30 minutes
We've heard rumblings that condos are on the way for the Halsey stop--based precisely on the assumption that people will keep moving farther out along the L--but for now, it's primarily a place to land yourself a cheap apartment, rather than a destination. Bushwick Daily recently interviewed a Halsey transplant, and if there's any main takeaway, it's that it'd be a solid place to move with friends or a significant other, but a little lonely to do on your own.
WILSON
Median rent: Insufficient data
Commute time to Union Square: 32 minutes
There weren't enough listings to come up with a median rent for Wilson, which is just a few minutes' walk from the Halsey stop, and borders the Irving Cemetery. However, worth noting that it's right next to Ridgewood, which might be the more convenient option for shaking up your food and nightlife routine than heading back into Bushwick.
BUSHWICK AV-ABERDEEN ST
Median rent: insufficient data
Commute time to Union Square: 33 minutes
Again, no median rent available here. It's important to keep in mind that while brokers might try to sell apartments here as part of Bushwick ("Hey, Bushwick's in the name of the subway stop!"), Bushwick Av-Aberdeen is really closer to the Ocean Hill section of Bed-Stuy (as well as the Chauncey J, Z, which will give you some flexibility for neighborhood hopping), and borders the Evergreen Cemetery.
BROADWAY JUNCTION
Median rent: $1,495
Commute time to Union Square: 35 minutes
So, how far out do you have to go for the rent to really start dropping? Broadway-Junction, a hub of trains that acts as the border between Bed-Stuy and East New York. You can catch the A, C, L, J, and Z here, and it's a stone's throw from the East New York LIRR station. When there are listings up you can definitely find a cheap deal (availability seems to vary, as with the areas surrounding Wilson and Bushwick Ave-Aberdeen), but it's a long way from even the farther flung areas of Bushwick. 
Related: 
12 of the best NYC neighborhoods for recent college grads: 2014 edition
The 8 best websites for finding a no fee apartment in NYC
Ridgewood: the dirt cheap, radioactive Queens nabe that may be the next Greenpoint
​9 NYC nabes where you can still get a bargain
This Brooklynite wants cheap rent--and he's willing to renovate for it
What one Brooklyn guy learned from hosting a live talk show to find a roommate
Brick Underground articles occasionally include the expertise of, or information about, advertising partners when relevant to the story. We will never promote an advertiser's product without making the relationship clear to our readers.