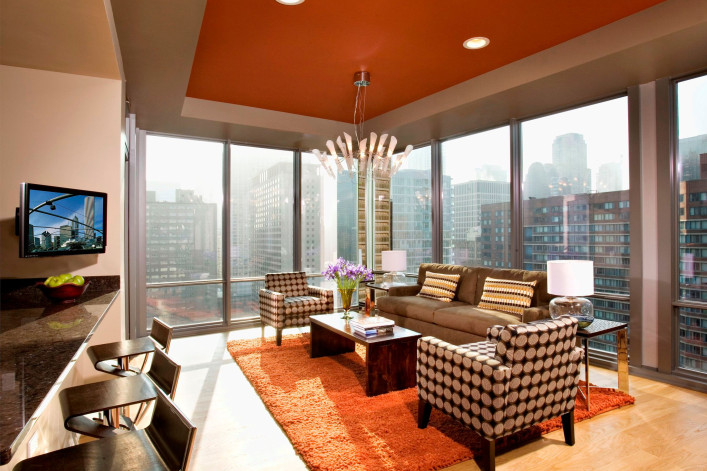 Your apartment isn't making you happy, but who's got the time or money to redecorate? Besides, where to start?
"Usually people can't even put into words what's missing, but what it is is a sense of harmony, a sense that the space just seems right," says Mary Cook, a 28-year veteran of interior and architectural design and the author of the recently released, photo-heavy "The Art of Space."
BrickUnderground picked Cook's brain for tips on how you can revamp your shoebox on a shoestring. 
1. Think outside the floorplan
The owner of the apartment above thought she should put her dining room in the area labeled "dining" in the architectural plans. But the television was too far from the sofa, the conversational groupings didn't make sense, and the room felt smaller because you had to pass heavy pieces
 like an upholstered sofa and lounge chairs as you entered. In short, scale and proportion felt off.
"It wasn't until we erased the labeled spaces names and began with a clean slate that we came up with a layout that worked great," Cook says.
To make the designated "dining area" function as the living area, Cook removed a pendant light fixture meant to hang over a dining table and replaced it with a decorative one (above) mounted close to the ceiling mount that would contribute to the room as art and light. An arc lamp brings light to the table.
This rearrangement also helped the furniture do double duty, which is critical for small spaces.
"We knew that the dining table would be used for working at home during the day so having a good source of light was important," Cook says. "Also, by installing a dimming switch to the arc lamp we now are able to control the light and set the stage for any kind of mood. Low candle-glow light for the evening while dining and brighter task-lighting for daytime work."
2. Make big pieces your wallflowers
Scale and proportion are the two most important words in design, says Cook. When arranging furniture in smaller spaces, put the larger pieces against the wall to help make the room feel more spacious, as in the apartment above and below.
3. Decorate with open arms
If you're buying new furniture, choose styles with open arms and legs, which also make a room feel bigger. The feeling of spaciousness can enhance the way people feel in the room and contribute to the enjoyment of it.
4. Turn on accent lights
If you have track lighting that goes from the living to the dining space and you have only one switch, it can look like the Starship Enterprise just landed in your living room.
As long as you can adjust your lighting, you can set the stage for any activity imaginable, says Cook. Make sure that accent light fixtures switch on and off independently--as they do in the apartment above--and use dimmable switches that allow you to raise and lower light levels for whatever your mood.
5. Streamline accessories 
Art and accessories are the final layer in a room. They can be what pulls an entire space into harmony. Choose fewer, better quality pieces rather than lots of irrelevant things, which can dismantle the harmony of a room faster than anything.
Once you have chosen your unique art and accessories, arranging them will be just as important. Move them around until you reach harmony: you'll know it when you feel it, Cook says.
6. Kick it up with color
Color has the biggest cost-to-impact ratio in the design world, says Cook. So if you are looking to spend some time and money on decorating, paint is a wise investment.
Depending on what you're trying to do, you can use paint on an entire room, as an accent below a chair rail, above eye level (above), behind a bookcase, on a ceiling, or even by painting a graphic stripe or pattern.
You can also add color in other ways: in art and accessories, upholstery, area rugs, and so on--but for big impact with minimal cost, paint is huge.
Related posts:
Before and After:  How a pro stager whipped this Brooklyn home into shape -- and sold it over asking
Brick Underground articles occasionally include the expertise of, or information about, advertising partners when relevant to the story. We will never promote an advertiser's product without making the relationship clear to our readers.