Buy Curious
Buy Curious: This recent grad wants to buy a pet-friendly 1-bedroom in brownstone Brooklyn or Lower Manhattan for less than $600k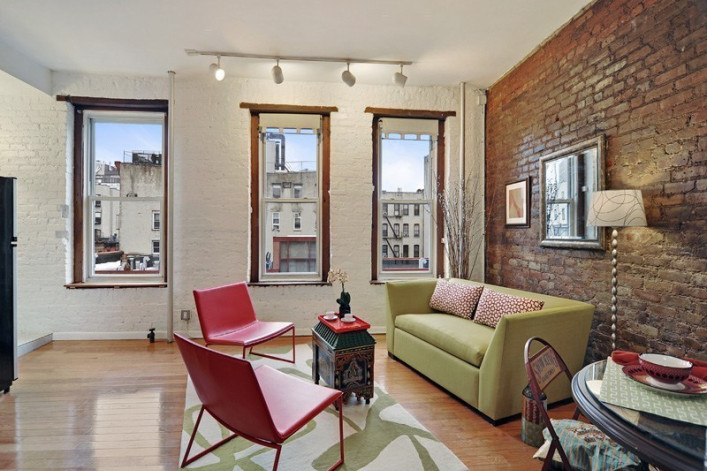 In this edition of Buy Curious, guest broker Julie Friedman of Coldwell Banker Bellmarc Realty coaches a recent grad school graduate in search of a pet-friendly 1-bedroom for $600k.
THE WISH LIST:
"I'm new to the city and a recent graduate school graduate. I am paying a lot in rent right now and would like to buy something ASAP.
I'm looking for anything in brownstone Brooklyn or downtown Manhattan. I'm fine with walk-ups too. My budget is $600,000 for a 1-bedroom. I'd like to get a dog next year so I need a place that allows pets. Any suggestions?"
THE REALITY:
First things first, let's assure any seller that you are indeed qualified to buy. Do you have student loans? Any credit card debt? Any liabilities? 
These questions may seem invasive but the answers give clarity as to your ability to secure a mortgage and whether a co-op board will approve your purchase application. As a general rule, your mortgage and maintenance total each month shouldn't exceed 25% of your income.
Simply put: we need to make sure you can pay your student loans bills, cover the monthly mortgage and maintenance, and still afford to eat three square meals a day, get regular haircuts and buy a MetroCard! 
If your credit score is decent—above 730 and without delinquent payments—and you don't carry any balance on your credit cards from month to month, you will make an ideal buyer for most buildings.
We have one last housekeeping item before we hit the pavement: the mortgage.
Have you contacted a mortgage broker/lender for a pre-qualification letter? Do you have 25% cash ($150k) to put down, plus additional funds post-closing?
As for your future pet acquisition, some buildings have breed or weight restrictions when it comes to dogs, while some won't accept any at all. We will need to explore this on a case-by-case basis as no one rule applies to every building.
Here are a few listings in lower Manhattan that you might like:
SoHo 1-bedroom/1-bathroom co-op, $615,000:  If you're looking for a charming vibe, start your search with this co-op at 124 Thompson St. between Prince St. and W. Houston St. Located in the heart of SoHo, this entry-level 1-bedroom is a fourth floor walk-up, but it's sun-flooded and has lots of personality. The co-op is also dog-friendly and allows co-purchasing, meaning that if your parents have the means and desire to help you out, the building will allow them to co-purchase the apartment with you.
Lower East Side 2-bedroom, 1-bathroom co-op, $570,000: If you can trade in your imaginary dog for a cat, this co-op at 550 Grand Street between Lewis and Columbia Sts. could work for you. While it's one bedroom too large, it's also $30k under budget. This 1,000-square-foot apartment boasts nice views and an eat-in-kitchen, but unless you regularly use the F, J, or M trains, commuting could get tricky.
Gramercy Park 1-bedroom/1-bathroom co-op, $597,500: This 1-bedroom co-op at 205 Third Ave. between E. 18th and E. 19th Streets is a bit further north than the other listings, but may be worth a visit since it's in a full-service luxury building with a garden, roof deck and fitness room. A few major caveats, though: the co-op does not permit guarantors or co-purchasers, and sadly, no dogs.
If you'd prefer to live in Brooklyn, try some of these places on for size:
East Williamsburg 2-bedroom/2-bathroom co-op, $599,000: Once you head over the Brooklyn Bridge, you should take a look at this $599k 2-bedroom at 196 Scholes St. between Humboldt St. and Bushwick Ave. This new construction property even has outdoor space for your future Fido. It's close to the L train, but it's on the ground-floor, so you'd also need to consider investing in an alarm.
Park Slope 1-bedroom/1-bathroom co-op, $599,000: This pre-war apartment at 1 Plaza St. West at Flatbush Ave. gets tons of light, has park views and well-proportioned rooms. The $1,132 maintenance is pricier than the other listings here, but this is a full-service building, and unlike the others, even includes an elevator. There's also a windowed eat-in kitchen that could use some updating.
Park Slope 1-bedroom/1.5-bathroom condo, $609,000: This duplex condo at 188 15th St. between 4th and 5th Aves. has a bonus den, a washer-dryer and even a guest bath. The apartment has a totally renovated kitchen with full-sized appliances, as well as a private terrace that runs the length of the unit. Plus, common charges are a mere $263 a month as there are still eight years left on a 13-year tax abatement that began in 2008.
---
Buy Curious is a weekly column in which NYC real estate brokers help buyers develop a realistic search strategy. Want some advice on your search? Send us your wish list.  
Related posts:
Buying, renovating or refinancing next year? 5 mortgage trends to watch in 2014 [sponsored]
What 8 first-time buyers wish they had known
Here are the 7 most likely reasons you'll get turned by a co-op board
7 questions to ask about the building before you buy an apartment there [sponsored]
Everything you ever wanted to know about sponsor apartments but were afraid to ask
How to buy an apartment that's not for sale using PropertyShark.com [sponsored]
6 hurdles that can stand between you and a mortgage -- and what to do about them
7 things to consider before buying in a landmarked building
Top 12 questions New Yorkers ask their mortgage bankers [sponsored]
What I learned from 150 apartments before I finally bought one
Diary of a First-Time Buyer: 13 lessons learned after 60+ apartments, 2 attorneys, 3 brokers and 2 board applications
Brick Underground articles occasionally include the expertise of, or information about, advertising partners when relevant to the story. We will never promote an advertiser's product without making the relationship clear to our readers.