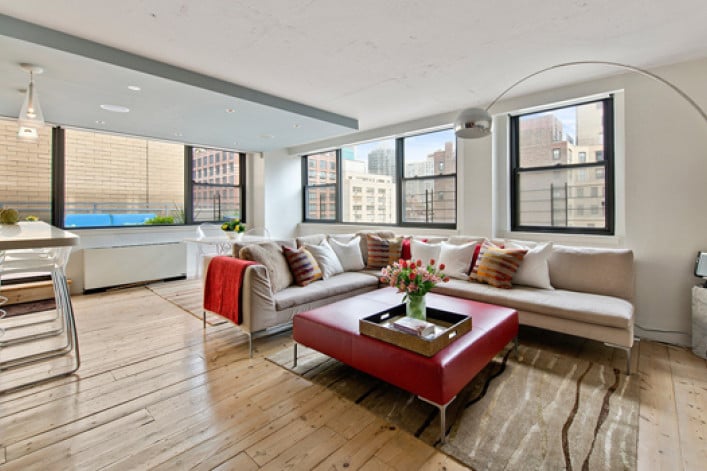 Q.  If you have two identical apartments--one in a building that has a landlease, and one in a building that owns the land it sits on--how much less is the landlease apartment worth?
A.  Expect to pay a little to a whole lot less, but be prepared for higher monthly costs, say our experts.
First, quick definition of a landlease, also known as a ground lease.
"A landlease building  is one where the land it is built upon is owned by someone else, and the building has a longterm lease with an annual cost for occupying the land," explains Gordon Roberts, a real estate broker at Warburg Realty.  "That cost is divvied-up among the shareholders as part of monthly maintenance or common charges. Leases often run 50 years or more."
Here's how much you can expect to save on the purchase price (or lose if you trying to sell):
Jonathan Miller, real estate appraiser and market analyst, Miller Samuel:  Expect to pay anywhere from a few percent to 35% less 
Some ground rents are far more severe than others, so there is no rule of thumb, but even if there is a small ground lease, just the fact that one exists has a negative impact on market value.  
In addition, many lenders resist lending in land lease buildings--especially in a period like now where banks are conservative about lending. Their assessment of risk usually centers around the date of the next increase in rent and how it will impact sales and values in the building.   If a bank won't lend, the seller may be forced to find a cash buyer (who is expecting a discount).
Often the terms of a ground lease will include a schedule of when a re-appraisal of the land is required, which is the basis of calculating the rent.   There is often litigation or mediation to determine the value of the land which adds additional costs to the process.  You can imagine that the change in land value in, say, 15 years plus could be quite substantial.  That increase in ground rent is added to the monthly maintenance payments.   The impact to value might be a few percentage points to as much as 35% (or more) depending on the building.
Shirley Hackel, real estate broker, Warburg Realty:  Landlease apartments are worth 30% less
You will pay about 30% less in a landlease building than for a comparable apartment in a building without a landlease, but you can count on spending significantly more on monthly maintenance.  And bear in mind that in a landlease building, the portion of the maintenance used to pay the ground rent is not tax deductible. 
 
Additionally, it's more complicated to obtain financing in ground lease buildings because of the risk that a landowner might decide to sell the land or not renew the lease. Lenders typically want to see about 40 years left on the lease term.  It's also more difficult for a ground lease building to borrow money itself for any capital improvements, because lenders usually want the mortgage secured by both the structure and the land. 
 
Ground lease apartments are not for everyone.  They attract buyers with a high income who are comfortable paying more in maintenance in exchange for a significantly discounted price. 
Roberta Axelrod, real estate broker and asset manager, Time Equities:  Expect to pay 10-20% less
The sales price will be 10 to 20 percent less as the market favors a property with the land included. However, this doesn't tell the entire story as a land lease building needs to pay rent for the land, so common charges are typically higher than in a building with the land. The actual differential in what the owners pay may be even greater depending on the rent for the land lease. 
Gordon Roberts, real estate broker, Warburg Realty: The discount could be as much as 30%--or more
To evaluate the desirability of purchasing in a land-lease building, consider the length of time left on the lease. If there's more than 25 years left on the lease, it's worth considering. If it's less than 10 years, there are definite risks, the biggest downside being is the lease expires and is re-negotiated at a much higher price. Your monthly maintenance could skyrocket, and that in turn could devalue the market value of the apartment.  
 
In my experience, most real estate attorneys are risk-aversive, and counsel their clients discouragingly: "Of all the gin joints in the world, and you have to walk into this one?" They often feel there are too many liabilities associated with ownership in a land-lease building, and clients are urged to keep looking.
Some banks won't provide financing, so that would be something  to check out well in advance. There may also be some unfavorable tax implications. On one hand, this negative cloud hanging over land-lease buildings can reduce the number of interested parties when it comes time to sell, but it might also give you a negotiating edge as a purchaser.
 
Bottom line:  In the current market where inventory is tight, an apartment in a land-lease building might stand out as a really good value. There could be a price differential as much as 30%, and you could conceivably get much more apartment for your money. Know what your risks are, and get professional counseling from your attorney, mortgage banker, and tax advisor. If the risks are manageable for you, it could work. 
---
Trouble at home? Get your NYC apartment-dweller questions answered by an expert! Send us your questions.
See all Ask an Expert.
Related:
Ask an Expert: Is it ever safe to buy in a landlease building?
7 questions to ask about the building before you buy an apartment there [sponsored]
Why I bought in a landlease building
Landleased! A real-life real estate thriller
What I learned from 150 apartments before I finally bought one
How to buy an apartment that's not for sale using PropertyShark.com (sponsored)
Brick Underground articles occasionally include the expertise of, or information about, advertising partners when relevant to the story. We will never promote an advertiser's product without making the relationship clear to our readers.