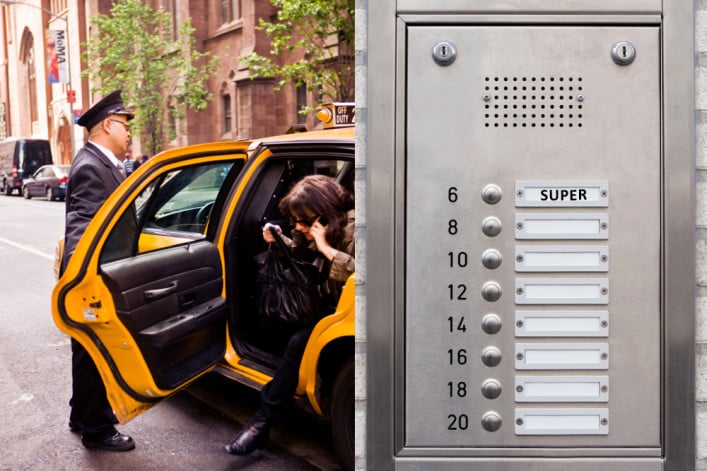 Most doorman buildings come with live-in supers or resident managers, but if you had to pick just one--a doorman or a live-in super--which would it be?   We asked these six New Yorkers:
Live-in super In apartment-related emergencies (like leaks coming from the ceiling in the middle of the night). I couldn't ask a doorman to come up and deal with a backed up toilet. -Maria, Upper West Side
Live-in super A live-in super has a tough job, but if he does it well, it's a huge asset to a building. There are emergencies he can deal with right away, but also there are the "minor" issues he will notice right away, too. For example, in the summer, the trash room starts to smell very quickly. Our super changes the bags more frequently then. He takes care of the building like it's his own home—because it is!  -Christian, Upper West Side
Live-in super I have purposely stayed away from doorman buildings. I just don't like the idea of having to talk to someone the second I get to my building. And I know from friends who live in doorman buildings that they do notice who is sociable with them, and that they do play favorites with the tenants.  But the thing that turns me off the most about doormen and concierges, and what-have-you: the tipping! Do you tip for minor help? Or major favors? Birthdays? A super does the dirty work in the building and that is worth every penny of their salary and a generous tip at the end of the year.  -Ralph, Bronx
Live-in super I live in a building with a lot of old people — I'm one of them. Our wonderful super helps us install air conditioning in the windows, carry luggage or shopping bags up to our apartments, and lift furniture, etc. I don't think a doorman could do that, even if they wanted to. So I would say a live-in super is more valuable to me than a doorman. -Gene, Hamilton Heights.
Doorman Doormen are great: they add prestige to a building, sure. But there's more than that. While I think "announcing guests" is a bit silly now that everybody has cell phones, I do appreciate having somebody at the door to let me know if somebody I don't know is about to ring my doorbell. The security they provide is invaluable in this city! They get to know my friends' faces, so they ease up on the security when they come by. Also, the lights in the lobby are on, so the street looks friendlier and more secure.  A woman I know was followed into her building lobby by a would-be mugger late one night. Nothing bad happened because a neighbor came in not long after her and so the mugger fled. This would not have happened in a doorman building, obviously. But even just having eyes on the street, I think, makes the whole street and not just the building a lot safer. -Tyrell, Harlem
Doorman I'd love a doorman to receive packages for me! In my non-doorman building we leave notes for delivery people to ring a neighbor's apartment, if we are not in ourselves to receive it. It works out well most of the time, but when it doesn't work, it's so frustrating. Doormen are also great for helping you get things in and out of your car and into the lobby without having the leave the car unattended. Our super doesn't live in the building but he's here during normal hours and I think he manages to deal with all the tenants' needs in that time. And he has come back for emergencies in the middle of the night, and he's arrived earlier in the morning to shovel snow, etc. The only advantage to a live-in super that I can see, is for the super himself. - Cera, South Harlem
Verdict: Live-in super:  4. Doorman: 2
Winner: Live-in super!
Related posts:
Would you rather...live a great apartment in a so-so neighborhood or a great neighborhood and a so-so apartment?
Would you rather...live in a penthouse or a townhouse?
Would you rather...live above the Second Avenue Subway construction or above a Subway sandwich shop?
Would you rather... have pre-war charm or modern convenience?
Would you rather...have a two-bathroom apartment or a one-bathroom with a washer-dryer?
Would you rather...live in a fabulous 4th floor walk-up, or a plain-vanilla elevator building abode?
Brick Underground articles occasionally include the expertise of, or information about, advertising partners when relevant to the story. We will never promote an advertiser's product without making the relationship clear to our readers.