Buy Curious
Buy Curious: Is $800k enough to bypass the board and snag a 2-bedroom co-op sponsor unit?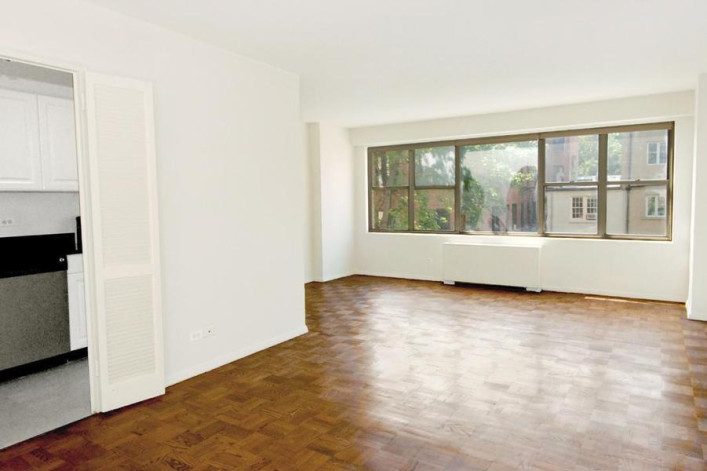 In this edition of Buy Curious, we asked Miron Properties broker Cecil Weeks to guide a buyer looking to purchase a Junior-4 or 2-bedroom co-op without having to suffer through the co-op board application process. Are sponsor apartments the answer?
THE WISH LIST:
"I want to buy a co-op because the value is better, but I don't want to go through the co-op board application process. Since sponsor apartments will likely be my only option, can you recommend some listings for Junior-4 to 2-bedrooms less than $800,000?"
THE REALITY:
Oftentimes, when I hear that a buyer would like to avoid the co-op application process, it's chiefly due to their anxiety about the interview.
If that's the case here, know that while it can be a bit over-the-top and intrusive, this question-answer period is also the perfect chance for you to vet your would-be neighbors and familiarize yourself with your future surroundings.
It's also only a fraction of the entire co-op purchase process, and it's typically short—between 10 and 35 minutes.
But yes, if do pursue a sponsor unit—one that is created when a rental building is converted into a condo or co-op and a select few units are kept as an investment by the developer or "sponsor" of the conversion—you can skip over the interview part of the process. Your application does not need to be approved by the board. In fact, board members won't even see it. The application is typically submitted to the sponsor only (and sometimes the management company). Therefore, no group of neighbors within the building has the opportunity to voice any objections to you. The place is yours so long as your financials are sound and your offer is accepted.
However, that doesn't mean that your search for a co-op sponsor unit will be easy. Nowadays, nearly all converted rental buildings are converted into condos since they tend to fetch higher prices. This means that very few "new" co-op sponsored units become available in the city.
In fact, sponsor units within co-ops represent just 2-5% of available inventory in all of Manhattan. That is not just within Junior-4 and 2-bedroom options. That is 2-5% of all available inventory on the island of Manhattan.
I would suggest that while we keep an eye out for rare co-op sponsor units, we also search for co-ops with boards that are known to be more easygoing or less restrictive. Larger buildings, for example, tend to have a less invasive interview process since residents aren't as likely to interact with every other tenant in the building. 
We should also take a look at "condop" buildings. Condops are condominium /co-op hybrids in which ownership of any commercial space below residential space is owned separately. The residential units above form a cooperative nearly identical to the structure of any other co-op, but rules, regulations and bylaws are much more relaxed. Buyers do not even need to be interviewed. Condops are essentially co-ops with condo rules.
If you are committed to the idea of a sponsor apartment, this place might be perfect for you:
Upper East Side 1-bedroom/1-bathroom co-op, $625,000: This sunny Junior-4 sponsor unit at 230 E. 79th St. between Second and Third Avenues is newly renovated, in a doorman building and located in a great area that will benefit from the Second Ave. subway line when it's complete. Best of all, it's nearly $200k below your budget limit.
While they're not sponsor apartments, here are a few other Manhattan listings that might work for you:
Kips Bay 2-bedroom/1-bathroom co-op, $719,000: Located at 165 E. 32nd St. between Third Ave and Lexington, this onetime Junior-4 has already been converted into a large 2-bedroom. It's well within your budget and is located within a large building that will have a less restrictive co-op.
Lenox Hill 1-bedroom/1-bathroom condop, $825,000: This condop at 1175 York Ave. between E. 63rd and E. 64th Streets is $25k over your absolute cap and is one bedroom too small, but it has a large dining alcove that can easily be made into a second bedroom. And since it's a condop, there's no interview!
Upper East Side 2-bedroom/1-bathroom condop, $849,000: This apartment at 200 E. 90th St. is another great condop option. It's above your price range, but it's also a full 2-bedroom at 3rd Ave. When the 2nd Ave. subway line is finally up and running, there will be some great equity potential here. Plus, no board approval required!
If you're willing to expand your search to Brooklyn--and to go the condo route, where you may pay more per square foot but avoid the co-op board approval process--try one of these well-priced options:
Clinton Hill 2-bedroom/2-bathroom condo, $730,000: If you're open to a borough outside of Manhattan, this 2-bedroom duplex condo at 118 Clinton Ave. between Myrtle and Park Aves. is modern, laid out well and located in one of the most sought-after neighborhoods in Brooklyn. It's also firmly within your budget.  
Clinton Hill 2-bedroom/1-bathroom condo, $629,000:  This 2-bedroom at 82 Irving Pl. between Putnam Ave. and Fulton St. is another wonderful Clinton Hill condo option that   affords you the opportunity to live in a new and modern development. Prices will rise in this building at a steady pace.
---
Buy Curious is a weekly column in which NYC real estate brokers help buyers develop a realistic search strategy. Want some advice on your search? Send us your wish list.  
Related posts:
What 8 first-time buyers wish they had known
Here are the 7 most likely reasons you'll get turned by a co-op board
Everything you ever wanted to know about sponsor apartments but were afraid to ask
Top 12 questions New Yorkers ask their mortgage bankers [sponsored]
6 hurdles that can stand between you and a mortgage -- and what to do about them
7 things to consider before buying in a landmarked building
What I learned from 150 apartments before I finally bought one
Diary of a First-Time Buyer: 13 lessons learned after 60+ apartments, 2 attorneys, 3 brokers and 2 board applications
Brick Underground articles occasionally include the expertise of, or information about, advertising partners when relevant to the story. We will never promote an advertiser's product without making the relationship clear to our readers.