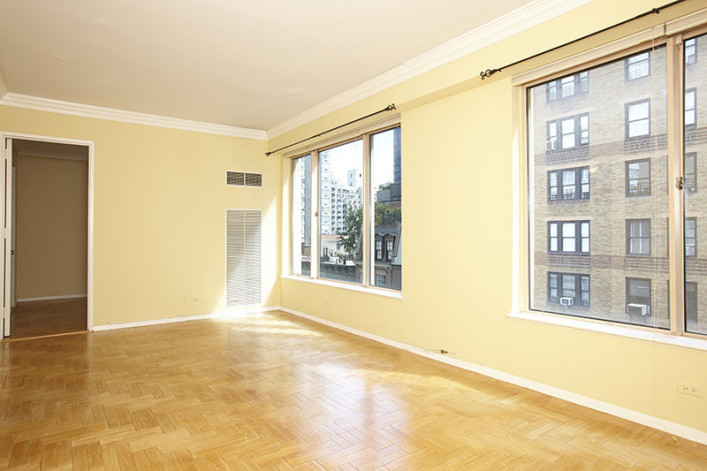 In this edition of Buy Curious, we asked Citi Habitats broker Donna Bradbury, who specializes in pet-friendly apartment searches, to advise a pair of buyers with a duo of big dogs on their quest to buy a NYC apartment for themselves and their beloved pooches. 
THE WISH LIST:
"My partner and I have two Great Danes. We're looking for an apartment that's not too far from a park or great dog run for the dogs, and obviously, the building has to be okay with large dogs.
Our budget is $1 million for a one-bedroom, and we're hoping for Manhattan or brownstone Brooklyn. Please help."
THE REALITY:
Understand at the outset that even if a building lists itself as pet-friendly, pets are usually allowed on a case-by-case basis. Some buildings prefer small dogs around 15-20 pounds, while others will happily accept dogs up to 60 pounds.
When you are dealing with dogs that are even larger (and Great Danes can easily weigh more than 100 pounds fully grown) that's a whole different kettle of fish. Whether it's because they'll take up too much space in the elevator or building management is worried the dogs would be more apt to bite people or damage the property is unclear. Buildings have personalities, just as people do. There's no cut and dried formula for their methods.
Finding a building that will accept not one but two large dogs will require phone time as well as direct contact with various building management agents, so I strongly recommend that you work with an agent versed in pet-friendly living. Besides bearing the brunt of snippy listing agents and managing agent ire, a pet-savvy agent can also help present you and your pets in the best possible light to sellers or a co-op board.
I also suggest making a pet resume for your dogs where you can include pictures of your four-legged friends, describe their habits and general temperaments, and explain how well cared for your pets are. Be sure to include references from your current landlord/building management as well as neighbors that will illustrate the dogs' impeccable conduct while you've lived there.
Generally speaking, my top pick for families with pets is the Upper East Side, with two very good location options—near either Central Park or Carl Schurz Park. My favorite is Carl Schurz Park (or as I call it, the hidden gem of Yorkville). It's spacious and delightfully dog-friendly with two dog runs and the added ambiance of the East River. The only downside is the marine transfer station that is being planned (as well as protested) in that area. Whether or not the station is ever actually built will obviously affect the resale value of the apartment, but at the moment, nothing is set in stone.
Another Manhattan area you might want to explore is Gramercy/Union Square. Union Square Park has a dog run and is surrounded by lots of stores and restaurants. In my experience ( I have closed units in Park Slope, but I do not have a full scope of Brooklyn as I mostly work on the Upper East Side), Brooklyn has been hit or miss when it comes to being pet-friendly. Each borough does tend to have its own personality when it comes to pets, though.
You mention an interest in brownstones. I hope you are referring to an apartment in one and not a single-family home. If it's the latter you're going to need more funds. You may want to browse through neighborhoods you like to get a better sense of whether you'd like to live there, and then have your buyer's agent comb through the listings to locate the diamonds in the rough.
I ran a search for you and was pleased to unearth a few nice finds at your price point. The next step would be to investigate further as to how pet-friendly the buildings are, either on your own or with the aforementioned buyer's agent. Unfortunately, it is just too hard to tell if two Danes will be acceptable until you strike up a conversation with the listing agents beyond, "Hey, are you Great Dane-friendly?"
Here are some pet-friendly listings on the Upper East Side:
If you'd rather be downtown, here are a couple more listings spacious enough to comfortably accommodate you and your Danes:
Gramercy Park 1-bedroom/1-bathroom condo, $599,000: This 1-bedroom unit at 201 E. 15th St. has been gut-renovated, and has a living room large enough for a dining table and a couch/seating area. It also has no flip tax, which you will appreciate on the resale.
Gramercy Park 1-bedroom/1-bathroom co-op, $600,000: A fourth-floor corner unit in the Gramercy Towers, this apartment is close to Rutherford Park, Union Square and Gramercy Park, which are major pluses for the dogs. The unit will need some updating, but with electricity included in the maintenance, it's still a great find.  
---
Buy Curious is a weekly column in which NYC real estate brokers help buyers develop a realistic search strategy. Want some advice on your search? Send us your wish list.  Have some more advice for these buyers? Leave it in the comments.
Related posts:
9 things to consider before introducing a dog into your NYC apartment
Here's what case by case approval really means
Big dogs are not always a big problem in NYC--here's how to look (and where)
For animal lovers: How to find a pet-friendly building and live happily ever after
How to get your dog past a co-op board
How to get your landlord to accept your dog
5 great NYC neighborhoods...for dogs
Petiquette 101: Apartment manners for your dog
Brick Underground articles occasionally include the expertise of, or information about, advertising partners when relevant to the story. We will never promote an advertiser's product without making the relationship clear to our readers.