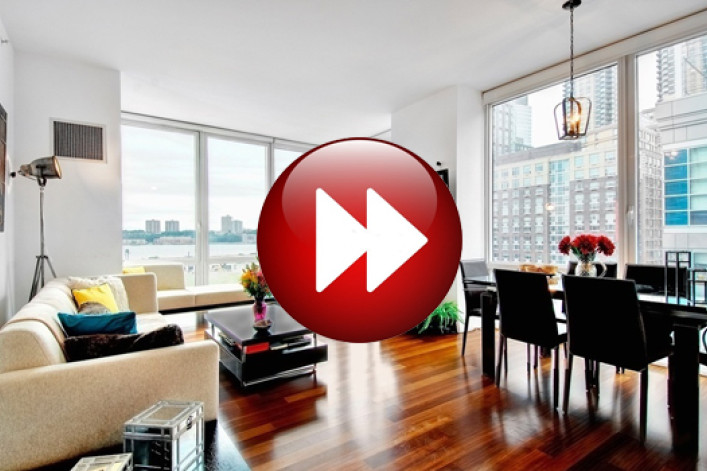 Here on BrickUnderground, we spend a lot of time educating first-time buyers (we even had
a whole column devoted to the subject
).  Today, we turn our attention to a sometimes neglected group: The second-time buyer.
Most second-time around buyers fall into two camps -- those looking to enlarge their living space or generally trade up (usually due to  a growing family  or recent financial success) and those looking to downsize (e.g. empty nesters).
"It's usually about trading up," says real estate attorney Adam Stone of 
Regosin, Edwards, Stone & Feder
. "Now that they've found some success, they've found money, now they're about to move on up."
There are both advantages and disadvantages to being a second-time buyer. You've survived the process before, but the market is likely different compared to your first mortgage. And there's also the issue of selling your current place--particularly if you need the proceeds to fund your next purchase.
THE PROS:
Confidence
Generally,  second-time buyers have the advantage of more confidence - especially if they've survived the scrutiny of a co-op board.
Connections
You'll need to hire a real estate broker and lawyer, and you may already have one or two that you like from last time. If not, at least you're more likely to know what you DON'T want in these professionals, and you'll be able to recognize red flags earlier.
Preparedness
Just like first-time buyers, second-time buyers need to have organized paperwork, including a list of income, assets and a credit report. In general, Stone says his clients who are buying their second New York City homes are more prepared for the amount of information they need to submit in terms of financial documents -- something that can feel intrusive for first-time buyers. 
More financial stability
If you're buying for the second time, chances are that you're in more solid financial shape than you were the first time around, hopefully with more savings and assets to your name. That bodes well not only if you're trading up, but also for withstanding co-op and lender scrutiny.
Also, if you've already sold your home and bagged a profit, you'll have an advantage when it comes to making a down payment on your second home. And if you're able to make an all-cash offer, you'll have a big advantage over people who need a mortgage.
THE CONS:
Alternative financing 
If you go shopping before your first place is sold--and you don't have a huge pile of cash in the bank--you may need to tap into other assets to make a downpayment. At last resort, you may consider using money from a retirement fund. (Note: people in this situation should strongly consider limiting their searches to condos, since an unsold first apartment could mean co-op board rejection.)
A more difficult mortgage market
If you need a mortgage, be prepared for what's likely a tougher market than you had the first time. 
During the last housing peak, a downpayment of 20 percent was generally enough to get the best rate. These days, says Gendels, her buyers have to submit a downpayment of 25 percent of the apartment's value and have a credit score of at least 740. (On the positive side, although there's been some slight panic over rising interest rates, at nearly 4.4%, they are still much lower now than they were in the last hot real estate market.)
Taking out a second mortgage when you haven't paid off your first one is more complicated. You need to prove that your second mortgage is for a primary residence in order to get the proper rate and deposit requirement. And of course, you need to have enough funds to pay for both mortgages.
Refreshers needed
There's a good chance you haven't been involved in real estate for years and may need reminders on everything from what forms are needed to secure financing to new rates on pay property taxes. Again, be sure to find a broker and a lawyer who are really knowledgeable and let them know that it's been a while since you've been in the game. (More tips for empty nesters specifically here.)
Related posts:
Brick Underground articles occasionally include the expertise of, or information about, advertising partners when relevant to the story. We will never promote an advertiser's product without making the relationship clear to our readers.