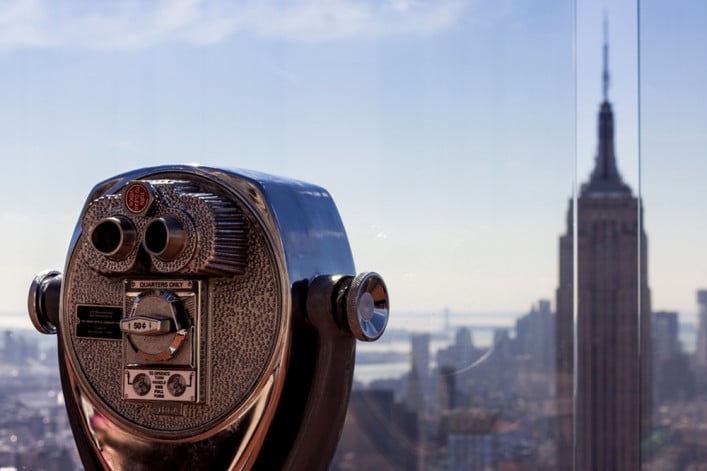 I thought I knew everything about renting a New York City apartment. After all, I'd written about real estate for years and moved apartments with my family four times in the last 10 years.
Then my husband got a job in Arizona and we not only left the city, we left the rental game, too. Twelve months later, when we decided that cacti and coyotes were not for us, we found ourselves in the stressful position of having to quickly find an apartment from afar.
Luckily, the building we lived in before we moved was part of a "chain" of luxury rentals and we knew that the management company was used to dealing with long-distance/international tenants.  
Still, it took about six weekends of active web surfing, calling buildings, and calling friends of friends to see if anyone knew of available apartments in one of these buildings before we found the cozy two-bedroom we eventually leased sight unseen.
And, while this story has a happy ending (we love the cozy two bedroom), here are a few things to know about renting a NYC apartment long-distance, whether that long-distance location is Westchester or Wyoming. 
1. Make a list of wants -- and be prepared to make some concessions. 
As with any move, you should make a list of priorities—general things like views and bedroom size. Then research
rental property managers
. You'll need to call the leasing agent at the buildings you're interested in to make sure they're going to be okay renting to you without meeting you first. It's often case by case, though management companies will sometimes have a policy across buildings.
If you're totally new to New York City and don't know neighborhoods, visit New York magazine's
Best Places to Live series, research neighborhoods on StreetEasy.com (by simply typing the name into the search field) and search on BrickUnderground, especially our
Confessions of a Neighborhood Blogger
 and
Transitions
series.
2. Read Yelp reviews.  Search by name of building, address, and management company. Sure, a lot of these posts are written by PO'ed tenants, but if you're seeing repeated complaints about loud noises from a local firehouse or construction site, take this seriously. Or, if you're reading that the walls in a particular building are thin, the management company is predatory, it's a revolving door of tenants, that's important to know. 
3. Spend time reading neighborhood blogs to get a sense of what's going on in the neighborhood. You may have always dreamed of living in a certain part of town but if a recent issue has cropped up that has locals up in arms (e.g. ongoing Second Avenue Subway construction), you'll want to know about it.
4. Don't take a property manager/leasing agent/broker's word for it. Don't believe it if an agent says there's no noise from a big project like the Second Avenue subway. Check into it by calling a nearby restaurant or shop to see how loud it actually is on the block.
5.  Ask a NYC-based friend to do a few building walk-bys. He/she can report back to you and let you know if there are regular loiterers on the stoop or if people congregate there to smoke.
Don't know anyone in New York yet?  
Hire a Task Rabbit
 to do it for you.He/she should also check to see if the building matches your demo--for instance, you have kids but there are no kids coming out of the building or you're a young professional and everyone seems to be over 60. 
6. Urge a local friend to do an apartment  walk-through. You may be told that the bedrooms have no view, but a trusted friend can tell you (and send you photographic proof) whether that means you'll face a wall, a massive AC unit, barbed wire or all of the above and you have to decide if you can live with any of this.
FYI: Your friend may have to sign a document saying that she isn't vouching for the apartment on your behalf and that you are the ultimate decision maker. This protects the management company just in case you walk in and freak out.
7: Be sure you're told exactly what your monthly "nut" will be. Don't assume your monthly rent is all you'll have to pay. Necessities like heat and hot water aren't always included in the monthly rent, so be sure to ask the broker or leasing manager exactly what's included. Things like sewer fees and water charges aren't just for apartment owners and these "extras" will factor into whether you can afford a place (or not). Also, remember that you'll have to pay a security deposit (usually one month's rent, plus first -- and maybe last -- month's rent and probably a broker fee, all up front).
8. Don't assume your furniture will fit.
Before you pay to ship all of your stuff, insist on getting precise room-by-room measurements, including hallway space (a tricky problem in older buildings where hallways are narrow). If your couch is going to hit a wall when you try to exit it out of the elevator, it could get stuck.  This is not insurmountable as there is an entire cottage industry of
businesses that will disassemble your furniture on the spot
and put it back together again when it's inside your apartment--but it will cost you a few hundred bucks.
9: Heed the square footage. Ask if the quoted square footage on the apartment includes a long hallway or closets. For example, a smaller square footage may seem larger than it appears on paper if you don't have a long hallway padding that square footage. Ask for specific measurements for each room, especially bedrooms, since you'll need that before you order that luxurious king-sized bed.
10. Ask the management company to help out. See how open the management company is to making your relocation smooth. In other words, ask if they'll accept your boxes/mail before you're on-site to receive them, will they let certain deliveries take place before you arrive, etc.
11. Ask them to define move-in ready. Since you won't be on-the-premises to walk through an apartment before you've signed for it, ask for a detailed list of what will be cleaned and ready upon move-in.
12. Be overly prepared with paperwork. You have to be ready to jump on an available apartment when you're moving from down the street, but you have to be one step ahead of everyone else when you're vying for an apartment from afar. Make sure your paperwork is in order and then get ready to jump in.
Brick Underground articles occasionally include the expertise of, or information about, advertising partners when relevant to the story. We will never promote an advertiser's product without making the relationship clear to our readers.