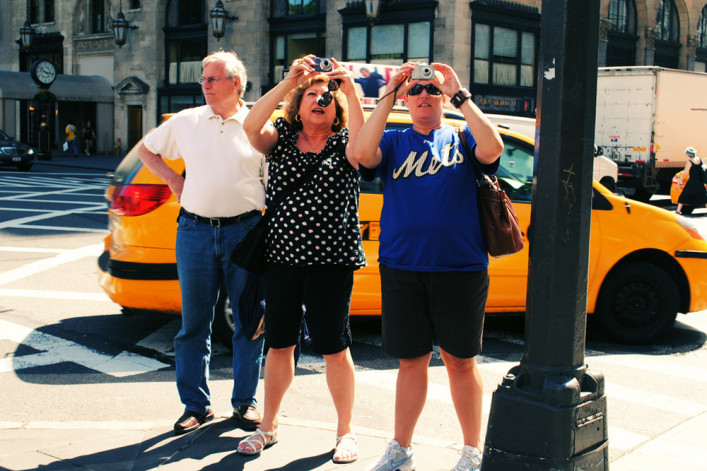 I keep hearing about the emergence of millions of cicadas on the East Coast this summer after their 17 years underground. And while summer in NYC has always been prime time for tourists to descend on us in droves, I feel like this summer they are rivaling the anticipated cicadas in number.
I'm not sure which I fear more.
It is great to live in Midtown because I seem to always be equidistant from anywhere I may have to go, things tend to be well-lit and open all night and there are tons of transportation options.  
But one of the huge drawbacks of living in Hell's Kitchen is that you are in tourist central.
This was not so where I lived on the Upper East Side in Yorkville. I would rarely see an out-of-towner except when visiting the local museums or Central Park.
When I moved to Tenth Avenue I assumed no tourist would venture that far west. This was based in part on my memories of living on Ninth Avenue years ago;  it was still no-man's land and it would be rare for tourists to get further west than Eighth Avenue. This time around, I figured if I ventured no further east than Tenth I'd be in a tourist-free zone. But now, it seems, they have advanced to Eleventh Avenue.
Maybe it's because there is a whole crop of new hotels springing up in the high West 40s between Tenth and Eleventh Avenues. The Holiday Inn Express and Comfort Inn just recently opened and apparently tourists do not mind staying so far west as they always seem to be teeming with people.
Another hotel—a smaller trendy boutique hotel—Hotel Five44--just opened on the same block a couple of weeks ago.  Meanwhile, Ink 48 and Skyline remain on 48th and Eleventh Avenue and 49th and Tenth, respectively.
My block also seems to be an (now illegal) Airbnb hub as I constantly see tourists coming and going with suitcases in the two buildings on my block.
I am used to seeing tourists at local eateries like Shake Shack and the other bigger named places in Times Square, but I'm surprised to see tourists in the more off-the-beaten track places like my corner laundromat.
You can always spot them—they walk in with a small knapsack of clothing, sans detergent and seem mystified by how it all works. Inevitably they get in the way and I hit them with a cart—almost unintentionally.
Nine times out of ten they end up giving up and just handing their sack of clothing to be washed to the laundry attendant who weighs it (it is almost always $9 as that is the minimum charged for anything under eight pounds) and tells them to come back later. Then they leave looking confused and end up in my favorite out-of-the-way taco joint making my order take longer than it should.
There are quite a few other downsides to trying to live the local life among tourists.
I tend to see a lot of movies, but the only theaters in walking distance from me are either in Times Square (the eye of the tourist storm!) or Lincoln Center (a close second). I am forced to go see the 10 a.m. showing of any popular movie on a weekday to avoid massive, non-New Yorker crowds. On the Upper East Side this was never an issue.
My subway station is overrun with those confused about "uptown" and "downtown" and wielding subway maps like weapons; thankfully the buses in the area seem to be unchartered territory for most vacationers so I tend to stick to them on hectic days.
Lately I've even been competing for cabs along Tenth Avenue with out-of-towners, although luckily oftentimes they don't seem to understand that if the top light isn't on it is a no-go. It is cliché to say, but some tourists really do stand out like a sore thumb because of their socks worn with sandals, backpacks and cargo shorts.
During the course of my busy day it is easy to get annoyed with people who don't seem to understand the basic tenets of NYC navigation and insist on walking way too slowly, refusing to walk up and down escalators and stopping in the middle of the street to take pictures of things I have long since ceased noticing.
While frustrating at times, I try to be grateful that there are constant droves of people helping the economy of my city.
And if you can't beat them, join them.
There are days when I take my cue the outsiders' enthusiasm and enjoy viewing my city through their eyes. I find myself looking up and marveling at the tall buildings as I did when I was a kid, remembering how awestruck I was too when I used to come in from New Jersey on special occasions. It was during those times that I vowed to live here as soon as I could.
---
More posts by Kelly Kreth:
My worst nightmare becomes reality: The arrival of (real) bed bugs
15 things I've learned from 'Million Dollar Listing NY' so far
The 20 deadly sins NYC rental agents should never commit (but do)
Escape from the UES: Goodbye douchebaggery, hello Hell's Kitchen
Dear Neighbor: I am your worst nightmare
Living next to a bridge & tunnel club: KY Jelly wrestling, all-night noise, no regrets
Brick Underground articles occasionally include the expertise of, or information about, advertising partners when relevant to the story. We will never promote an advertiser's product without making the relationship clear to our readers.