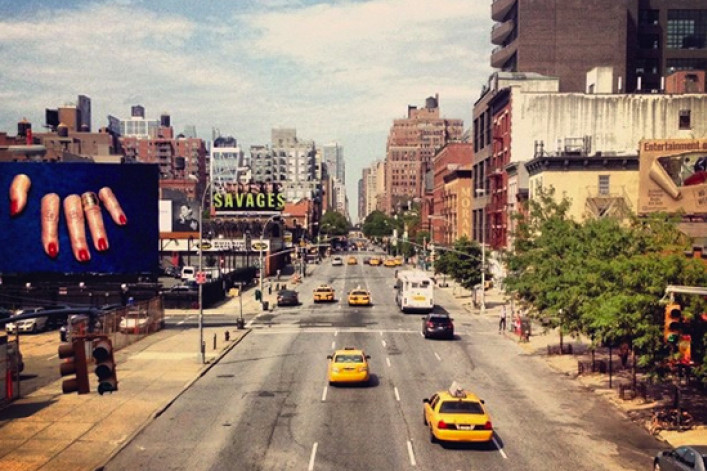 In 2000, I moved from New Jersey to Hell's Kitchen (for the first time). Everyone raised their eyebrows when I told them that I lived there, on Ninth Avenue, because Hell's Kitchen conjured images of old Irish, drug deals and prostitution.
The truth was somewhat different. While I did live over an OTB (remember those?) and there was still a sort of sketchy element, there were also small art galleries popping up, some gay bars and some tony eateries -- all signs of the g-word: gentrification.
Within a few years, my favorite supermarket across the street from my building disappeared to make way for a high-rise luxury building. On my corner, the Alvin Ailey dance building appeared. 
In those days, I would try to avoid Tenth Avenue, especially at night because it seemed sketchy and wasn't highly trafficked because there were no popular eateries or places of business there. The few nights I did take the bus up Tenth and exit on 53rd and Tenth, the block and a half walk seemed to take forever.
Now, while I would like to believe 42 is the new 32, I can tell you for a fact that Tenth is most assuredly the new Ninth.
There are restaurants so crowded one has an hour-long wait even on a Tuesday night; everywhere I look I see fancy-high rise buildings I can't afford to live in and signs of gentrification gone wild. Juice bars have sprung up everywhere.
Even Eleventh Avenue, although still peppered with car dealerships, has given birth to the fancy schmancy Mercedes House, a high-rise rental building that boasts pools (yes, plural) and Ink48, a boutique luxury hotel which houses my favorite rooftop bar in the city. 
But with all the new things being introduced to the hood, old things must go. 
The other day one of my favorite little thrift stores, Outcasts (how ironic that name seems now -- even the website is now defunct) on Tenth Avenue, seemed to have less stuff in it.
I'm not that quick these days (thanks to an illness), but within minutes I figured out it was closing! When asked, a worker explained, "The rent has become too damn high."  
I suspect what will pop up in its place will be another juice bar, which I'm certainly not complaining about. (As much as I love rifling through used things, I dislike walking all the way to 55th Street to get a green juice.) 
Now back to the thrift store... over the course of the past year I've often gone in but never purchased anything except vintage postcards that had drawings of my neighborhood.
But as I looked up to see SOLD signs on all of the artwork, one caught my eye, and I immediately fell in love. It was a 2X3 painting done only in black and white of two neighborhood guys from back in the day, set against the gritty backdrop of Javits Center, the large convention center/eyesore on Eleventh Avenue between 34th and 40th Streets. The title of the artwork is "Ned and Nate at Javits" 1995.
I bought it for $20, but to me it is priceless. A memory not only of my older, grittier beloved Midtown Far West but also of the little shop that could...until it couldn't anymore.
It proudly hangs at the entrance to my apartment, and I smile daily when I am greeted by Nate with a perpetually half-smoked cigarette in his hand (pre-Bloomberg of course).
---
More posts by Kelly Kreth:
My worst nightmare becomes reality: The arrival of (real) bed bugs
15 things I've learned from 'Million Dollar Listing NY' so far
The 20 deadly sins NYC rental agents should never commit (but do)
Escape from the UES: Goodbye douchebaggery, hello Hell's Kitchen
Dear Neighbor: I am your worst nightmare
Living next to a bridge & tunnel club: KY Jelly wrestling, all-night noise, no regrets
Brick Underground articles occasionally include the expertise of, or information about, advertising partners when relevant to the story. We will never promote an advertiser's product without making the relationship clear to our readers.