Transitions
Chelsea to Williamsburg: Leaving the drugged-out, drunken element to get closer to friends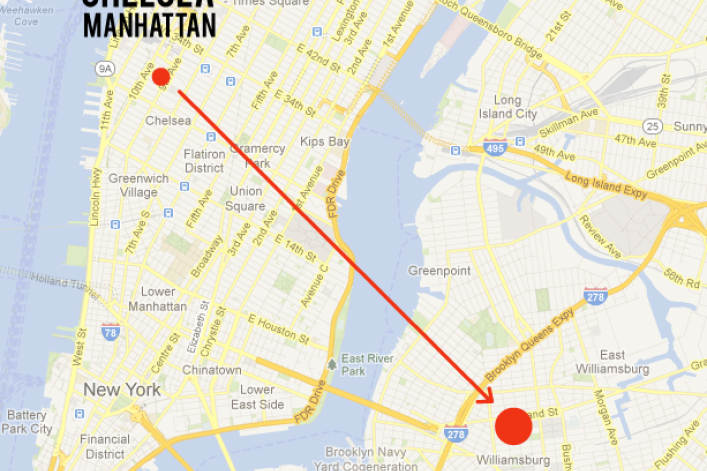 I'd been living in the Chelsea/Hells Kitchen area (West 30th Street and 9th Avenue) for two years when I decided I wanted to join my growing group of friends who were living in or moving to Williamsburg. 
In Chelsea, my old apartment was a two-bedroom. My portion of the rent was $1,375 per month. I lived there with my best friend. It wasn't very large, had small bedrooms and a very small living room with one big shared closet since the bedrooms did not have them. The best feature was a gigantic kitchen with a sizable balcony that had views of New Jersey and the Empire State Building.
There are definitely some plusses about my old neighborhood, including proximity to public transportation. There are also a few good bars and restaurants such as Hudson Station bar and grill, Blossom Du Jour, a great vegetarian place, and Co., which is a fantastic Neapolitan pizza spot. And the beginning of the development of Hudson Yards was bringing in more new places to hang out nearby.
In addition to being closer to my friends, there are several other reason that I wanted to leave Chelsea. The main reason is the industrial nature of the neighborhood. There are frighteningly drugged-out or drunk people that walk around the neighborhood at all hours of the day and night. It didn't make me feel good about the neighborhood or the city. I imagine this will improve once the Hudson Yards project is complete.
I moved to Williamsburg in November 2013 during Super Storm Sandy. My apartment in Chelsea had no power or water, so I could not have been happier to move to Brooklyn.
My new apartment is a one-bedroom, second-floor apartment in a four-story walkup building and my rent is $1,800 per month.
It's a new building and sits right above a liquor store, which comes in handy. Though the total living space for one person is smaller than my old apartment, it certainly feels better without having a roommate. It has an open concept kitchen and living area -- probably about 20' x 20'. The bedroom still does not have a closet, but there are high ceilings and two big windows that let a lot of light in.
My commute now is not as good as when I lived in Manhattan. I used to have a 20 minute walk to my office in Times Square. Now its about 30 minute via subway with one transfer. The amount of time hasn't changed much, but I miss my walk.
Williamsburg is very interesting. My apartment is off the Lorimer stop on the L, so it's somewhat removed from the heavily populated Bedford area. That means it's a bit quieter and less gentrified.
There are tons of restaurants and bars nearby. The bars I go to the most are Redd's Tavern, The Bedford, The Whiskey Brooklyn and Burnside. A great place to get Mexican in the area is Haab, which is consistently fresh and delicious. Best place for whiskey is definitely Noorman's Kil.
I haven't had the opportunity to visit any parks since the weather has been pretty bad the entire time I've lived here, but I'm looking forward to it when the weather changes.
In addition to the many things to do, I also enjoy the neighborhood's diversity. There's an interesting balance between Brooklyn residents that have been here for generations and the new kids (me). There are also parts that are very Italian, but then below Grand Street it the population is largely Puerto Rican.
On the downside, there's already a sort of posh-creep happening in the North Side, with places like the Wythe Hotel and Output opening. A lot of it has to do with the kinds of people that live (and can afford to live) in the waterfront properties off of Kent Ave.  I'm afraid it is going to come to my part of the neighborhood.
Overall though, Williamsburg is a fantastic place to live. There are so many things going on and such great places to go to. The people are also really friendly.
---
Related:
Moving to NYC? Here's a crash course in finding an apartment here
Hell's Bitchen: My life as a single straight woman in NYC's #1 "gayborhood"
BrickUnderground's 2013 Real Estate Forecast: The 9 biggest trends in NYC real estate this year
Top 10 misconceptions about Brooklyn (usually by Manhattanites)
An expat's view of 8 NYC neighborhoods (in 6 months)
Williamsburgtopia: Hipsters like to party, make music, do art, look good. What the f*** is wrong with that?
Brick Underground articles occasionally include the expertise of, or information about, advertising partners when relevant to the story. We will never promote an advertiser's product without making the relationship clear to our readers.