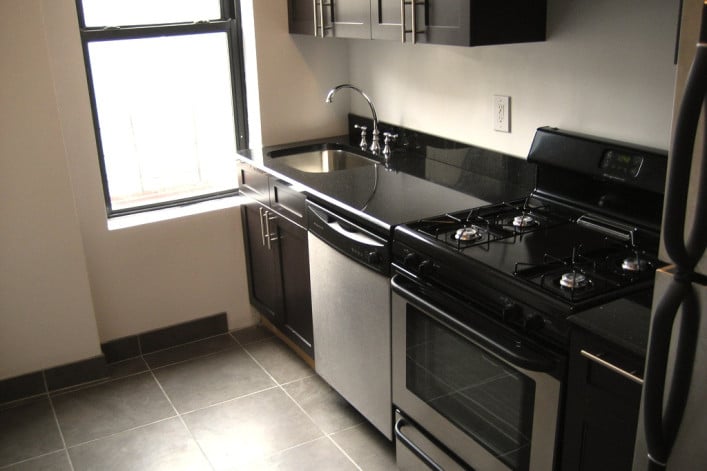 Q.  We are thinking of buying a co-op that was renovated by the sponsor.  It's a middle-of-the-road renovation that isn't really our style but we're prepared to live with it for a few years until we can afford to redo it.  
Our main concern, since the sponsor is a little on the sleazy side, is to make sure they didn't take any shortcuts, especially on the bathroom and kitchen.
What sort of things should we watch out for?
A. There are several, some more consequential than others, say our experts.
"You'd want to know that the renovations were legally permitted, approved by the board, and undertaken by licensed contractors," says real estate broker Gordon Roberts of Warburg Realty. "Additionally, you may be advised to include language in the contract of sale that would protect you against faulty workmanship in the sponsor's renovation."
Typical shortcuts in sponsor renovations include cheap tiles, fixtures, and cabinetry, says real estate broker Deanna Kory of Corcoran. "That is standard," she says.
Alex Ushyarov, a general contractor and the co-founder of flat-rate home improvement website Click and Improve.com, agrees that you should keep an eye out for the following:
Stainless-steel faucets: "Stainless steel fixtures are on the cheap end of the spectrum as opposed to brushed nickel and oiled brushed bronze," says Ushyarov. "Builders trying to save money will go with no-name or not-known-name fixtures as opposed to the Kohlers and Deltas of the world."
Skimpy tiling:  "Tiling the bathroom at the base of the floor or even up to 4 feet height is a way a lot of contractors save money as opposed to tiling up to the ceiling," says Ushyarov.
Cabinets that are not what they appear to be:  "The cabinet doors themselves are solid wood, and the remainder of the cabinet is pressed wood," explains Ushyarov.
Hollow interior doors: "Hollow doors break much easier and they aren't very soundproof.  A hollow door will appear very light and will also sound hollow if you knock on it," he says.
Kory suggests hiring an engineer or good contractor or architect to look at the work and give you a sense of what "the quality and the potential issues may be.  They will only be able to see the surface, so any plumbing or electrical behind the walls can't be checked."
In addition to asking for proof that the work was filed with buildings department, says asset manager and real estate broker Roberta Axelrod of Time Equities, you can also try to get the sponsor to agree to provide sign offs not only on building permits but electrical and plumbing work from licensed workers.
---
Trouble at home? Get your NYC apartment-dweller questions answered by an expert! Send us your questions. 
See all Ask an Expert.
Related:
Everything you always wanted to know about sponsor apartments but were afraid to ask 
16 things I wish I knew before buying this place
Brick Underground articles occasionally include the expertise of, or information about, advertising partners when relevant to the story. We will never promote an advertiser's product without making the relationship clear to our readers.