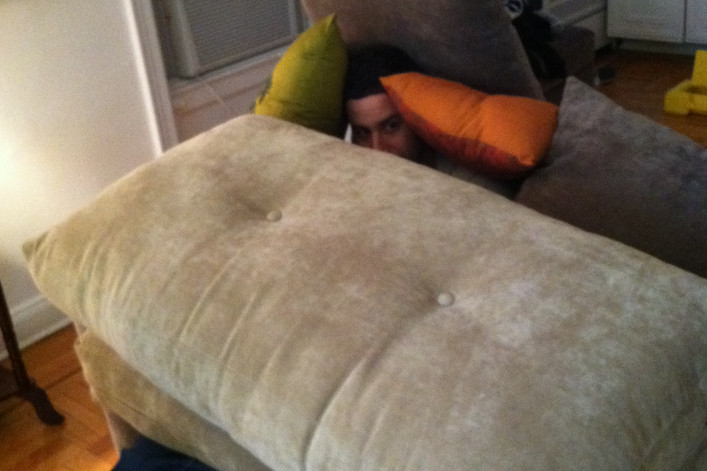 When I was in college, I got stranded in Reno during the infamous 1997 New Year's Eve Storm. I ended up in a friend-of-a-friend's apartment with eight other college kids and plenty of beer. It was the best natural disaster EVER. 
This one, not so much.
Evacuating with two small children feels like some sort of cruel payback for being a rebellious teenager. 
Backstory: My rented house in Montclair, N.J., sits on a creek surrounded by way too many trees. Last year after Irene, our basement flooded. And after the freak October storm, we lost power for eight (!) days.
So, last night my husband and I decided that this time we'd preemptively evacuate with our five-year-old son and two-year-old daughter to my brother's two-bedroom Upper East Side apartment, which is also currently shared by a German houseguest, who is getting more vacation than he ever imagined.
There are advantages to shacking up with the family in the relatively high ground of the Upper East Side: it's highly unlikely that any tree will fall on the six-story apartment building. We're less likely to lose power. And, in a storm, East 96th Street is certainly an easier place to restock on emergency diapers and yogurt squishers than the 'burbs.  
A friend we shall call "Little Miss Organized" posted on Facebook yesterday that she took the kids on a nature walk to collect leaves for their "Hurricane Sandy Art Project." Me, I spent the day throwing food, flashlights, batteries and clothes into the car while screaming at the kids to stop fighting.
For any other not-yet-evacuated parents, this list of random items I remembered to bring might be helpful: 
5 plastic babies
A crate of Legos
A plastic potty
Bottled water
Flashlights
Canned food
15 pairs of children's underwear (so looking forward to the post-black-out accidents!)
12 picture books
2 pacifiers
Baby Tylenol 
Probably more helpful is a list of things I wish I had right now: 
Crayons
An activity book
A library of children's DVDs
"Surprise" treats
25 pacifiers
Beer
Xanax 
It's around 9:30 a.m. as I write this. My brother just woke up. German houseguest is pretending to sleep, perhaps to avoid my five-year-old, who has fallen in love with said houseguest and has been following him around like a puppy. My two-year-old, meanwhile, has eyes only for my brother. She has been standing at my brother's bedroom door since about 6:30 a.m. calling to him: "More Uncle Gregg. More Uncle Gregg. Uncle Gregg sleeping."
At least he doesn't have to go to work today. Me, I'm having fond memories of the New Year's Eve storm when my biggest concern was that we'd run out of beer before the roads re-opened. 
Related posts:
6 before-and-after hurricane tips, including windows, elevators, basements and blackouts

10 upsides to a Manhattan hurricane

Ask an Expert: Will my windows get blown in by a hurricane?

The foul-weather guide to apartment insurance: What you need to know about tornadoes, ice storms, blizzards and more (sponsored)

2-bed, w/d, ren EIK in BEST flood zone. HURRY!!! Won't last!!
Brick Underground articles occasionally include the expertise of, or information about, advertising partners when relevant to the story. We will never promote an advertiser's product without making the relationship clear to our readers.