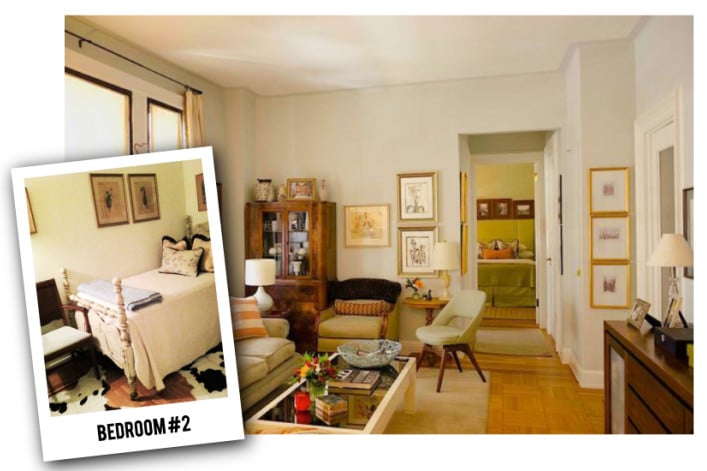 If you're living in a one-bedroom apartment somewhere in New York City, you'd probably love to have an extra nook for the in-laws, occasional out-of-town guest, or a potential baby in the not-so-distant future.
When my husband and I began shopping for our Upper West Side co-op, we were no different. Our mothers each visit a few times a year and we didn't want them camping out in our living room. We browsed, perused and labored over dozens and dozens of apartments, searching for the two-bedroom that we ultimately couldn't afford.
Eventually we decided to search for a one-bedroom that was large enough for a wall and an extra space for a cozy guest nook.
We bought an apartment with a huge 16'x20' living room that easily accommodated a wall, and now most of our visitors can't imagine the apartment without the little room we built--for which we spent a total of less than $10,000, which was a lot less than the $150,000+ we would have had to spend up for an average two-bedroom ($850k+) in our neighborhood.
When we sell our apartment though, this little extra room will be classified as an office or just extra space--not a bedroom--because it lacks a window. If a buyer wanted the room opened again, it would cost around $2,000-$3,000. 
For now, it houses a twin bed, chest of drawers, nightstand, closet, TV, and a small chair. It's the perfect spot for a single guest for a night or two.
As my husband says, "It's nice enough, but our guests won't get too comfortable."
Owning this extra little room has its advantages even when we don't house overnight guests. We store things under the twin bed, in the extra closet and in the dresser. My husband also uses it as a dressing area early in the mornings so he doesn't wake me (I'm a night owl).
Here are some pointers for anyone with a two-bedroom vision on a one-bedroom budget:
1. The right floor plan
Not all floor plans are created equal. Many do not lend themselves to adding a wall or a nook.
Look for those with larger-than-usual living spaces. If your living room has a wall on one side with a "jog" (irregularity in an otherwise straight wall line), where you could easily continue that line and create a wall, this is an ideal situation. That's what we searched for and found.
Among the floor plans that make it easy are those with a separate dining nook or an area outside of the usual traffic pattern, also known as a "Junior 4," or a one-bedroom apartment with an alcove. Plus these have windows. You can create a real bedroom easily out of most Junior-4 plans.
Rooms that are more rectangular as opposed to square seem to work well, leaving you with a perfectly proportioned square living room after the wall goes up.
Narrow or shotgun style apartments do not lend themselves to creating nooks because they're usually not wide enough to carve out a space. In other words, townhouse and tenement buildings probably won't work as well as high-rise apartments. 
Pay attention to your distribution of natural light and how the overall spaces will be affected. You need to think about the end result. Will carving out a nook look like you've carved into your room? Will adding this wall create more value or take away value in the apartment, and how will it affect resale?
2. Temporary versus permanent wall
While a temporary wall will cost a fraction of the price (if your building will even allow it), I don't recommend it if you own your apartment unless you plan to definitely remove it before selling and it's very temporary, like only for a couple of years.
Pressurized walls won't be durable like a standard non-loadbearing wall, and you won't be able to run systems like electrical or cable through these types of walls; they don't attach to the ceiling or floor. You'll still need approvals from your co-op and the DOB (see below), but you won't need to hire an architect.
3.  Permits and approvals
To construct a wall, like we did, hire a licensed architect to draw up the renovation plan and submit it to your building's management company. Get bids from at least three general contractors for the job.
Be sure your contractor is both licensed and insured properly to work in your building. Your board can give you the minimum insurance requirements.
Depending on the individual building and the nature of the work (perhaps continuing an existing wall or adding a wall without disrupting the flow of traffic), you can get a sign-off from building management and not have to deal with board approval, which will require more time.
Your architect can also secure your building permit from the DOB (Department of Buildings), or you can hire someone who does this specifically, known as an expediter. Your architect should be able to recommend someone.
As always, you should notify your insurance broker or agent in advance of renovation work.
"Some insurance contracts require it and will penalize you in the event of a loss if there has been no prior notice," says NYC apartment insurance broker Jeffrey Schneider of Gotham Brokerage.
4. Timing
Once you have all necessary approvals and permits, your contractor can begin construction. Allow three or four days for the major construction and another two or three days for finishing and painting.
It should take approximately six-to-eight working days total if not less -- some of that will depend on your building's working hours. Our room took about a week to frame and finish.
5. Details and design
Do the best you can to replicate existing base molding and crowns. Often you can combine stock molding to match some of the elaborate moldings you find in pre-war apartments. Pay attention to wood flooring borders and how your new space will affect them. I would also recommend using French door or doors with glass to allow natural light to pass through.
Your architect can help specify materials if needed. Door type and hardware will look best if they also match the existing. We asked our super if he had any extra hardware, and he did. That saved us the time and expense of trying to locate it.
6. Cost
Material should be about $2,000-$3,000 and labor should be in the $5,000-$6,000 range, including clean up and garbage removal, not including a building permit or architectural fees.
Keep in mind also that smaller spaces will cost less than larger spaces, and contractors' prices will vary.  
Architectural fees will also vary, and for a small project like this, you may be able to find a pro who will charge you hourly, but that could range from $50-$200 or higher per hour. The drawings will require a stamp from a licensed architect in New York State.
7. Decorating tips
Now that your room has been framed, dry walled, trimmed, and painted, it's time for the fun part—decorating.
Chances are that your nook will be on the darker side (hence the advantage of French doors), so keep paint light in color.
Don't neglect décor just because of the low square footage. Small spaces can be functional, charming and cozy. Treat the tiny room like the largest of your rooms and with the same importance.
Use furniture that works with the scale of the room. Don't try to stuff a Queen-size bed because it will "fit." Use a daybed with a trundle, or a pullout sofa, along with other scaled pieces to complete the room and create a usable and comfortable living or sleeping space.
Design your new room for use when guests aren't visiting or before and after the baby arrives. Place a small chair with a lamp and side table in a corner. Use it to read or send emails once or twice per week. You'll feel better about making the investment knowing that your new "nook" is used on a regular basis, and you might unexpectedly discover that it's your favorite spot in the apartment.
________________________________________________________________________________
Tracy Kaler was a designer, decorator and renovator in her last life. Before working as a freelance writer, she held several furniture sales jobs in the Big Apple and purchased a new wardrobe. Now she works in her pajamas and commutes two feet to her desk each day. This is one of the few advantages of living in a New York apartment, and well, so much for that wardrobe.
Related posts:
Renovation Qs: NYC renovation bloopers: 6 great ideas you'll regret having
Renovation Qs:Why is it so expensive to renovate in New York City? And what can I do about it?
Ask an Expert: Jilted by my contractor. Now what?
Brick Underground articles occasionally include the expertise of, or information about, advertising partners when relevant to the story. We will never promote an advertiser's product without making the relationship clear to our readers.