Transitions
From Carroll Gardens to the Lower East Side: A nice switch from Sesame Street, except for the weekends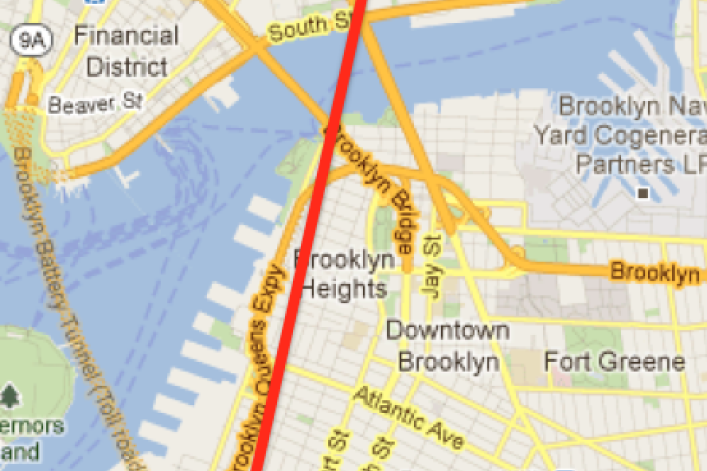 I moved to the Lower East Side from Carroll Gardens two years ago. I love both neighborhoods.
Carroll Gardens has a very (for lack of better metaphor) "Sesame Street" feel, with quaint tree-lined streets, generations of families, classic brownstones, and wonderful restaurant and bar establishments. It's also 15 minutes by F train from the Lower East Side.

But at the time, I was working as a bartender at PDT and Momofuku Ssam Bar, which are both in the East Village. I wanted to live somewhere where I could walk to work.

I also wanted to be in the city, because I have a night job, and wanted a place that was busy during the day. The sleepier pace in Brooklyn does not feed into my productivity level as much as the LES does. The constant activity in downtown NYC legitimizes my being off during the day and serves as a pillar of support for a nightlife job.  

Carroll Gardens can feel sleepy during the day because the people who are around have families or are freelancers.

A lot of people who live on the Lower East Side work at night. I have a number of co-workers who live here.

I also feel like the Lower East Side still has its diversity, it's not just hipsters. It's not a closed off demographic the way you can argue Williamsburg is. There are families, singles, and there's Chinatown around the corner.

I live next to the Tenement Museum, which is great, but I try to avoid it on the weekends, when it gets packed with tourists.

I generally avoid going out on the Lower East Side on weekend nights because it largely transforms from what I know as a unique, diverse neighborhood to a tourist-trodden, raucous playground. Random drunken folks buzz my apartment at wee hours of the mornings.

When it comes to neighborhood restaurants, I prefer independently run ones, and I love a soba placed called Cocoron on Delancey Street, and a vegetarian Japanese place called Soy that's on Elizabeth Street. 

Transportation is better on the LES because plenty of choices of subways are within walking distance, but Carroll Gardens isn't as far from the city as most imagine, barring service changes. I biked much more in Brooklyn, so I miss that aspect, along with nature.  

Funny enough, I now bartend at Prime Meats in Carroll Gardens, so I'm looking to move back to Brooklyn again.

I'd stay if I could afford a two-bedroom (right now I live in a three-bedroom with two roommates), but those are hard to find on the Lower East Side. So I'm looking to move to South Slope, where I plan to move in with just one friend.

It'll take a while to get used to that new neighborhood, I think, and I've been somewhat spoiled with all the conveniences here. I'll have to get used to not having my choice of tons of coffee places on my block alone.
---
Transitions highlights New Yorkers' first impressions as they transition from one neighborhood to another. Want to tell us your transition story? Drop us an email.
Related posts:
From the West Village to Prospect Heights: "I was Manhattan-ed out" 
From 14th Street to Carroll Gardens: "Even if we could afford to move back to Manhattan, I wouldn't"
From the Lower East Side to Brooklyn Heights: No sleep til Brooklyn
Rent Coach: Best Brooklyn neighborhoods for a West Village refugee
How to find a rent stabilized apartment in NYC
8 best websites for finding a no-fee apartment in NYC
Rejected by a landlord lately? Want to get that apartment faster? Here's your secret weapon (Sponsored)
Brick Underground articles occasionally include the expertise of, or information about, advertising partners when relevant to the story. We will never promote an advertiser's product without making the relationship clear to our readers.