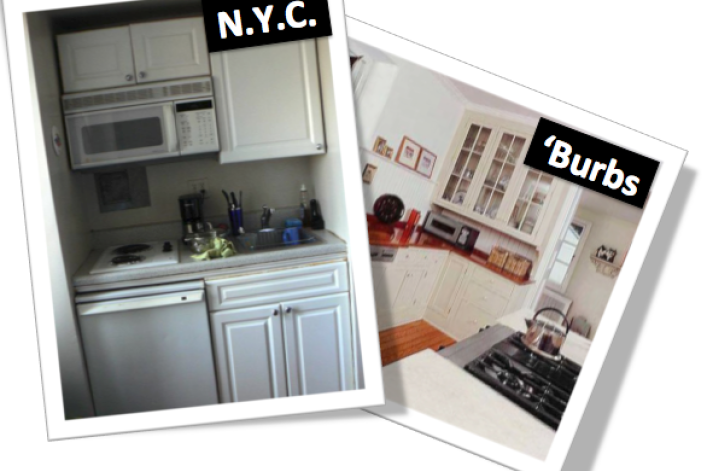 I've always been big into real estate. I enjoy researching what details a certain amount of money will buy and determining which features are most important to me so I can get a sense of how much I'll need to be happy (give or take) with my future home.
New York City has thrown me for a loop. Where $300,000 in Little Rock, AR, for example, could buy you a 5,000-square-foot tri-level hilltop castle, in NYC, that amount could only offer a run-of-the-mill studio with hardwood floors and laundry in the basement (if you're lucky).
I have decided that a hard comparison is necessary.  This could be the column that drives me out of the city for good, but I'm feeling dangerous. I genuinely want to compare needs and wants in NYC to the rest of the real estate world.
Here is my list of Normal Real Estate Wants/Needs Vs. NYC Wants/Needs:
1. Master suite vs Master padlock
I would venture to say that one of the biggest concerns in the city is security, so it's understandable why a video buzzer, a doorman, or five or so padlocks take precedence over a room big enough for a California King.
2. Close to work/schools/friends/family vs. Close to subway
In the country, I lived 20 minutes away from school, 15 minutes away from my best friend, 10 minutes away from the nearest grocery store, and 40 minutes away from the nearest mall (gasp!). One of the best parts of living in NYC is that none of that matters. As long as you have a short walk to the subway, everything is all right.
3. Wine fridge vs. Full-sized fridge
Most NYC kitchens are ultra small—some a small cubby space like mine, and others just a cutout on a wall--so while my mother renovated her kitchen back home and made plans for a small wine cooler for under the counter (all while standing directly in front of her looming four-door commercial refrigerator), most buyers in NYC just hope for enough space to store left-overs. And a dishwasher.
4. Gorgeous sweeping staircase vs. Ughhhh stairs
Self-explanatory.
5. Guest bedroom vs. space for an aero bed
After hosting three different friends over night at my current apartment, I understand this all too well. I've never felt so close to my friends as I did after spending several nights in a row lying next to them under the same covers.
6. Little creatures in the backyard vs. NO creatures…EVER
I used to spot white-tailed deer, woodchucks, and foxes outside my window every morning with my dad before getting on the school bus. I used to love seeing creatures around my house. After spotting a dead cockroach in my bathroom and seeing a massive horde of rats tearing through a garbage bag outside my building, I don't want any creatures around where I live ever again.
7.  Fenced-in backyard vs. 'Terrace' for herb planters
I didn't think I could live without grass. It turns out that when you only have about three minutes a day to yourself to actually think about the lack of green in your life, it doesn't matter too much. That seems to be a popular conclusion in the city. I'm no longer surprised when I see a listing proudly mention a tiny terrace with enough space for one chair as "outdoor space."
8. Safe neighborhood vs. Safe neighborhood
Hey, what do you know! There's one thing they have in common!
---
Emmalie Vance is a New York newbie who grew up on a hay farm in western New York. In the From Farm to City series, she'll chronicle her real estate adventures here in the big city.
Related posts:
Farm to City: Tough lessons in NYC real estate
These 5 former Manhattanites love/hate the 'burbs
Rental Rookie: Finding my Next NYC apartment
Rental Rookie: Basic steps in the roommating dance
Rental Rookie: I lay eyes on my apartment for the first time
Rental Rookie: I rent my first NYC apartment from 3,000 miles away
Brick Underground articles occasionally include the expertise of, or information about, advertising partners when relevant to the story. We will never promote an advertiser's product without making the relationship clear to our readers.