The Market
UES buyers sue for $256K deposit after discovering washer-dryer ban. Will they get it back?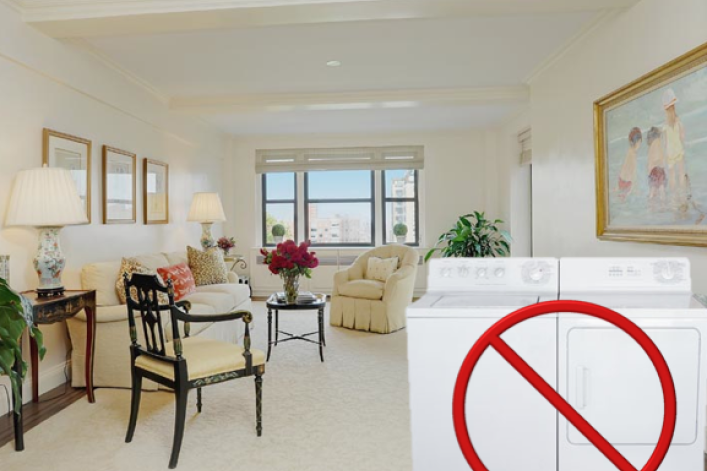 Now this is a fine mess.
According to a recent report in the NY Daily News, a couple who agreed to buy a sprawling family-sized Upper East Side apartment early last year for $2.65 million on the assumption that they could install a washer-dryer have cancelled their contract and are suing for the return of their $265k deposit.  
Turns out the building banned in-unit washer-dryers 10 years ago, and the sellers (including a former board president) say they were unaware that their own listing claimed washer-dryers were allowed.
We asked Manhattan closing attorney Sandor Krauss what the chances are that the, um, agitated buyers will see their deposit again.
"The odds are stacked against them based on the facts as they are presented," says Krauss. "The major hurdle for the buyers will be the basic concept of caveat emptor and their obligation to conduct proper due diligence. Another legal issue will be the contract and the merger clause in the standard form, which is there to ensure that the written contract is the complete agreement between the parties."
Also, says Krauss, most contracts state that the parties can't rely on any representations that are not written into the contract.   Thus whatever the listing says is irrelevant.
"It seems like a more viable action may be against the brokerage company, but that will have its own challenges," says Krauss.
Hindsight is 20/20, and in this case, says Krauss, it may have been more prudent either to require the sellers to have the washer-dryer approved and installed as a condition of the sale, or get the board to pre-approve the installation of a washer-dryer in writing.
In most cases, the former is the best course of action, says Krauss.
"Typically, coops are reluctant to provide consent to anyone that is not a shareholder," he says. "However, it is possible. Many coop boards will consider a prospective shareholders request for assurance of approval for certain items, such as non-structural type alterations that may still need board consent."
Related posts:
10 signs of a liberal co-op board
Ask an Expert: Signs of a toxic co-op
The 7 questions all buyers should ask
16 things I wish I knew before buying this place
Top negotiating mistakes EVERYBODY makes (buyers, sellers and their brokers)
How to appeal a co-op board turndown
Ask an Expert: The consequences of an illegal washer-dryer
Brick Underground articles occasionally include the expertise of, or information about, advertising partners when relevant to the story. We will never promote an advertiser's product without making the relationship clear to our readers.