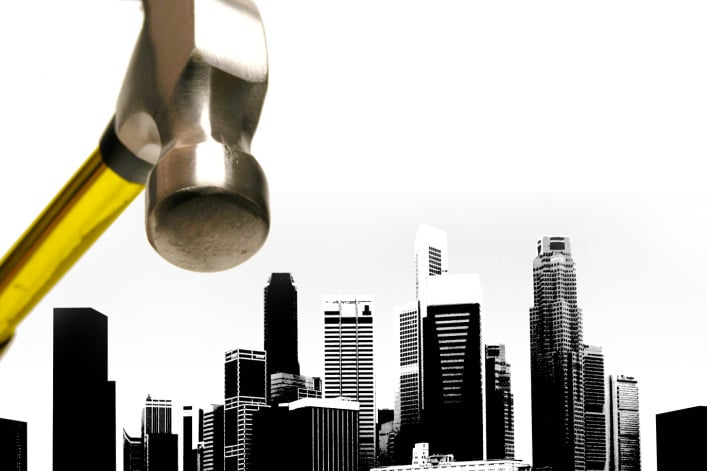 When it comes to apartment renovation, there are few DIY projects that can compare with professional work. Sure, a lot of homeowners know how to paint well, but almost none of them know how to properly patch plaster or sheetrock walls.
Plus, busy New Yorkers are unlikely to make the time to learn how to do things that they can pay others to do. 
But if you are one of the lucky few with the free time, patience and skill-level to perform renovations in your apartment, these three DIYs are for you. For step-by-step instructions on how to perform any of these tasks I recommend visiting YouTube.
These case studies are meant to help you decide if you really want to do it yourself or hire a professional. 
1. Painting
If your walls are relatively smooth, and you have a few weekends to spare, try your hand at painting your apartment on your own. 
The first challenge is moving all of your furniture out of the area where you are going to paint. If you can't move all of your furniture, buy a large roll of plastic sheeting to cover all of your belongings. 
You will need good brushes, sandpaper, primer, and blue painters' tape to tape off any areas you do not want to paint (such as moldings, floor). Expect  it to take several whole days to paint a small one-bedroom apartment. 
I recommend using Benjamin Moore paints as they are readily available, cost effective and come in a large array of colors. 
Flat paint should be used on the ceiling to give the illusion of more height. But stay away from flat paint on walls, as it's almost impossible to clean. Walls should be painted in eggshell or satin, which are much easier to clean. 
For bathrooms and kitchens, I recommend using a satin or semi-gloss finish, because those are high moisture areas. 
Use neutral colors if you are considering selling or renting out your apartment to make it more appealing to a wide range of people. We regularly paint over loud colors when people are preparing their apartments for resale. 
2. Re-grouting your bathroom 
Buy a grout-removal scraper at Home Depot or any local hardware store to remove the old grout. The scraper will come with a sharp blade that you move back and forth on the grout line to remove the top 1/8" surface of the grout. 
Be steady while using the scraper: If you slip, you may permanently scratch your ceramic tile or stone. If you are very skilled at using power tools, you can buy a dremel, but the risk of damaging your tiles is much higher for beginners than when using the manual scraper. 
You should also always wear a respirator and safety glasses. 
Once you have removed the grout, use a shop vac (not your domestic vacuum as the grout dust will clog all of its filters) to remove any loose grout or dust. Once the old grout has been completely removed, you are ready to install your new grout. 
You will need powdered grout, a rubber float, a sponge and cheese cloth. Mix the grout as per the instructions on the container, and apply the grout using a rubber float. You will then wipe off the excess grout using a clean sponge.
Once you have all of the excess grout removed, you can use the cheese cloth to remove any grout haze from the tiles. 
After 48 hours, you should seal the grout with a sealer readily available at Home Depot and some of the larger local hardware stores. As you can see by the above, re-grouting a bathroom is labor- intensive, messy and time consuming. Be sure you know what you're in for before you start the job.
3. Wood stripping & refinishing
If you live in a pre-war apartment, you may have old decorative wooden baseboard and trim hidden under multiple coats of paint. You can remove all of the paint and refinish the wood to a warm patina. 
You will need stripping chemicals (you can buy organic ones that are non-toxic and safe to use with people around) and brushes to apply them, as well as old rags to wipe the chemicals away along with the old paint or stain. 
Once the old finish has been removed, you will need a fine brush to apply tung oil, stain and/or polyurethane.
I recommend that you apply samples of different stains or oils to a discreet part of the trim so you can evaluate which one you like. Since each wood is different, the color chart will not be an accurate representation of what the stain looks like.
Since each wood is different, the color chart will not be an exact representation of what the stain will look like on your particular trim.
Polyurethane is good if you want a shiny surface (there are different levels of glossiness) or a sealer to protect the wood.
Refinishing wood is a very rewarding task, and it can make a home look much grander. But it can exact a toll on your patience, since it can easily take several full work days to strip and refinish one room's baseboards.
______________________________________________________________
Yoel Borgenicht is the president of King Rose Construction, specializing in residential and commercial renovations in the New York City metro area.  

See all NYC Renovation Chronicles
Related posts:
Rental Rookie: A primer on painting
NYC Renovation Chronicles: 5 ways to save on your bathroom renovation
Weekend Warrior: Floss your bathroom with caulk
NYC Renovation Chronicles: 5 splashy but functional backsplashes
Brick Underground articles occasionally include the expertise of, or information about, advertising partners when relevant to the story. We will never promote an advertiser's product without making the relationship clear to our readers.