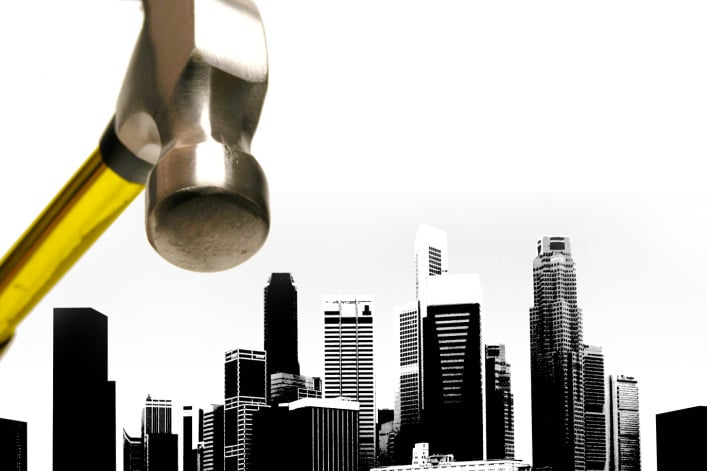 You're nearly there -- mere weeks away from your dream kitchen. Now it's just time to add the finishing touches. 
A beautiful backsplash can make a big impact. In small, NYC-style kitchens in particular, each inch of space is crucial, so you'll want to choose a backsplash that complements the overall design, looks great now and will stand up to wear and tear in the future. You'll also want to order your materials a few weeks before you're ready to do the work (or have it done).
Here's what to know about some popular options:
Ceramic & Stone Tile
Ceramic or stone tiles are the most traditional and popular choices for backsplashes, but they have their advantages and disadvantages. On the plus side, if installed properly, ceramic and stone tiles can look great. To ensure proper installation, always hire a professional with plenty of experience.
The main disadvantage of using these types of tile is that grout lines can get dirty very quickly when food splashes on them. To make stains less noticeable, I recommend using a dark grout. However, generally speaking, know that the only way to get rid of deep food stains is to re-grout the backsplash. A grout sealer can help minimize staining, but it won't eliminate the problem.

Glass Tile
Another great-looking option, glass tile is even more difficult to install than ceramic and stone (you need specialty equipment to cut the glass), so professional help is absolutely necessary. I recommend having your contractor install a small sample section at first.
Since glass tiles are also usually more expensive than ceramic tiles, you want to make sure they will look great before performing the final installation. The most noticeable installation errors occur when cutting glass tiles (i.e. the edges are rough) so pay special attention to these areas before approving a sample installation. Cleaning is a cinch (think paper towel and Windex), but glass tiles scratch easily so they're more fragile than ceramic or stone.

Stainless Steel
Stainless is a good choice for industrial and modern-looking kitchens (think TriBeCa loft-style). There are many patterns available, and online retailers often send you samples for free, or for a nominal charge. The upkeep is simple too -- stainless steel is easy to clean and won't stain or rust. Another good -- albeit more expensive -- option is copper.
 
Slab of Stone
Of all the options here, this is the most expensive, and the one I recommend most to my New York City clients. I like using the same material for the backsplash as the counter top, which creates a uniform, elegant look and makes maintenance very easy.
(Ordering tip: In my experiences, I've found it best to order the material for the backsplash and the counter at the same time. One of our clients decided to go with slab of stone for both her counter and backsplash after having the counter installed, and unfortunately the stone available for the backsplash was was not an exact match.)
To clean a slab of stone backsplash, all you have to do is wipe it with a wet paper towel. If you really want to up the wow factor, select a light Onyx stone for your backsplash and backlight it with an LED panel. This looks amazing, but beware: It can easily cost several thousands of dollars for the materials and installation.
Under-Cabinet Lights
Though they're certainly not necessary, I recommend under-cabinet lights for highlighting a beautiful backsplash. There are a wide range of prices available, ranging from inexpensive IKEA options to pricier European imports. But keep in mind, before installing lights, your contractor's carpenter will need to install a light rail molding under the cabinets to hide the lights. A licensed electrician will have to do the wiring for you.
 
Brick Underground articles occasionally include the expertise of, or information about, advertising partners when relevant to the story. We will never promote an advertiser's product without making the relationship clear to our readers.