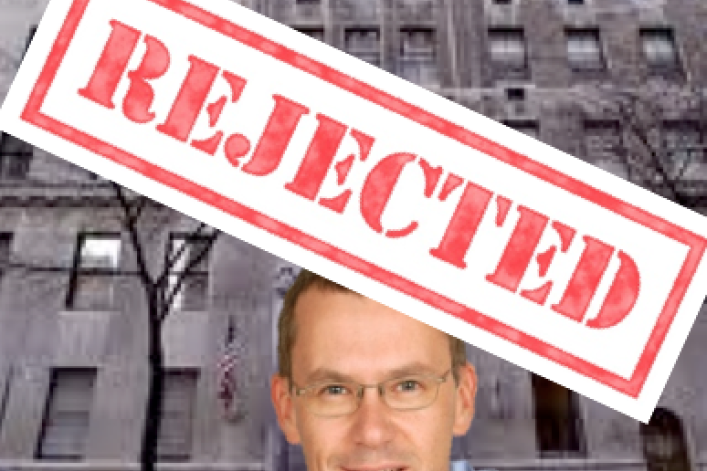 As BrickUnderground prepares to relaunch our agent-client matching service tomorrow, we bring you another excerpt from our new online guide to buying a NYC apartment, which will also go live tomorrow....
14 ways to get turned down before your co-op board interview
(Adapted from BrickUnderground's How to Buy a NYC Apartment)
The good news about co-op board interviews is that despite their fearsome reputation, the vast majority of turndowns occur beforehand based on a buyer's financial package. Attorneys advise their boards to do this in order to cut down on lawsuits alleging discrimination.
That said, co-ops do not have to explain why they rejected you. So although, legally, they must abide by Fair Housing Laws and not discriminate on the basis of race, religion, family status, etc., the fact is that anything can and probably does happen behind closed doors and sealed lips.
Here's a brief tour of the possible, not always obvious reasons (most legal, some not) for rejection based on your application:
The size, breed, temperament, etc., of your dog.
They suspect you plan to use the apartment as a pied a terre rather than your primary residence.
You are buying the place for your grown kids.
You need a guarantor to afford the apartment.
You won't have enough cash left over after buying the apartment to meet "liquid reserve" requirements, which can range from $25,000 all the way up to 1x to 3x the purchase price of the apartment.
You don't have a strong enough presence in the United States (where will they sue and collect money if you default on the maintenance).
You are a musician (noisy), record producer (like to party), or attorney (litigious).
You are an at-home music teacher (noise + lots of visitors) or operate some other objectionable home-based business.
You have a history of being litigious and/or suing a former neighbor, board or landlord.
You posted stupid pictures of yourself on Facebook that suggest your lifestyle is not an ideal fit.
You are paying too little for the apartment (boards fear it will drag down property values for the whole building).
There are discrepancies in your financial package that have not been adequately explained.
Your income relies too much on discretionary bonuses or on commissions.
You haven't been at your current job long enough.  
Related posts:
BrickUnderground relaunches agent referral service: Not just for renters anymore
How to get your dog past a co-op board
Are you the co-op or condo type?
17 questions to ask before buying a NYC apartment
5 things never to ask a buyer at a co-op board interview (sponsored)
F'd! UES co-op board kills sale after reading kid's Facebook page
Brick Underground articles occasionally include the expertise of, or information about, advertising partners when relevant to the story. We will never promote an advertiser's product without making the relationship clear to our readers.