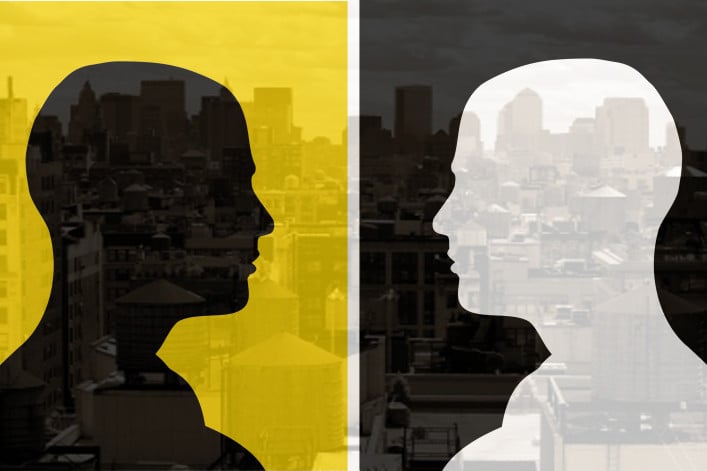 I have owned my current apartment in Sunnyside, Queens, for about five years now. It's a 950-square-foot two-bedroom co-op worth around $350,000, and my roommate and I have more than enough space for the two of us.
I live two blocks from the subway station and six stops from the city. When I bought it, I liked the size, the proximity to transportation, and the ample amount of light. I disliked the fact that it had a cockroach problem the most at first. However, thankfully that was short-lived; an exterminator took care of it right away.
Now that I have lived here for so long, the thing I like best is that the space lends itself so nicely to dinner parties. The dining area and living room area create a large, airy space in which to gather, with a bar area for mixing drinks. Compared with my friends who live in the city or even in New Jersey or Westchester, their floor plans aren't ideal for entertaining.
The fact that my place is so good for parties is a saving grace, because I've grown to dislike the neighborhood. It lacks in cultural amenities.
Specifically, none of my friends live within walking distance; a lot of them live in Brooklyn (Williamsburg, Fort Greene, etc.) or in the city (East Village). I'm 30 years old, so I guess I'm the only one who didn't get the memo that everyone my age lives in a cool neighborhood--not a quiet, affordable, family-oriented one.
There isn't a ton of stuff to do here, just pubs and ethnic restaurants, which aren't ideal for entertaining fellow young professionals who would rather brunch, hang out at an independent cafe, or check out a gallery.
Long story short, I'm considering moving to Brooklyn because it has more to offer to young professionals in terms of art, music, and culture in general. I'll have to move to a smaller place--maybe even a studio. I'll have to sell my current place and buy a new place, which will be a lengthy process, I'm sure.
---
Then & Now explores how time illuminates the pros and cons of an apartment--and how what draws people to a place isn't necessarily what keeps them there.
Related posts:
The 7 worst places to live in a building
Then & Now: I can't use my 43rd floor terrace, but the closets are divine
Then & Now: I still love my terrace. The layout and maintenance fees? Not so much.
Then & Now: I fell for the view, then shut the curtains
Then & Now: My East Village apartment still fits, but the neighborhood doesn't
See all Then & Now

Brick Underground articles occasionally include the expertise of, or information about, advertising partners when relevant to the story. We will never promote an advertiser's product without making the relationship clear to our readers.