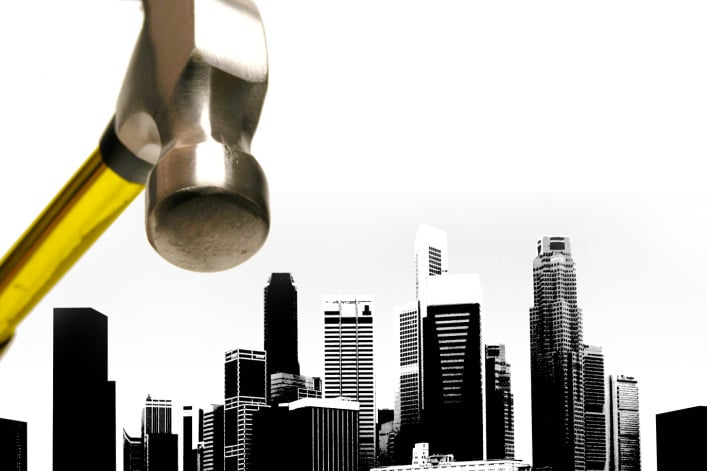 The Situation
Your wooden floors are looking tired (or maybe they just don't match your new furniture), and you want to upgrade them. You have a lot of choices, but only five things you need to know to move ahead.
The Deal
1. Determine the kind of floors you have.
Hardwood: If you have solid hardwood floors they usually can be refinished several times before they need to be replaced.
Engineered Floors: Many new condos use engineered flooring, which has a thin veneer of hardwood on the top and inexpensive plywood glued to the veneer underneath. Depending on how thin the veneer is, you may not be able to refinish and will have to replace the flooring for a new aesthetic.
Imitation wood flooring: Some laminate flooring looks like real wood. One of our clients bought an apartment and only when I visited to provide her with a quote to refinish the floors did she find out that they were not real wood. Of course, she could not refinish them, only replace them at significant expense.
2. Hire the right flooring contractor.
Refinishing or replacing wooden floors is a specialty trade and great care should be exercised when hiring your flooring contractor. Ask everyone you're considering for references, and if possible, go see samples of floors they have refinished or installed.
Do not hire based on price alone. An inexperienced flooring contractor can permanently damage your flooring and cost you more than you would have saved because of their low price.
3. Select the stain and polyurethane of your choice.
If you are refinishing your floors, ask your flooring contractor to apply a sample stain and polyurethane finish on your floors for your approval. Color chips and computer screens do not accurately represent how a stain or polyurethane finish will look once it is on your floor.
If you are installing new hardwood flooring, try to buy pre-finished floors, as they will save installation time and the factory finish will be more resilient than the stain and polyurethane your contractor applies.
4. Find somewhere to live while your floor is being worked on.
Move out and remove all the furniture from the floors that are being upgraded. If flooring throughout your apartment is being replaced, I'd advise putting your furniture in storage. Your flooring contractor will be able to finish your job faster in an empty apartment and the finish will be more uniform as it can be applied to the entire flooring surface at once. Not to mention that living with sawdust and fumes from stain is not pleasant. 
5. Care for your floors.
Once your floors have been refinished or replaced, make sure all of your furniture has felt pads on the bottom so that your new floors do not get scratched. Ask the flooring contractor how many days you should wait before moving back so you do not disturb the polyurethane's curing.
Read the specifications of your floor cleanser to ensure it's safe to use on wood.
Refinishing or replacing wooden floors can dramatically change the way your home looks. Just make sure to hire the right professional and do your homework. A mistake on a flooring job can be costly to fix.
---
Yoel Borgenicht is the president of King Rose Construction, specializing in residential and commercial renovations in the New York City metro area.  
See all NYC Renovation Chronicles.
Related posts:
Refinishing your wood floors: The NYC essentials
The inside scoop on replacing your wood floors
BrickUnderground's Renovation Survival Kit
Brick Underground articles occasionally include the expertise of, or information about, advertising partners when relevant to the story. We will never promote an advertiser's product without making the relationship clear to our readers.