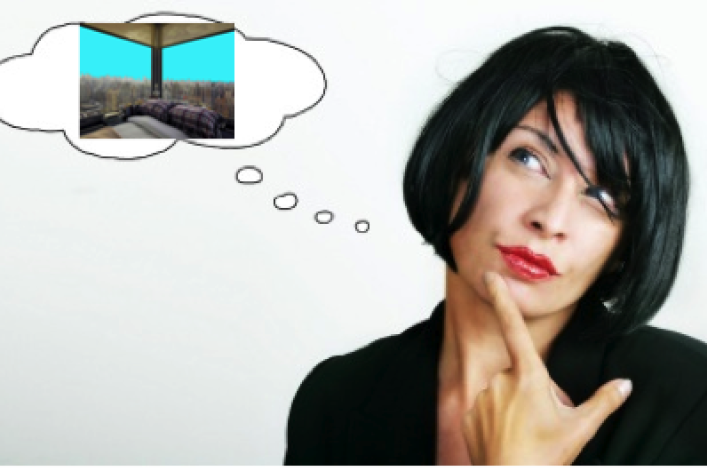 Five New Yorkers reveal the one thing they would change about their apartment if they could....
A one-floor boost! I am just dying for my apartment to be on a higher floor—even just one floor higher. My living room windows look right into the windows of another building, and my bedroom windows look into a parking garage (which, let me tell you, has its advantages when you want peace and quiet—not to mention if you're in the mood to walk around in your skivvies). But the light situation throughout my place isn't great, and some of my neighbors (whose names and addresses we won't mention) dump garbage out their kitchen and bathroom windows. Ugh! The staff in my building does a good job of keeping up the grounds, but I can't say the same for the people who take care of the building I look at. I'm on the sixth floor; if I were on the seventh, I'd see right over the rooftops of those buildings. And because I'm not in an area where there are a lot of really tall buildings, I'd have fabulous, great open views to the south and west—views that might even tempt my base-jumper friends! — Jean, wine buyer, Upper West Side, 1BR, $1,900/month 
An outdoor view I share the top floor of a Brooklyn brownstone with two roommates. It's a lovely, light place—apart from my bedroom, which is located in the center of the apartment and has a tiny window that looks out into a mysterious airshaft in the middle of the building. When I first moved in, the lack of a view seemed somehow charmingly "New York," but after three years, I'd love a glimpse of some greenery...or even a graffiti-strewn brick wall! — Tracey, Editor, Carroll Gardens, 3BR, $2,500/month. 
More counter space The one thing I would change about my apartment (other than turning it into a 2,500-sq.-ft. New York villa) would be to make some modifications to my galley kitchen. It has lots of cabinets—which are great—and a full-size fridge and sink. No dishwasher, but I can survive that. The problem is that this relatively large (12.5 by 4) room contains only 1.5 sq. ft. of counter space. While I don't cook often, I do like to entertain and I imagine that I would be cooking all the time if I had a more conducive space for the activity. As it stands, entertaining and dinner parties often have me cutting vegetables in the living room, storing food on the window sill and precariously lodging pans and pots on the corner of my sink. This is difficult. I would trade my full-size bathtub (which I can stretch out in) for another couple of feet of counter space. Well, maybeI would.... — Anand, director of marketing, Prospect Heights, studio, $1,500/month
Another bathroom My husband and I live with our two children in a boxy, nondescript elevator/doorman building. What I want more than a balcony, or office, or enough kitchen counter space to host a standing mixer—even more than a washer/dryer—is a second bathroom. Our 900-sq.-ft. two-bedroom, one-bath apartment was fine when it was just my husband and me. Kids in diapers didn't affect the bathroom situation all that much, either. Even when out of diapers, the kids didn't actually need to spend that much time in there. But now the kids are older (8 and 6) and demanding equal bathroom time. Suddenly my son is obsessed with the scale, the mirror, the hair products, and my daughter needs to "do" her hair and check it out from every angle—all while I  am trying to brush my teeth and slap on some makeup before I take them to school. Four people (yes, kids are people too) with one bathroom just doesn't work anymore. I would even settle for a half bath to alleviate morning congestion. Perhaps I could install some kind of meter.... — Jean, stay-at-home-mom, Carnegie Hill, 2BR, $2,900/month
Back yard access I look out on the untended, grassy space below—which would make afabulous garden and outdoor dining area—and I dream of getting a few chickens, planting herbs and vegetables and flowers and inviting everyone over for a four-course outdoor dinner. I covet this space that doesn't belong to me but has so much potential! — Leslie, restaurateur, Long Island City, 3BR, $2,900/month 
Brick Underground articles occasionally include the expertise of, or information about, advertising partners when relevant to the story. We will never promote an advertiser's product without making the relationship clear to our readers.