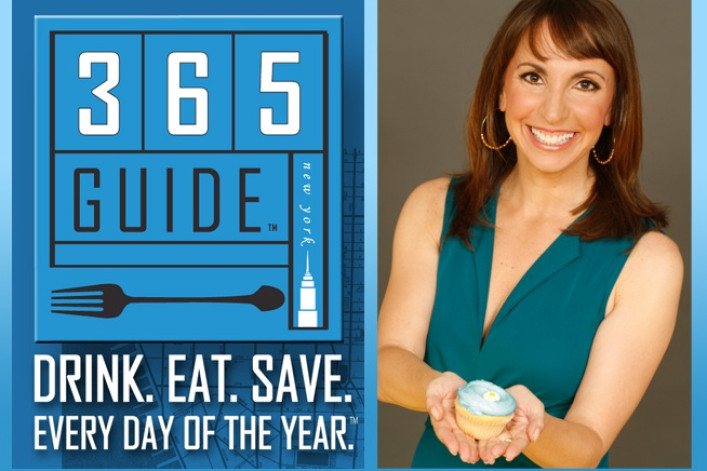 Food and restaurant blogger (and Upper West Sider) Monica DiNatale offers a NYC eating and drinking deal every day of the year in her book and on her website, www.my365guide.com. Excerpts from her interview with BrickUnderground follow.
What brought you to New York City?
I grew up in South Jersey in a typical suburb. Everything was a drive and we were lucky to get pizza delivery! After college I moved to Manayunk, a neighborhood in Philadelphia. I spent a lot of time in Center City, Philadelphia, and my love of cities was born. I didn't live downtown and always wanted to be in the thick of it. On a whim I decided to try living in New York. That was in 1999. I am here to stay.
How does this city compare to those places?
New York simply has more, and more variety. Ethnic food in New York is unbelievably good. Philadelphia will always have the best cheese steaks (Jim's, Fourth & South Streets); they hold a special place in my heart. It is a huge city, yet very spread out. So I find it less manageable than New York as far as getting around.
Chefs like Jose Garces, Masaharu Morimoto and Steven Starr have changed the dining landscape there. There are many good restaurants.
How did you find your first New York apartment?
I found my first apartment in 1999 through a broker who took me to every neighborhood in New York. I knew nothing about the city and wanted to see where I liked the vibe. He was very patient and helped me find a place in the Columbia area with a huge terrace.
Where do you currently live?
On the Upper West Side. I've decided that being near Central Park is important when picking a neighborhood. I love it there. I always feel like I'm on vacation.
So, is that your favorite neighborhood?
I like to explore the city and the restaurants and try not to hang in only one neighborhood. The East Village, Hell's Kitchen and the Upper West Side are probably my favorites for dining. I've really yet to visit a neighborhood that I couldn't live in or find food gems. Wherever I go out, I try to walk home; it's a great way to discover new places.
What's the weirdest, funniest or scariest thing that has happened to you here?
I read about Adrienne's Pizza Bar (54 Stone Street) and decided to try it one Saturday. It was the first weekend open and the pizza ovens broke. The staff was so nice and offered me complimentary wine and an appetizer while I waited for the ovens to be fixed. It turned into a relaxing afternoon of eating and drinking.
The pizza came out and was delicious. I still go there and get the broccoli rabe pizza. I realized that there are so many great restaurants in New York and most people just need a recommendation from someone who's been there. I started to write down the names of bars and restaurants and the deals they offer, and 365 Guide was born.
What is an appropriate tip when dining out or ordering in?
I always recommend 20%. Let's face it, without those delivery people, we'd have to cook. They are an invaluable asset to living in New York and they hustle. If the weather is horrible, give them an extra dollar. Ordering in food while it is pouring outside is a great luxury.
What food lasts best once delivered?
Pizza is king in New York and it does last the best without losing its flavor. Never reheat pizza in a microwave oven. Pizza, sandwich breads and fried foods should go into a really hot oven for 3 to 5 minutes. It prevents them from being soggy.
Wraps and sandwiches lose their freshness quickly. If you can, keep the bun or bread separate from the filling so they don't get moist in the fridge. Thai and Chinese are easy to reheat. Sometimes you just need to add a little oil to loosen the noodles. Day-old sushi is just plain wrong. Only enjoy it fresh.
How can people find the top-quality delivered food in their neighborhood?
Whether you are new to a building or have been there a while, the best way to find good delivery is to ask. Ask the doormen, in particular. They know what is being delivered the most and from what places. Neighbors are great for suggestions too.
When I get a menu, I always check it out online. Yelp offers great user comments. I recommend taking a walk around your 'hood just to see what some of these places look like. Don't be turned off if a place is tiny. These can be gems. You want to see if they are busy and look clean.
Ethnic food in New York is very good because of all the competition and the number of immigrants offering authentic fare. Good restaurants know that one bad meal could mean they close their doors.
What are some of your favorite restaurants that deliver?
Pizza: Patsy's (61 West 74th Street) It offers limited delivery, but has the best pizza in the city.
City Pie: (166 West 72nd Street) If you don't want to leave your apartment, it has consistent pies that always arrive hot. If you like thinner crust, just request it.
Ollies:  Chinese (Many locations, including 67thStreet & Broadway): Hands down the fastest and most organized delivery. The staff stores your phone and credit card numbers, so ordering is a breeze. Ten to 15 minutes later, you have your food.
Daisy Mae's BBQ (623 11thStreet): Great when you have people over. It has a full catering menu with per person pricing. Plenty of food and delicious ribs, chicken, sweet potato mash and baked beans with burnt ends.
Viand Cafe (75thStreet & Broadway): A great diner. Dinners include a soup or salad and bread. Pasta dishes are big enough to share. It offers large portions in general and fast delivery.
What are the best deals in New York City in terms of eating out?
Let's start with restaurant week, July 11 to 24. This is my favorite way to sample high-end food at a reasonable price. Three-course lunches and dinners are offered from $25 to $35. You can search by neighborhood and by dollar signs. The more dollar signs ($$$$) there are, the greater the savings. Go to nycgo.com/restaurantweek.
Restaurants near the Theater District and Lincoln Center offer three-course price-fixed meals all year long. Restaurant Row (West 46th Street between 8th & 9thAvenues) is a great starting point. I also like Lattanzi Ristorante, Yum Yum and House of Brews for "happy-hour" specials.
Eating and drinking in the city on the holidays, particularly Thanksgiving, Christmas, Hanukkah and New Year's Eve can be costly. What strategies can you suggest for a New Yorker who doesn't want to cook at home?

If you want to have a nice family dinner I would suggest Carmines (two locations, West 44th Street and 90th Street & Broadway). It offers family-style dining with large platters meant to be shared. The portions are large, too, with a family of four needing only one salad, one pasta and one entree. It has reasonable wines as well.
Little Italy never disappoints (Mulberry Street, between Canal & Grand Streets). There are many good restaurants here and during the holidays the street is decorated for Christmas, which adds to the charm. Da Nico is a nice choice for somewhat upscale dining and it has garden seating in the back during nice weather.
La Mela Ristorante (167 Mulberry Street) is the real deal. Go in. Don't look at the menu, and tell them you want the works. Courses will start arriving until you say "Stop." Everything is meant to be shared and the house wine is perfect. You can walk out stuffed after 4 or 5 courses with wine for $40 to $45 per person. These places take walk-ins, so you are guaranteed a table somewhere!
Eli's (3rdAvenue & 80th Street) offers wonderful catering for Thanksgiving, Rosh Hashanah and the Yom Kippur break fast. You supply the family and let Eli's do the rest. Stuffed turkeys start at $8.50 per pound. Whitefish salad is $36 a pint and sturgeon is $29 per half pound. Eli's can really take the stress out of the holidays.
Zabar's (80thStreet & Broadway) offers similar menus with 6-to-8 pound turkeys starting at $66. Of course, there are cheaper options. Whole Foods and Gristedes offer similar menus that are more affordable (several locations).
New Year's Eve doesn't have to be expensive. Try something new. The Midnight Run http://www.nyrr.org/races/2010/r1231x00.asp is not only fun, but burns a few calories. It is a four-mile run in Central Park complete with a costume contest and fireworks display. Bring your thermos of hot chocolate ($40 entrance fee).
If you're looking to dine, I suggest a neighborhood place without a "special" menu. Many places operate on a "business as usual" schedule. They will be less crowded and you'll be less hassled. Try Thai Basil (9th & 55th Street) for delicious authentic Thai or Bin 71 (71st Street & Columbus) wine bar & tapas.
What are some of your favorite places to tie one on?

Saving on alcohol is my specialty. Many places offer not just happy-hour prices, but cheap drinks 365 days a year. The Pony Bar (637 10th Ave.) has 20 craft beers on tap for $5. If you like to try new beers, this is the place for you. From 4:20 p.m.-5:20 p.m. beers are $4.
El Cantinero (89 University Place) has $4 margaritas, beer, wine and sangria from 5p.m.-1a.m. From 5-7pm they have free appetizers like chicken quesadillas and wings. Rudy's Bar & Grill (627 9th Ave.) always has $2 beers and free hot dogs. Peter McManus (152 7th Ave.) always has $2 Bud & Bud Lights. One and One (76 East 1st Ave.) always has specials going like $2 off the bar from Noon-8 p.m. Monday-Friday and Noon-7 p.m. Sundays. Mondays, it sells wings for 20 cents each and Tuesdays, $1 sliders.
Any tips for finding a good brunch near home where people won't have to wait on line for hours?
Brunch is such a New York thing. I say, don't go to the big brunch places like Sarabeth's or Good Enough To Eat on the weekends. Save those for weekdays when you can walk in and get a table. Why not try a BYOB? Tartine (253 West 11th) offers French fare for $14.95 and bring your own mimosas.
How about a $12 all-you-can-drink (Bloody Mary's, Cape Cod's, Mimosas and Screwdrivers) brunch at Meade's Bar (22 Peck Slip)? Bondi Road (153 Rivington) has an $18 "Endless Brunch" with free drinks.
In fact, I would suggest looking for free drinks to make the brunch more affordable and if there is line where you wanted to go, move on; you will see another gem right around the corner.
Of course, there is always Central Park. Grab some bagels, a blanket and a bottle of wine and meet friends in the park for a relaxing and stress-free afternoon.
Related posts:
Brick Underground articles occasionally include the expertise of, or information about, advertising partners when relevant to the story. We will never promote an advertiser's product without making the relationship clear to our readers.