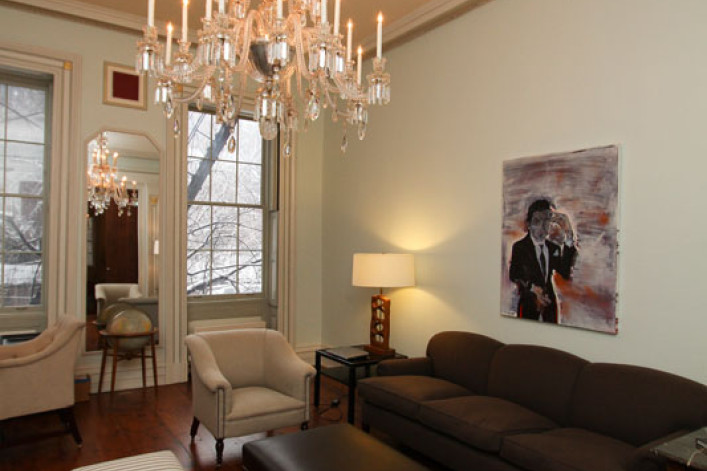 A couple of weeks ago, NYC brokerage giant Prudential Douglas Elliman announced the creation of a design consultancy--Elliman Equity Design--that aims to maximize property values via "volumetric values, space, light and spatial dynamics."
Basically, the goal of the new service is to work with developers and individual sellers to make apartments look bigger and more flawless. But its two principals--a former MIT/Harvard professor with expertise in architectural colors and a celebrity broker--are taking pains to point out that Elliman Equity Design is not an interior decorator and definitely not a staging service.
In fact, as MIT/Harvard professor & paint expert Carl Black tells both The Real Deal and BrickUnderground, "Most stagings today are so bad that it's actually counterproductive."
"They pack the place with furniture that's completely out of scale," Black told us. "The furniture and fabrics tend to be dark and non-descript. They tend to mix up styles. You can do that but you have to do it with a great deal of design prep so that they're harmonious.  And the other problem is that staging doesn't alter light, or doesn't respond to light.  A room with one window facing north is going to be quite a dull room all day long. No amount of staging will affect that, particularly if you put in dull, neutral colors."
Bottom line, says Black, is that "you can stage all you want and if the walls are all linen white or white and the apartment is not particularly distinguished architecturally, you're not going to get anyplace by staging."  
The solution? 
"Instead of staging, make the spaces have a psychological and emotional ambiance that's airy, light and comfortable," says Black.  "The objective of our work is to highlight the positive aspect of an existing structure and do our best to hide the flaws."
Applying their volumetrics principles to the Chelsea Mansion at 436 W. 20th Street (parlour floor pictured), Black and partner Michael Bolla "took the basic principles of how colors relate to light and air when painting and decorating each room," says Bolla. "We spent over 35 hours watching how light moved through the mansion, day and night, before choosing the tints"--in this case, Titanium White I pigment, mixed wtih cream, pale blue and various shades of light green to creating an 1800s pastels look.
Here are a few strategies they recommend for sellers:
Traditional staging in an architecturally interesting apartment, in which everything is put into the middle of the room, draws "focus to the objects, and the architecture is made completely secondary. The architecture needs to be the selling point." Painting the apartment white or off white would also be a mistake as it "would basically erase the architecture."
In a not-so-architecturally-interesting space, use paint color "to manipulate and modulate spaces that are either pedestrian or not very attractive."  Color can also make lower ceilings look higher.
To make the apartment seem more expansive, paint recessed planes of space a different color than the rest. 
Related posts:
7 essential photo staging tips
Ask an Expert: Carving a neighbor out of a listing agreeement
Tips for negotiating the listing agreement with your broker
BrickUnderground's Seller's Survival Kit
Brick Underground articles occasionally include the expertise of, or information about, advertising partners when relevant to the story. We will never promote an advertiser's product without making the relationship clear to our readers.