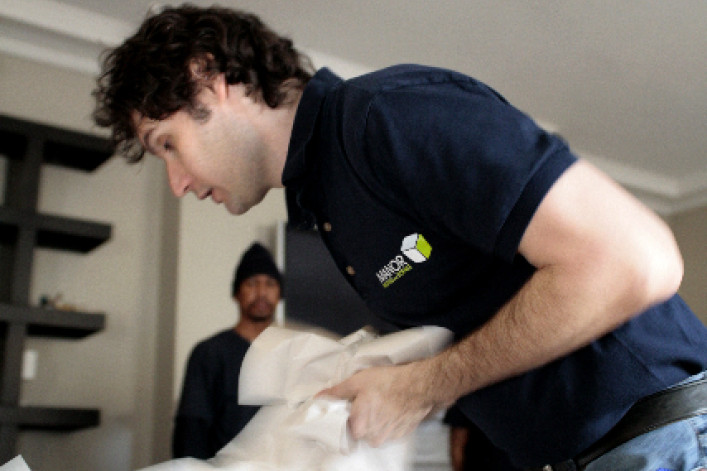 Zvi Manor runs New York City-based Manor Moving and Storage, which handles local and long distance moves.
How and when did you start being in the moving business?
I moved here from South America and arrived  NYC on April 24th, 1997 after being in the army. The next day I joined a group of people who were working as movers. I slept in trucks for two weeks and eventually learned the business. I worked as a mover, dispatcher, loading supervisor and now run my own moving company. 
What sort of clients are most challenging? 
It might seem counterintuitive but small clients are more challenging than bigger ones oftentimes. Big clients tend to be people who do thorough research before hiring a service by reading online reviews, getting referrals from brokers or friends and understanding not just price, but level of service.  
Sometimes smaller clients only care about price and not the level of service. So they care more about getting what seems like a good deal based on financials alone. 
The easiest?
Clients who understand that after they did comprehensive research, they can relax and let you do your job and deliver what you promised. 
What's the strangest thing you've ever had to pack up?
A long time ago I had to move a 10 to 15 ft. snake aquarium. We had to crate it and hoist it to the penthouse using cranes. We liked that challenge. Thankfully, the snake was in the bathtub; the client handled that. 
What's the weirdest experience you've had?
 9/11 – The company opened just two months before and on that day we had a move and it took three hours to go from 34th Street to Times Square because of everything being in chaos.  Another stressful experience is doing a move for a couple that was getting divorced and we found ourselves in the middle of the situation and fighting over the box and a piece of furniture. Divorcing clients are a big challenge. 
Describe the hardest move you ever handled.
Our longest move was six days long. We had to move a 35- room mansion of stuff to our warehouse. We shut down the company and had to use all our manpower—seven trucks back and forth for 24 hours for days. And that's after all the time it took us to pack it all up; our movers slept there overnight to do it in shifts. It was the nicest mansion in Connecticut I ever saw. The former multimillionaire who had owned it lost everything he had so he had to store all his nice expensive items in our facility. This was a special deal at $28,000! 
What are the three most common reasons a job takes longer than predicted?
Elevators breaking or delayed are always an issue especially because you have to share the service elevators with supers and delivery companies. Also in many cases clients say they have the unit packed and when we arrive it isn't finished. Parking in Manhattan can be horrible. We need to double park and can never find a meter. We may have to move the truck around the building many times.  Lastly, weather can also affect our timing. After a snowfall everything is wet and dirty and there may be piles of snow we need to make paths through to access the truck in the middle of the street. Also when it is icy it is dangerous and can slow you down substantially. Even rain is hazardous and we need to make sure the items are covered not just in blankets but also in waterproof shrink wrap.
What's considered a decent tip at the end of the job?  What's the best tip you ever got?
 A decent tip is 15-20% of the whole move. Six thousand dollars for that big move was the biggest tip ever!  But, once, I had a small two-man job moving a woman from a small apartment to a penthouse in Manhattan. She sat on the couch drinking champagne and eating grapes. She tipped each man $500 on a $1,200 move!  
Do you expect clients to buy you lunch?
 No. It's nice if they do—many do--but we expect nothing in terms of food.
Are you worried about bed bugs?
No, I'm not worried. I'm aware and we take measures to prevent this. The basic things we do are keeping our trucks and blankets very clean. We wrap sofas and mattresses in plastic shrink wrap and separate them from other items. Also, we bring a company in periodically to check trucks for eggs. We get a certificate of clearance from pest control. If we have clients who specifically request that they can also pay separately for their own inspection and then their truck is sealed and dedicated just to their move. 
Are moving jobs in Manhattan different from jobs in other boroughs? 
Yes, for a few reasons: The main reason is clients in Manhattan tend do thorough research and do not focus only on the financial part but more so on reputation and service. They care about the Better Business Bureau and Department of Transportation. Also, in Manhattan it is difficult to deal with building restrictions. Parking is a nightmare.
Also, anything above three flights of stairs can be very hard and there are so many walkups in Manhattan. Still, it is about technique and not power. We are used to walkups. Sometimes, in fact, stairs are easier than elevator buildings. In some old high-end buildings on Park Avenue and CPW there are stairs you must go down to reach the service elevator after which you have to deal with the restrictions on elevator usage. 
Related posts:
How to negotiate with a NYC mover
Making your move (at least a little) less hellish
Unpakt: Find the best movers at the best price, sign contracts you can understand, and manage your whole move online (Sponsored) 
3 moving scams you should know about-- and 10 ways to avoid getting duped
Bedbugged! I finally get the moving thing right
Goodbye, Rental Rookie: Moving day and lessons of starting anew
A step toward bedbug-free moving trucks
Brick Underground articles occasionally include the expertise of, or information about, advertising partners when relevant to the story. We will never promote an advertiser's product without making the relationship clear to our readers.