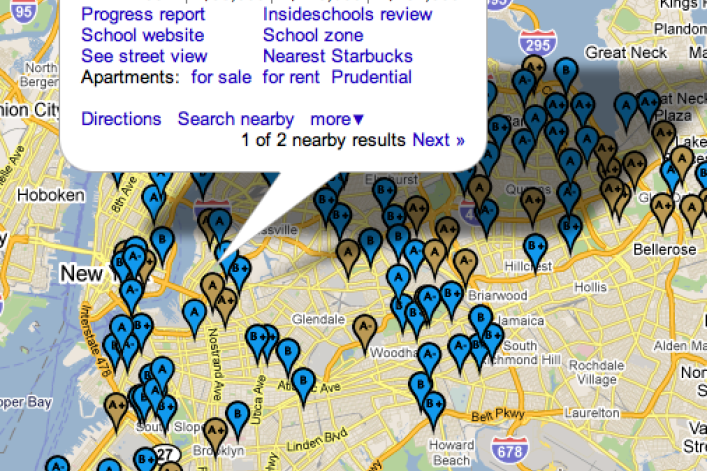 If you're a parent looking to combine a semi-affordable apartment with a good, free education for your elementary-age kids, you might find a whole slew of options you didn't know you had on SchoolFisher.com, a new apartment search and school rating site that launched this weekend.
Advancing the notion that "many public schools in affordable neighborhoods are actually better than those in Manhattan's toniest neighborhoods," SchoolFisher.com evaluates, rates and geolocates 200 quality NYC elementary schools, then enables one-click searching of nearby apartments by maximum rent or listing price.  
(Note the word "nearby." The apartments share the same zipcode as the school at hand but aren't necessarily zoned for it. For now, you still need to cross reference each listing against a school zone map, a link to which appears in the pop-up window that appears when you click the pushpin marking a school's location.)
School ratings, which are explained in detail, are based primarily on standardized tests as a "practical way of getting a rough estimate" of an institution's quality.  Each school gets an A or B grade (Schoolfisher.com did not bother to include lower-performing schools) and the ones that offer "best value"—the highest performance in relationship to the cost of area housing—are colored in gold. 
"I believe in 'school choice,' meaning that parents having options is a good thing and that competition is a good thing," SchoolFisher.com's founder, Eric J. Grannis, told us.  
Grannis, who works full-time as a commercial litigator, has been a founding board member of three charter schools--Girls Prep NY, Girls Prep Bronx and Bronx Prep--and runs a pro bono law practice in charter schools. So it's no surprise that SchoolFisher is heavy on this growing class of schools--defined as public schools run by private citizens who obtain a charter from the government, where admission is by lottery with preference given to the charter institution's community school district.
SchoolFisher also offers lots of links, to the city Department of Education, theCharter School Center, Catholic schools, Gifted and Talented schools and to a site on which visitors can find the school for which a particular apartment is zoned.
"I did not do this primarily for the money," says Grannis, who has no web experience and hopes to generate enough traffic to interest real estate brokers in advertising, or attract a capital infusion to keep improving the site and cover costs.
His primary motivation is philanthropic:  "I want to help parents make intelligent choices," he says. "I believe better choices by parents will lead to better schools."
Related posts:
BuyFolio takes on StreetEasy with new listings database
Brick Underground articles occasionally include the expertise of, or information about, advertising partners when relevant to the story. We will never promote an advertiser's product without making the relationship clear to our readers.