Auburndale is a Queens neighborhood known for its signature Tudor-style houses and small-scale character that often resembles the suburbs more than the city. But it is also in a mass transit desert for commuters. That's because the subway doesn't extend this far east, and there is no express bus service to Manhattan from this eastern Queens neighborhood.
It does, however, have a Long Island Railroad station. In May, the city slashed the price for 10 LIRR stations in Queens and Brooklyn neighborhoods that are considered transportation deserts, cutting the price of a peak, one-way ticket from $10.25 to $5 in an effort to encourage ridership on the commuter line. But Auburndale was not included among the pilot program.
So if your job or school requires you to commute to Manhattan, this apartment, 203-6 43rd Ave., #161B, is likely not a good fit. If you're Queens based, then you might be in luck. This newly renovated two-bedroom, one bath is listed for $2,285 with one month free and no broker's fee. The rent here is less than the $2,300 median for a two bedroom in the borough, according to StreetEasy.
While the square footage is not included in the listing, the rooms appear good sized. The floors have been redone and the kitchen has custom cherry cabinets and stainless steel appliances, including a dishwasher. Pets are allowed, there's laundry in the 27-unit building and a two-year lease is an option. Is all of that enough to convince you to live this far out in the fringes of the city?
As always when weighing New York City apartment listings, we turn to our Take It Or Leave It experts: Constantine Valhouli, founder of real estate research and analytics firm NeighborhoodX, and freelance writer Lambeth Hochwald, and myself.
But first, here are more pictures of the apartment and building.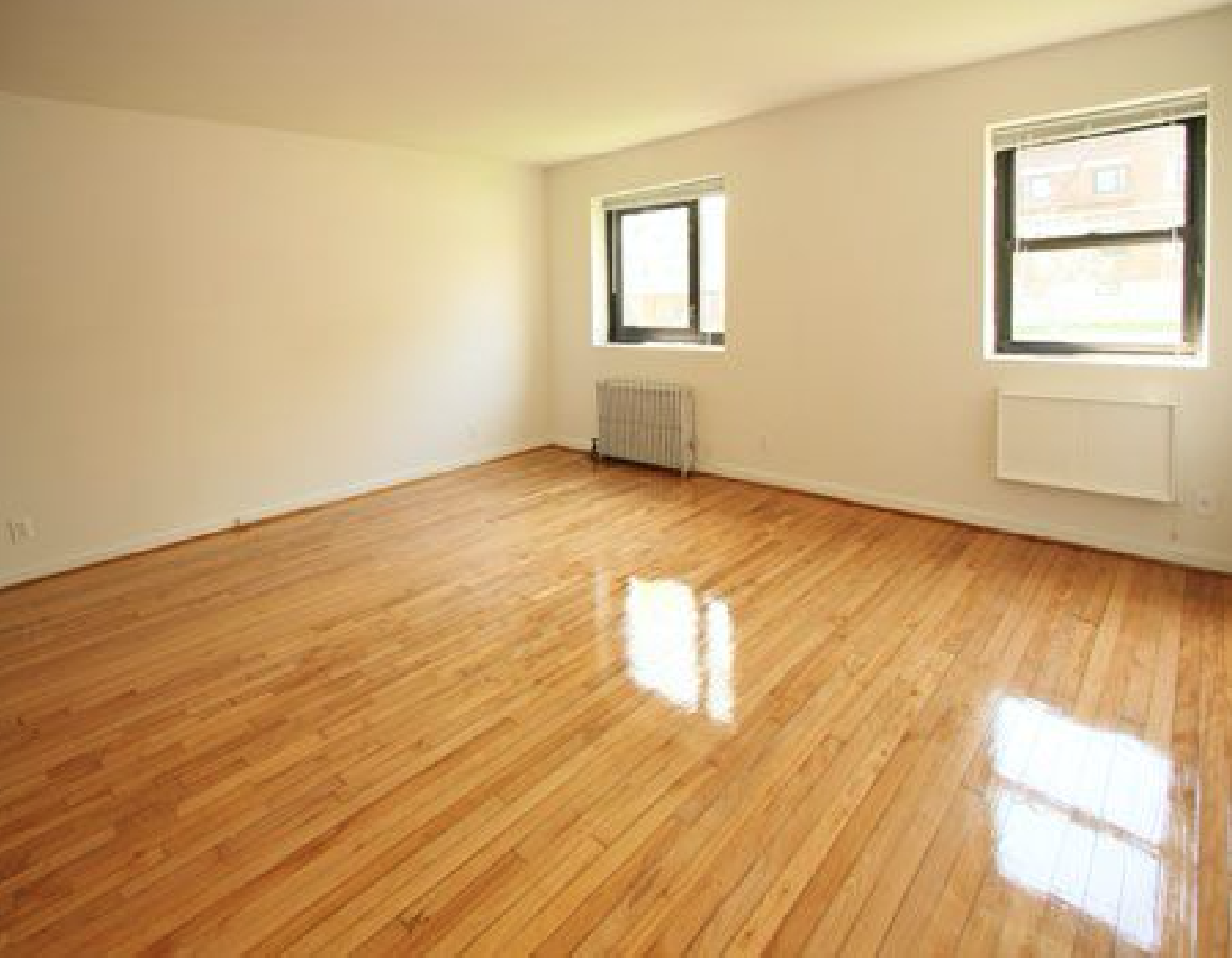 Pros and cons
"The best thing I can say about this place is that it's priced well for a couple or two friends willing to share one bathroom. Unfortunately, my first reaction to this Auburndale apartment is 'blah.' It just doesn't have enough pizzazz to recommend it." —Lambeth Hochwald
"New York City is many delightful things: A city of immigrants, of innovation, and above all of public transit. But we tend to forget that the city keeps going, after the subway ends. (With apologies to Shel Silverstein, my NYC-themed kids book is going to be 'Where the Subway Ends'). In the old days, the cartographers simply marked these unexplored places with "Here there be dragons" and called it a day. " —Constantine Valhouli 
"The rooms appear spacious and I like how both the kitchen and bath have windows. It's a handsome brick building on leafy green block, across the street from suburban-style houses. It has a peaceful, quiet appeal, but it may be too quiet for some." —Jennifer White Karp
Whom it's perfect for 
"This might be like finding a needle in a haystack but I'd say this apartment is just right for reverse commuters working on Long Island who aren't quite ready to say ta-ta to the five boroughs." —Hochwald
"Dragons. Or cartographers." —Valhouli
"Someone ready looking to get a lot more apartment for their money than they can in Manhattan or parts of Brooklyn." —White Karp
Take it or leave it
LEAVE IT. "Especially if don't have a car." —Hochwald
TAKE IT. "But only if you have a reason to be in outer Queens. But if one's work and social life is centered in Manhattan, the cost savings of the apartment may be offset by the expenses of needing a car (and the drunk Lyft rides home, party people)."—Valhouli
TAKE IT. "If you've got a job that allows you to work from home and use the second bedroom for your office." —White Karp