The Brooklyn neighborhood of Kensington is touted for its good schools as well as for its quiet, family-friendly, and more affordable vibe. Brick Underground writer Mimi O'Connor made the move here and details what she appreciates about the area in "6 reasons I decided to buy in Kensington, Brooklyn."
It's not as quaint or as charming as the neighborhood to the east, Ditmas Park, or have as many as hip destinations as Windsor Terrace and Park Slope to the north, but as she says, "it's practical as hell, and I have room to breathe. I love it."
Of course, renting is a great way to test out a neighborhood before you buy, and here's a good-looking two-bedroom, one-bath rental, 581 Ocean Parkway, #5. It is available for $2,400 with no broker's fee. And yes, it is on the far southern edge of Kensington, close to Midwood. That puts you in a predominately Orthodox Jewish neighborhood, with many yeshivas and synagogues, and also close to places like Pomegranate, a massive kosher grocery store at 1507 Coney Island Ave. It's also not far from Ditmas Park's great strip of coffeeshops, bars, and restaurants on Cortelyou Road.
The apartment has hardwood floors, a lot of light, and a modern kitchen and bathroom. The building offers access to the roof and has bike storage, parking, a gym, lounge, and laundry room. It is about a third of mile from the F train at 18th Avenue. The B and Q trains are also nearby at Newkirk Plaza. 
As always when weighing New York City apartment listings, we turn to our Take It Or Leave It experts: myself (filling in for senior editor Nathan Tempey), Constantine Valhouli, founder of real estate research and analytics firm NeighborhoodX, and freelance writer Lambeth Hochwald.
But first, here are more pictures of the apartment, as well as the common spaces. (Note: There are several apartments available at this building, all with the same photos in the listings.)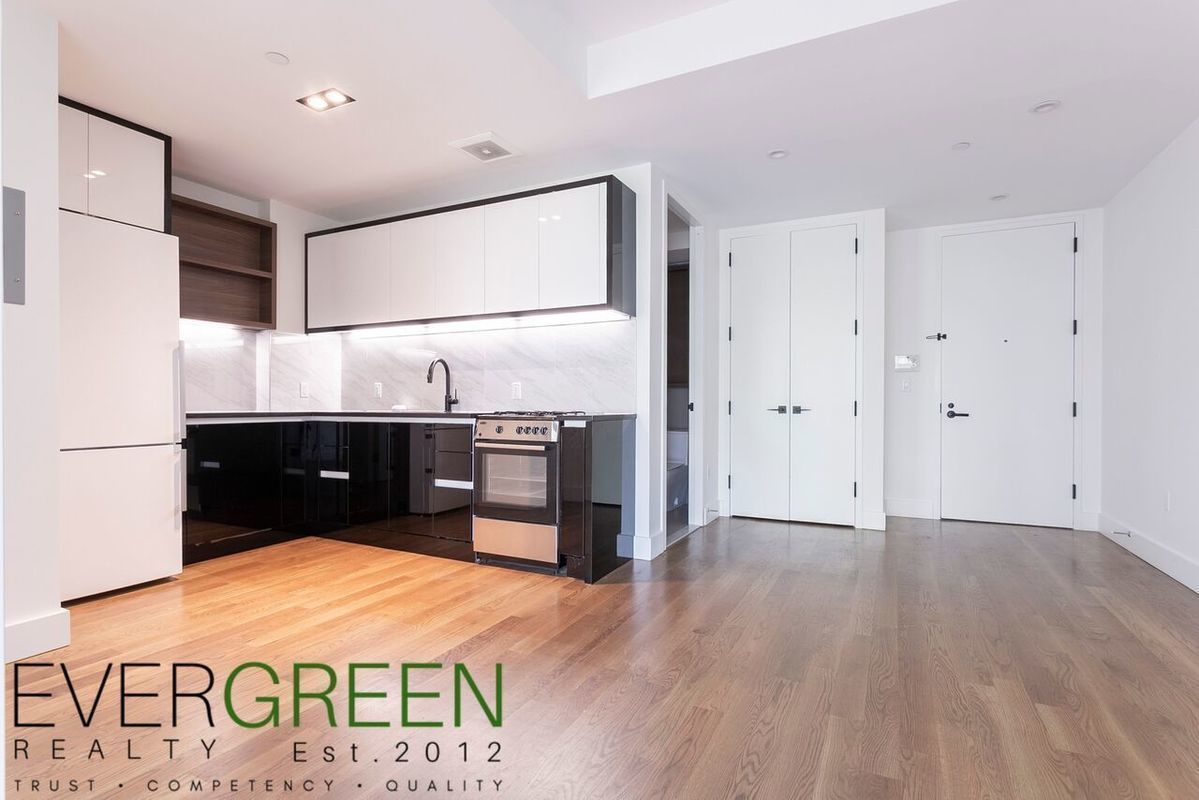 Pros and cons
"I'd move into this two bed that feels more like a boutique hotel than a run-of-the-mill rental right away if it wasn't for two things: that darn one bath and the schlep factor to Midtown." –Lambeth Hochwald
"It looks like a thoughtful design, with a number of unexpected touches throughout. The overall effect is quite welcoming and serene. But it is worth noting that while this is in Brooklyn, it is not in the Brooklyn of the popular imagination, but rather deeper into the traditional enclaves of the borough. As a result, the neighborhood has a different rhythm than the lively neighborhoods closer to downtown, but this may be a plus for some folks looking for a quieter place." —Constantine Valhouli 
"The apartment seems spacious, bright, and clean, and the central air is a big plus, especially for a rental. But this is a very long commute if you work in Manhattan." —Jennifer White Karp
Whom it's perfect for 
"A stylish couple ready to make the Brooklyn jump but not quite ready to give up Manhattan amenities—did you see that pool table? —Hochwald
"It's also $1,200 per roommate for a two bedroom. Which is quite bonkers for an apartment of this quality. Although one will probably be spending a bit on cabs for nightlife in other neighborhoods." —Valhouli
"Someone who works in Brooklyn (or from home) and wants to be near their family. One of the bedrooms, with its wall of windows, would make a great home office." —White Karp
Take it or leave it
TAKE IT. "But be prepared to fend for yourself on the weekends as most places are closed on Shabbat." —Hochwald
TAKE IT. "It is a beautiful part of Brooklyn with excellent restaurants." —Valhouli
TAKE IT. "Enjoy the amenities and the more peaceful pace in this part of the city." —White Karp