Applications have just opened for 49 affordable rentals at 280 Ashland, the latest part of Downtown Brooklyn luxury rental complex The Ashland, per a new listing posted on NYC Housing Connect.
The building next door at 300 Ashland was recently in the news for offering Tavi Gevinson a free or discounted rental in the building, in exchange for promotion on her social media feeds. The building is also home to brand new food hall Gotham Market, and amenities include a "hospitality station," fitness room, community lounge, conservatory, roof  terrace, and for extra fees, storage space (including for bikes), a laundry room, and access to Ollie, a service that provides events and other amenities for tenants in luxury buildings around the city.
The affordable rentals are geared towards renters making up to 80 percent or 130 percent of the area median income, with prices as low as $886/month, and all the way up to $2,715/month, depending on apartment size, family size, and household income. See the full list of prices, sizes, and income requirements below (click to enlarge):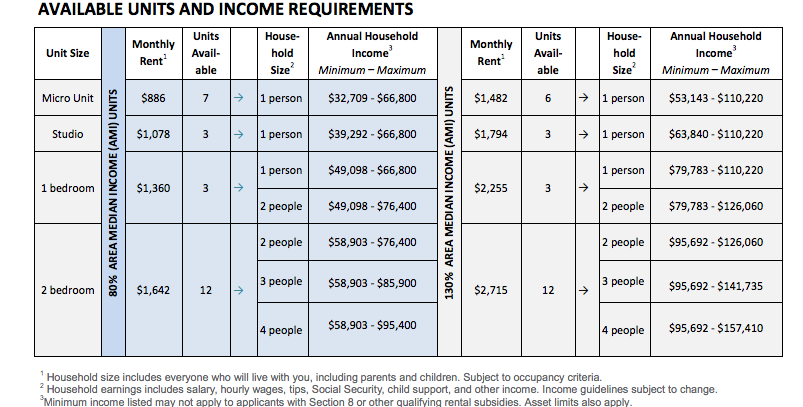 If you're interested and think you may qualify, you can create a profile and apply online via NYC Housing Connect, or request a paper application by mailing a self-addressed envelope to Fifth Avenue Committee - 621 Degraw Street, Brooklyn, NY 11217. (Don't send in multiple applications, or you could be disqualified.) The deadline to apply is August 11th.
Note: Brick Underground is in no way affiliated with New York City's Department of Housing Preservation and Development or the Housing Development Corporation. If you are interested in applying to this or other affordable housing developments, please go to the NYC Housing Connect website for information and instructions.