This $425,000 Greenwich Village studio at 24 Fifth Avenue  has a lot of good things going for it, says architect Alan Berman of Archetype Design Studio in NYC. "The windows look great. The built-ins in the closet look great. And while a lot of people don't like parquet flooring—because it can look cheap—it actually looks great here," he says noting that the large parquet tiles were very much the style in the 1920s when this prewar co-op was constructed.
Yet while the unit has a number of pluses, it has a few minuses too—most notably, the kitchen. "It's enclosed. It's small. It's not very functional as it is now," says Berman, mentioning that it looks like the apartment had once been a hotel room and someone just plopped the kitchen down in the middle of it as an afterthought when it went co-op. (Indeed, the 15-story building opened its doors in 1926 as the Fifth Avenue Hotel before being converted to tenant ownership later on.)
Here's what Berman would do to make that kitchen a little more practical, as well as how he'd fix up the rest of the place. His recommendations: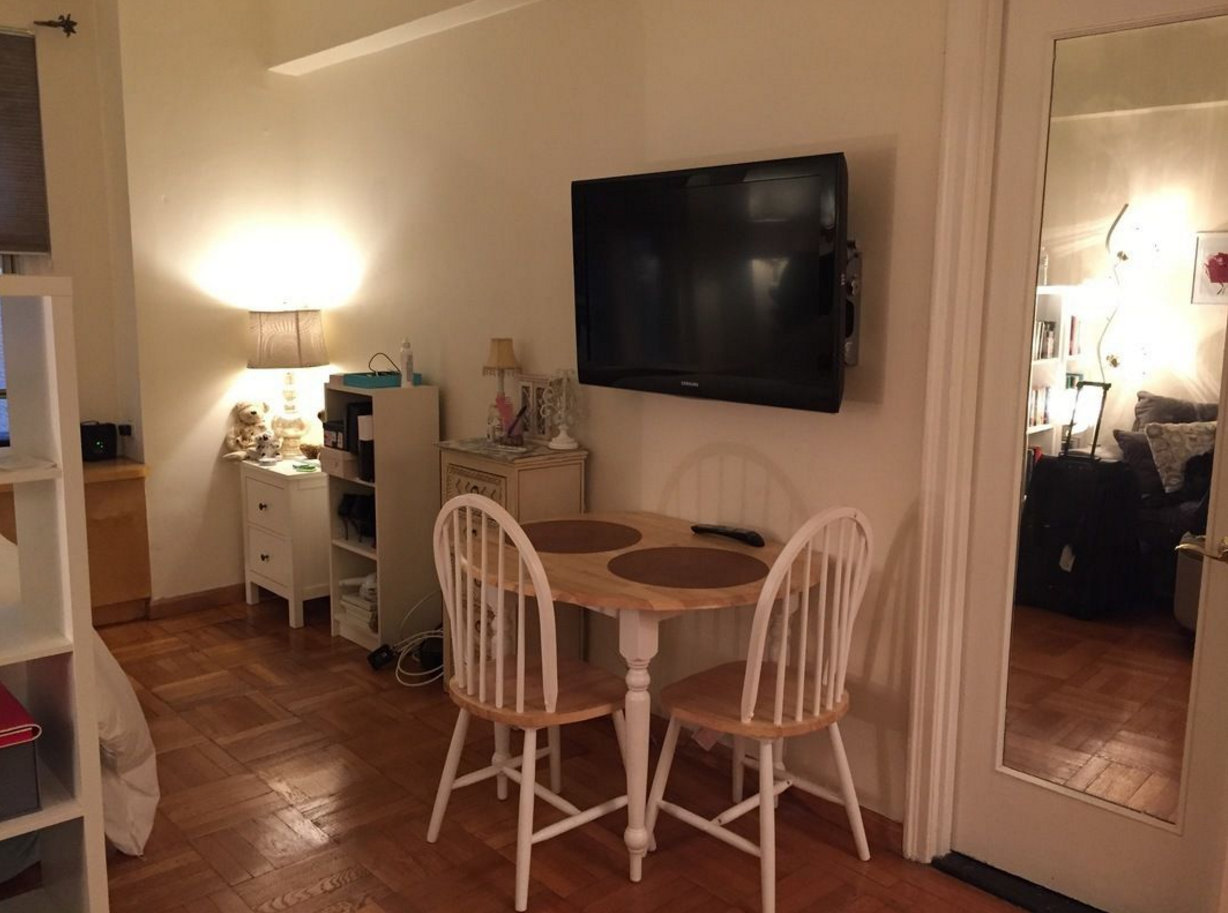 The living room/dining room/bedroom
To Berman, the room (pictured here and in the main photo) looks extremely busy as it is now. "It's tight and tiny. I'd get claustrophobic in a space like this," he says.
As such, he'd start by decluttering. He'd get rid of the "IKEA bookshelf" separating the bed from the rest of the room and instead opt for a pullout couch centered against the wall. "You'd even have room for an end table on the side," he says. Such a configuration would also allow for the addition of a lounge chair or two, as well as a "light, airy, movable coffee table" that you can easily push out of the way before pulling the couch out for the night.
Berman acknowledges that the pullout couch route might not work for everyone—especially folks who just want to get into a regular bed without having to do the work required of unmaking and remaking a sofa bed every day and night. For those people, Berman suggests a less bulky separation between the sleep area and the remainder of the room. "A company called 3form makes custom panels that'll take up only two inches of space," he says, instead of the many feet that the current bookcase takes up. "They're sort of transparent, so light goes through them, and you can still have a separation."
He'd lose the multiple table lamps strewn throughout the area since they add to the disorderly vibe, opting instead for wall sconces or track lighting, which will be on the wall or ceiling—not the floor—thereby lessening the clutter.
Overhead lighting might be a problem here, though. Berman believes the ceiling is probably made of concrete—as is the case in most older buildings—and the co-op board probably wouldn't want you chipping into the ceiling to add any lighting since "they're scared you are going to affect the structure of the building." Therefore, sconces are probably your best bet. "Sconces save space," he says simply. As for whether you should go modern or antique, Berman says that that all depends on your personal taste.
Next, he'd pull out the built-in shelf and cabinets along the window because they, too, take up too much space. Once they're gone, he'd also "chop into the masonry of the wall and do a through-wall air-conditioner," instead of the window unit that's currently there. "It's less bulky," he says. "And you'll get to actually open your window." 
After that, he'd discard everything along the wall with the television—the nightstand, the small bookcase, the tiny bureau, the TV itself and even the two-seater table and chairs, and replace them all with a single full-height wall unit that has drawers, an area for hanging clothes, as well as a niche for that TV.
Once the decluttering has been attended to, you can focus on the rest of the room. "The window has a bow to it," he says. "But there's currently a flat window treatment." He'd inset them into the window molding for a cleaner, more polished look. He'd also trash the iron drape holders that are currently unused and stand at both ends of the windows. And while he likes the woven material of the three-panel window treatments that are there at the moment, wooden blinds would also make him happy.
Berman is fine with the parquet flooring, which he deems in decent shape, but doesn't love the reddish hue of the current color, which was all the rage in the 1920s. Depending on what you prefer, he'd recommend staining it either a lighter blond or a darker oak.
He'd lose the base moldings, which he calls "old and kind of cheap looking." The existing moldings are about 2 to 3 inches, but he'd prefer 4 to 5-inch moldings made of pine. "These will look rich," he says. He recommends painting them, as well as the rest of the unit's trim, with White Dove, which he describes as "white with a tiny drop of beige to it." Berman says that the color has "a tinge of warmth" in it and said warmth will transfer to the space.
As for wall color, Berman would steer clear of white here, noting that "white is a great backdrop for a room if the room has a lot of interesting and/or colorful furniture. Like in a museum. Walls are kept white to show off the exhibits. However, if one's furniture is tacky, uninspiring or not colorful, the room can look drab. One easy way to fight the drabness is to add a warm, soft color to the walls." He'd recommend a pale gray or a pale beige here, instead. Both, he says, "will bring more life" to the space. He'd also paint the ceiling white. "Ceilings are usually white to make them feel taller and more open," says Berman. "Dark ceilings tend to 'bring down' the feeling of height in the room." 
The prewar unit also has a variety of beams of different heights, as well as a column, and Berman says that it can be confusing trying to discern which should be the color of the walls and which should match the ceiling "since there's no natural break between the ceiling and the wall." Berman says he'd paint the column and lower beams the same color as the walls. He'd then match the color of the higher beam to the ceiling.  
Berman thinks that the closet door is "cakey-looking," so he advises stripping it down to the metal door frame. He'd then put a clear coat on the frame and paint the door itself to match the base moldings. He'd also replace the possibly old lever handle with a new knob. In addition, he'd strip the front door down to the metal and clear coat it. "It'll be sort of retro-looking."  
Price: This West Elm Queen-sized sleeper sofa costs between $3,099 and $3,399. 3form custom panels can cost $3,000 to $5,000, says Berman. These wall sconces from Lightology are $395 each. These Neoclassical sconces from Olde Good Things are $1,250 for a pair. Berman believes that demo and adding a through-wall A/C will be around $3,500. Berman thinks you can get a custom-ish wall unit at Room & Board for $3,000 to $4,000. If you keep the existing blinds, they're free. Prices for these wooden blinds from Home Depot start at $99. A gallon of Benjamin Moore Gray Owl paint is $79.99 on Amazon.com. White Benjamin Moore paint for the ceiling is $69.99. A gallon of White Dove is also $69.99. Stripping down the doors can be around $1,000. This antique brass doorknob is $11.97 at Home Depot. Labor, including ripping out the built-ins, will, of course, be more.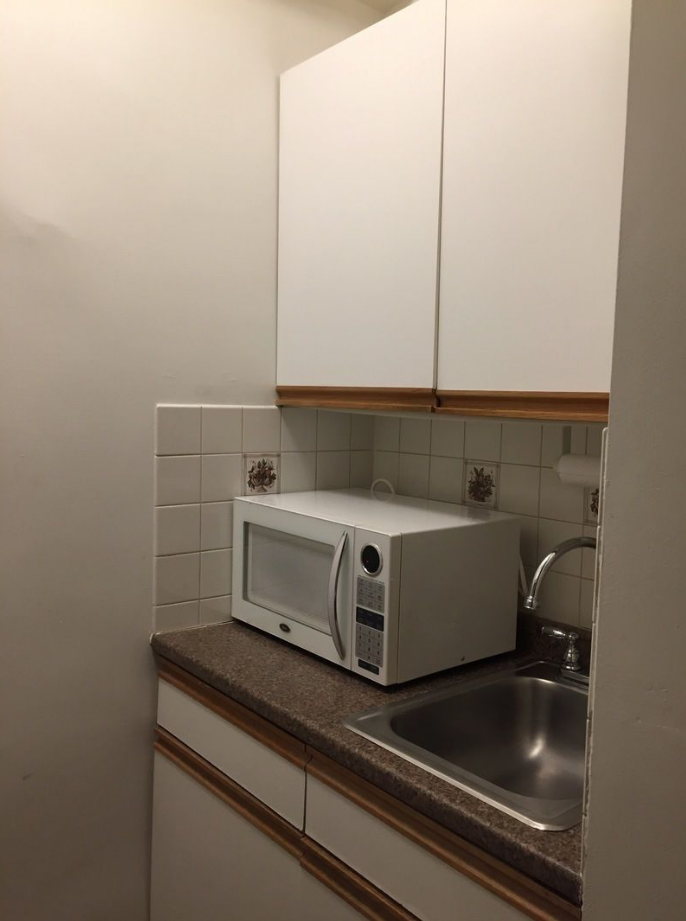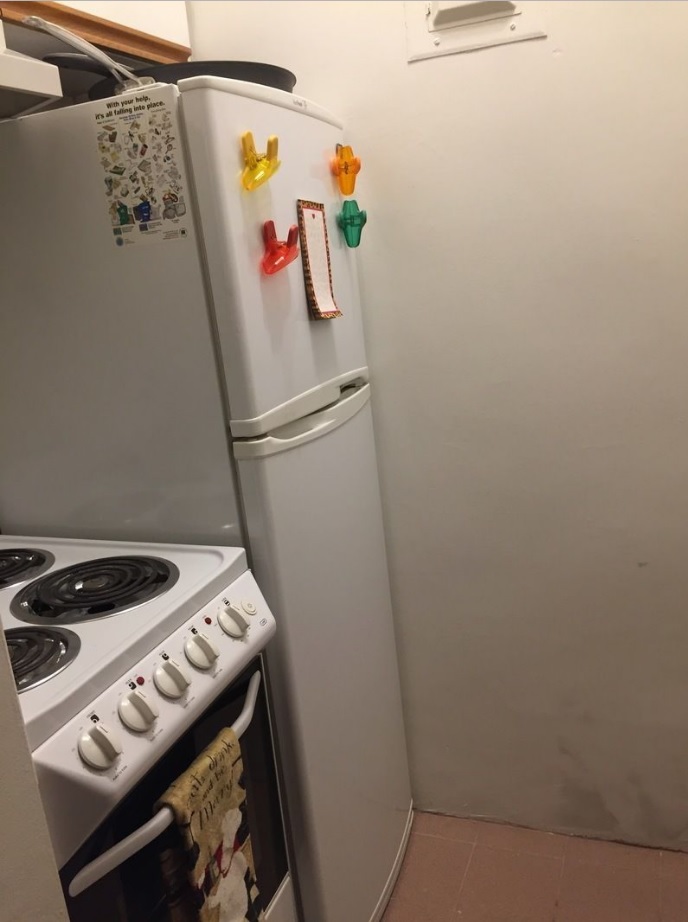 Kitchen
The first thing Berman would do here is knock out the wall at the end of the kitchen, make it into an L-shape, and extend it into the living area in order to make it larger and more functional, as well as give you a little bit more cabinet and counter space.
He'd trash the current cabinets and instead opt for double-height ones that will give you more storage and look a little more modern (or traditional, if that's what you're into). If you're on a strict budget, IKEA cabinets will be the way to go. If you can spare a little more, Berman likes StarMark or Medallion as they're still relatively affordable, but of a higher quality. He'd also add under-cabinet lights.
For the countertops, he'd go with Quartz or Caesarstone because "they require no maintenance whatsoever," he says. As for the backsplash, Berman would either match the countertops and simply go up the walls or go for something smaller. "Maybe porcelain tiles," he says, because they're easy to clean.
Next, he'd "extend the wood flooring from the living room into the kitchen and match up the original parquet," he says, "to make it feel like it flows into the kitchen."
But it isn't as simple as it sounds, he says, explaining that kitchens usually have four inches of fireproof concrete beneath a wood sub-floor, on top of which your chosen flooring will sit. So you (or more likely, your contractor) will have to chip into that concrete in order to put in your new parquet. Berman recommends sanding and staining the floor in the entire apartment so that it all matches up. So if you went blond or dark in the living room, do the same here.
After that, he recommends getting a new undermount sink, a new faucet, a new microwave (which he'd put above the stove, instead of its current post on the counter), a new slide-in oven and a new counter-depth fridge. With the new space created by the L-shape, Berman would also add a dishwasher.
Price: Berman says you can get new IKEA cabinets for around $3,000. Cabinets from StarMark or Medallion should be more, in the $6,000 to $8,000 range. Under-cabinet lights, like these from IKEA, are about $40 to $50 per light. The countertops should be around $2,500 or so, says Berman. Porcelain tiles for the backsplash could be around $1,000 to $1,500. Installation will be more. "It'd probably cost a few thousand dollars to chip into the floors, then $500-$700 for new parquet flooring," says Berman. Sanding, staining and installing the parquet floor should be around $5,000, says Berman. This stainless steel undermount sink is $150.09 at The Home Depot. This Grohe kitchen faucet is $471.88. This 24-inch counter-depth fridge is $1,309 at AJMadison. This 24-inch gas range is $980. This over-the-range microwave  is $249 at Home Depot. This Fisher & Paykel dishwasher is $1,299 at AJMadison. Labor, including knocking down that wall in the kitchen, will add on to these costs.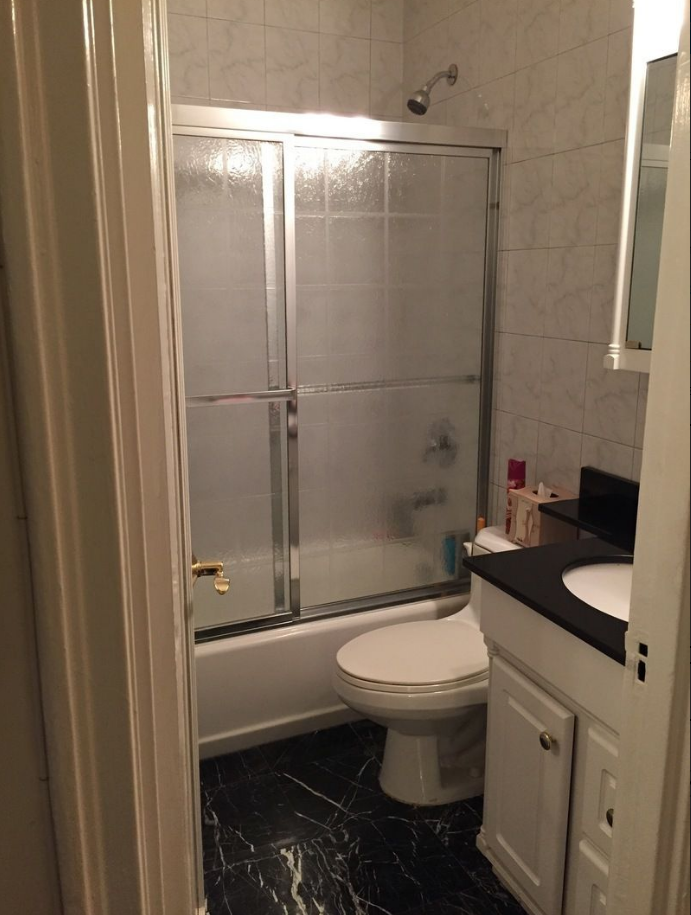 Bathroom
Short answer: Berman would gut the entire room. He'd get rid of the current toilet, which is elongated and takes up too much space, and instead get a round or wall-hung toilet. He'd also choose a more contemporary vanity with lots of storage space and a new medicine cabinet. He'd get a new tub, a new showerhead and bathtub faucet and new glass panel doors.
Next, he'd get new lighting for the space. He'd go with both overhead lighting and a vanity light on top of the mirror in order to maximize the illumination in the room. "That way you'll have two types of lights shining on your face while you put on makeup," says Berman, making you less likely to screw up your eyeliner.
As for the tile, he'd go with ceramic, porcelain or marble—one type for the floor and one type for the wall. He'd also get a new doorknob to match the one on the closet in the living room so that there's a uniformity to the unit.
Price:
This round Toto toilet is $182.31 at Home Depot. This vanity is $299, also at Home Depot. This Robern medicine cabinet is $1,899. This overhead light for the bathroom is $650 at YLighting.com. This vanity light is $241.50 at Lightology. Berman thinks the tile could run you $1,500 to $3,000 or more. This tub is $325.65 at Home Depot. This Moen tub and shower faucet set is $176.14 at Amazon. This clear glass panel for the shower is $394.49 at Lowe's. This antique brass doorknob is $11.97 at Home Depot. Labor will add to these prices.