Whether you love them or hate them, bikes have been at the center of quite a few city-wide controversies over the past few years, and despite our collective move toward embracing two-wheeled transportation options (even developers have caught on, making bike rooms de rigeur in new buildings), one key neighborhood battle still rages on: the years-long legal dog fight over the Propsect Park West bike lane. 
Right on the heels of former Transportation Commissioner Janette Sadik-Kahn's declaration that "the bike wars are over, and the bikes won," Gothamist reported yesterday that hearings have resumed over the lawsuit, in which Neighbors for Better Bike Lanes and Seniors for Safety claim that the city put in the bike lanes without proper research and review (this, in spite of its extensive cooperation with the local community board), falsely touted the lanes as a "pilot program" when in fact they were always intended to be permanent, and that the lanes are both unsafe and an eyesore. (If you want an entire afternoon's worth of reading, Gothamist has extensive archival coverage of the controversy going back to its inception in 2010, and Park Slope Neighbors is diligently tweeting updates from the hearings.)
Prospect Park West #bikenyc lane lawsuit goes back into court on Monday. Meanwhile... pic.twitter.com/xJ6EWnBsX3

— Brooklyn Spoke (@BrooklynSpoke) March 12, 2016
The anti-bike lane crowd does have some high-profile advocates on its side, though, most notably former Brooklyn Borough President Marty Markowitz, who brought out his oft-repeated line on the subject, "New York City is not Amsterdam, it never will be Amsterdam, and that's all there is to it." (This, in spite of all the high flying examples of European bike-sharing success stories that were trotted out in the initial push to make Citi Bike a reality.) One local anti-bike-lane advocate Norman Steisel told Gothamist, "[The conflict] got characterized as a pro-bike versus an anti-bike struggle, and that's just not true." Rather, he says, the lane could have been better designed to prevent congestion and crashes, and that the city should have been more transparent in their plans.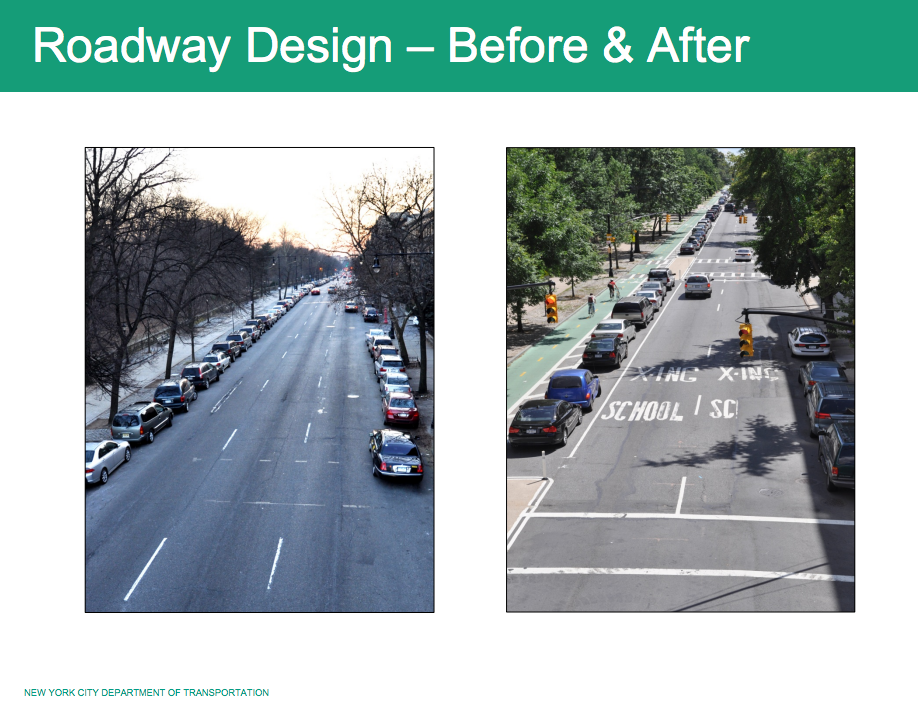 However, the safety benefits of the new bike lane are pretty hard to deny, and quietly make a good case for added bike lanes in any neighborhood. (The more designated room bikes have on the road, ideally, the less likely they are to run red lights, ride the wrong way, and crash into the pedestrians on the sidewalk, after all.) Though crashes are up slightly over the last year or two, the Department of Transportation data collected after the bike lane's addition showed speeding, injuries, and accidents dramatically decreased after the lane's addition.