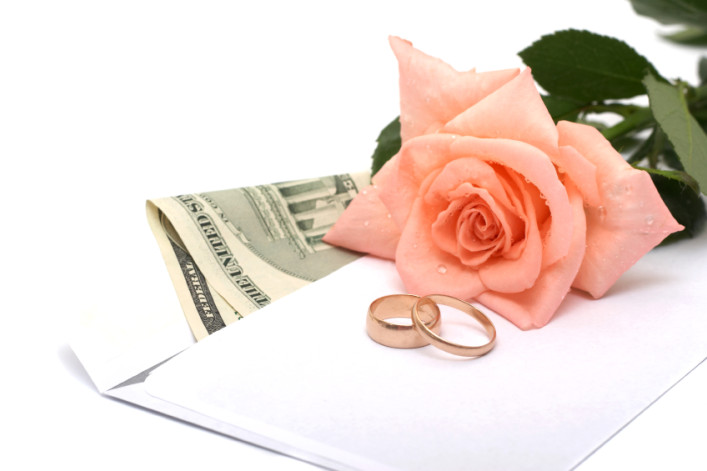 In the not-too-distant past, the de facto way to go about a wedding registry was grab a scanner in the home goods section of a department store and go to town, stockpiling theoretical decor as if the home goods apocalypse was nigh. 

But in recent years New Yorkers—and indeed, couples around the country—have bucked that tradition, no longer in need of such domestic goods once they get hitched. "More and more couples are living together before they get married and have a lot of home goods. [They] would rather focus their wedding gifts on remodeling, or have the cash," Ivy Jacobson, associate editor for TheKnot.com, tells us. Or, given that the average Manhattan apartment now runs $1.87 million, even a down payment. Here's where wedding gifting sites come in, many that deal in money matters. 

But before you make the big ask, tread lightly: Wedding experts like Jacobson tend to agree that it's ill-mannered to ask for cash outright, and there are other minefields here, as well. "You should never put it on your wedding website or on your invitation," she says. Instead, use word of mouth to spread the message that you're hoping to buy a home, giving information to your parents and members of the wedding party to pass along discreetly. 

Still, don't exclude older guests who may not understand how to use a computer or get to your online wedding registry. "You should always set up a traditional registry, too," Jacobson says. "It doesn't have to have a ton of things on it, but it gives older and less tech-savvy guests a choice." And it goes without saying, of course, that it's important to make clear none of this gift-giving, online or off, is mandatory.
We've broken down four popular sites that help you politely ask wedding guests for cash, but do so in a way that won't upset your great auntie Muriel. 
THE SITE: Envelope
WHAT IT IS: Cash-for-experiences site
THE STORY: Co-founder Simon Baldwin says he thought up Envelope when he himself was getting married. "My wife and I had everything we needed for our home, so a traditional department store registry seemed unnecessary," he tells us. But the new couple had other needs. "We wanted to find a nice way to ask our guests contribute to a honeymoon in Europe," he continued, noting that it would be in poor form to ask for envelopes stuffed with cash. So Baldwin recruited one of his groomsmen, Tom Holt, to create a cash-giving website, and Envelope was born. "We're seeing people asking for things like funding visa applications and language lessons—a long way from the traditional gifts like blenders and toasters. Life is much more complex and diverse, and weddings are conversely much more personal and honest."
WHAT IT OFFERS: Couples can "register" for anything that can be assigned a cash value—gas money, wine tastings, and, of course, down payments for apartments and homes. The company collects the money and sends it to you.
WHAT IT CHARGES: Envelope takes a 6 percent fee—usually around half is a credit card transaction fee while the rest is commission for site use.


THE SITE: Zola
WHAT IT IS: Online wedding registry, curation site, honeymoon, home and experience funds
THE STORY: Zola was founded by several members of the flash sale site Gilt Groupe after they were disappointed with the options available to their soon-to-be-married friends.  Thinking them too impersonal, co-founders Kevin Ryan, Shan-Lyn Ma and Nobu Nakaguchi decided to create a site that let the couple choose what items and experiences they wanted without having to use multiple sites.
WHAT IT OFFERS: The easy-to-use site helps you pick out traditional wedding registry items like pots, pans, and picture frames (even from third-party sites), but also lets the couple register for experiences—or really, anything that requires cash—including honeymoon and home funds.
WHAT IT CHARGES: Zola claims to have the lowest fee (2.7 percent credit card processing fee) compared to other cash-as-gift sites.
THE SITE:  Feather the Nest
WHAT IT IS: Registry that funds home improvements and down payments
THE STORY: The idea behind Feather the Nest is simple—appliances simply don't gain equity over time like home improvement does. So, the best gift you could get a new couple is something that appreciates
WHAT IT OFFERS: Group gifting for big-ticket items like apartment down payments; smaller gifting options for home improvement projects
WHAT IT CHARGES: Feather the Nest charges a 5 percent transaction fee on the cash gift


THE SITE: Tendr
WHAT IT IS: Cash-giving site that lets you ask for down payment, honeymoon fund, charity gift, or anything else
THE STORY: Like many wedding gift websites, Tendr was founded after a group of recently-married couples started talking about the awkwardness of registries and how cash was always the most useful gift but the hardest to ask for.
WHAT IT OFFERS: Guests select one of several customized e-cards and can personalize a note —and an amount—to the couple (kind of like Paperless Post, but with money). Guests pick however much they want to give, but there's no way to crowdsource big-ticket items like down payments, which is a distinct negative.  Still, a generous guest could mention on the card that a cash gift is meant for, say, a kitchen remodeling, but there is no way to measure what has been fulfilled already and what hasn't.
WHAT IT CHARGES: Gift-givers (not recipients) pay a 2.7 percent fee plus a dollar for credit card processing and Tendr fees.
Related:
Getting past the down payment problem—probably your biggest hurdle to buying an apartment
The 3-percent-down-mortgage you've never heard of that's available in NYC
Buy Curious: I'm coming up short on a down payment. Will I ever be a homeowner?
Brick Underground articles occasionally include the expertise of, or information about, advertising partners when relevant to the story. We will never promote an advertiser's product without making the relationship clear to our readers.