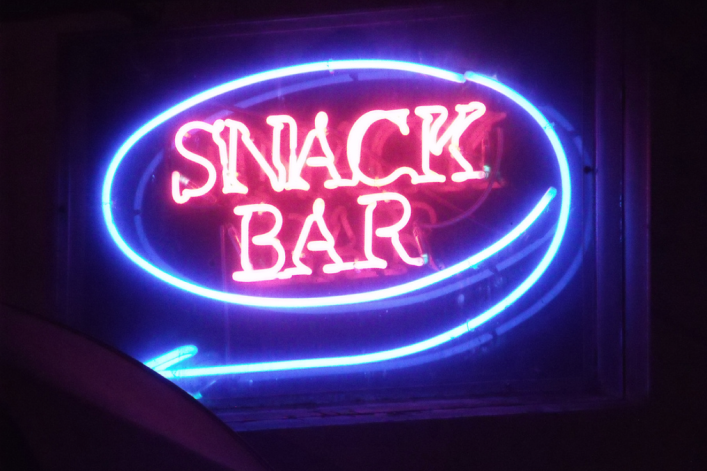 Let's be real: You can get treats anywhere in this city. And yet, snack delivery boxes are all the rage, perhaps because they appeal to our need for variety and make life even easier by coming to us by mail instead of us having to scout out a diverse collection of munchies from different corners of the five boroughs. But which one is the better deal, or the better selection? And are they worth the trouble at all?
Price: A sample box is free (plus $2 shipping), and then for $19.95 per month, you get a box of five full-sized snack bags (just remember to cancel if you don't want them to come anymore or they'll keep charging you, and sending them until you do).
The lowdown: Nature Box is all about wholesome snacks—no artificial sweetners, flavors or colors. The bags are amply sized: 4 to 6 ounces apiece, so they should get you through several rounds of snacking (but not a month). Oh, and you could share too, we guess.
The experience: Once you sign up for Nature Box, you fill your pantry with snacks that appeal to you (there are 100 to choose from, separated by categories like "dried fruit, chews," "fan faves," and "new this month"). We went with asiago and cheddar cheese crisps, a berry nut mix, a couple of granolas and toasted sesame sticks. We were a little underwhelmed (and under-excited) by the selection when were browsing (ie. there seemed to be a lot of flavored nuts), but in reality everything tasted yummy when it arrived.
Bottom line: When my 4 p.m. munchy time hit, it was nice to have something new and different on hand, but some of the snacks seemed pretty fattening (the sesame sticks have 11 grams of fat per serving, like chips!). Like all of these food services, the nicest thing is not having to think at all about what to buy/eat ahead of time, and we'd imagine that this service would be particularly helpful  in neighborhoods where healthy snacks are hard to come by. For us, though, it wasn't something we'd rush to do again. We kind of like picking out our own snacks at the supermarket.
Number of stars (out of 5): * * *
Tasteful Pantry
Price: A monthly box of five to eight items is $21.99/month. A "double box," with two of each selection, is $38.99/month. A one-time tester box ($23.99) is available, too.
The lowdown: Having discovered that gluten- and dairy-free foods helped with her persistent digestive discomfort, Tasteful Pantry founder Jennifer Wang set about finding healthy foods that satisfied her dietary restrictions without sacrificing taste. Her allergen- (gluten, dairy, soy, nut) free and vegan finds are available with monthly subscription boxes for delivery throughout the U.S. via Tasteful Pantry. Favorite snacks can then be ordered in bulk through the site's online shop. Subscriptions can be canceled or paused at any time.
The experience: A mystery box of almost anything delivered monthly to one's door is a thrill in and of itself and our tester's so-called "one-time box," which arrived within five days of ordering didn't disappoint on that level. Conforming to a number of dietary restrictions (vegan, gluten-, dairy- and soy-free), it included six snacks — Vigilant East Superfood Cereal, a bag of Purely Elizabeth granola, two bags of Snack Out Loud Crunchy Bean Snack, a bag of Onion Sea Tangle Crunch and Beanfields Bean Rice Chips — wrapped in a simple cardboard box lined with eco-chic brown paper packing material and included a handwritten note addressed to the receiver. All but one of the treats were new brands to our tester, so the freshness factor was high. Six single-serving snacks don't go far and almost all were consumed over the course of a single five-hour road trip.
Of course, the point of the subscription is not to provide consumers with enough snacks to last a month, but rather a sampling of new nibbles to then order in bulk. Of the six, the Crunchy Bean Snack was the favorite for it's tangy, salty crunchiness. It was, admittedly, addictive (two bags were consumed back to back) but didn't necessarily inspire our tester to order an additional box of eight for $15.92, plus shipping and tax, especially with the abundance of health food stores stocking similar (if identical) product locally.
Bottom line: For people with dietary restrictions who enjoy the experience of trying new treats, Tasteful Pantry is a fun way to expand one's snacking horizons. That said, you can probably do equally well shopping the snack aisles of Whole Foods—though without the fun and excitement that comes from a monthly gift- box to oneself.
Rating: * * *
Price: $12/month on a month-to-month plan for the regular box; $20/month for the larger "deka box." (You can get slight discounts for each if you sign up for a six-month or 12-month plan.)
The lowdown: Billed as "a taste of Japan at your doorstep," Skoshbox is essentially just that: a monthly assortment of sweet and savory Japanese snack foods, with a card explaining what each item is. (This is helpful, as much of the packaging for the snacks themselves is entirely in Japanese.) The box is available anywhere in the U.S. Territories and Canada.
The experience: One of our editors, a Japanese snack food aficionado, has been getting this one of her own accord for nearly a year. While not every item is a winner, for $12 a month, it's a low stakes way to try out new international munchies. While you can buy anything you tried and liked through the Skoshbox store, in a city as international as New York, it's pretty easy to seek out these products on your own, too, which works for and against the service. It's a great way to try a variety of Japanese treats without having to scavenge for them, but it does beg the question: Why bother if you can get them in this city pretty handily? (To be fair, this critique applies to the rest of the boxes, too.)
Bottom line: If you're reasonably adventurous, and like to experience the junk food of other cultures, this is a fun, low-cost option.
Number of stars (out of 5): * * * *
 
Price: $7.99/month for a tasting box; $16.50/month for a deluxe box; $19.99/month for a gluten free box (there are also pricier options available geared towards offices and large groups).
The lowdown: Love with food sends out a sampling of all-natural and organic snacks, and with every box it sells, donates a meal to a food bank. You earn points with each box you buy, which can be applied to buy full-sized versions of your favorite snacks in their online store.
The experience: Delicious, though a bit of a tease—while we loved every snack we tried, for those of us who live in neighborhoods without ultra-stocked grocery stores, it's not too likely we'll encounter any of these treats again (unless we go the extra mile and order them online). That said, the all-natural nature of the items—plus Love With Food's donation policies—made us feel downright good about our excess late-night snacking.
Bottom line: A wonderful, affordable way to discover healthy(ish) treats, and a particularly good option if you've got kids.
Number of stars (out of 5): * * * * *
 
Price: $39 per box if you pay every two months; $35 if you pay every six months; and $198 for a year's supply.
The lowdown: A snack kit perfect for the armchair traveler, Try the World introduces recipients to the "taste" of one particular country, packing each individual box, sent every two months to subscribers, with everything from teas and spices to jams and marinades, and biscuits and cookies. Along with the edibles, you also receive a booklet about the country itself, and a placard that explains every item included.
The experience: Though this may sound a little superficial, one of the best things about Try the World is its packaging, a sturdy, elegant, lidded box in a shade that resembles Tiffany blue (only a little green). Opening it feels like unboxing an expensive gift. The treats inside are packaged with such care they do feel like small presents—in the Paris box, the fleur de sel (a specialty salt) came in such a charming container we almost can't bear to open it. The biscuit, though only enough to sate one person's snack attack, was delicious. The marinade that came with the Argentina box we have yet to sample, but we're looking forward to it. And the placards are a charming touch. All in all, a chic kit that also makes us feel adventurous and continental. That said, $39.95 is spendy, even for these little luxuries. We're certain we can amass the same collection of treats, an easier than usual feat in a city like ours, for less, so it feels like we're paying more for the convenience than the actual contents. 
Bottom line: Fun to try but we're not sure how long we'd want to stick with it at that price.
Number of stars (out of 5): * * *
 
Price: $6.99 for a four-snack variety box; $11.99 a box to be delivered at a pace of your own choosing (weekly, every two weeks or every four weeks). You can also order a sharing box, which has five bags (aka 20 portions) of treats for $25.
The lowdown: Graze allows you to rank about 100 different types of snacks — some conforming to calorie counts — to come up with a decent selection that appeal to you so they can customize your box to your liking.
The experience: We feel much more virtuous snacking on berries and granola — which seem to be the base for many of Graze's treats — than chomping on our usual potato chips and cheese puffs. Not that the service doesn't have goodies that'll sate a serious sweet tooth (try the chocolate pecan pie, sort of like a deconstructed version of the original). Most everything we rated as possibilities for our deliveries were appealing — we opted for the eight-variety box, and tried it three times — though none really struck us as must-have-nows. Plus, they came in such a small container that we were left wanting when we did happen upon something truly delicious. 
Bottom line: The box looks so appealing when it arrives you won't be able to wait to tear into one of the items. It's great for portion control (if you really like something, you must stop at one serving because you don't get more of the same in a box) and perfect for packing school lunches (unless the school's nut-free), but all in all we were neither overwhelmed nor underwhelmed. Just whelmed.
Number of stars (out of 5): * * *
Related:
Brick Underground articles occasionally include the expertise of, or information about, advertising partners when relevant to the story. We will never promote an advertiser's product without making the relationship clear to our readers.