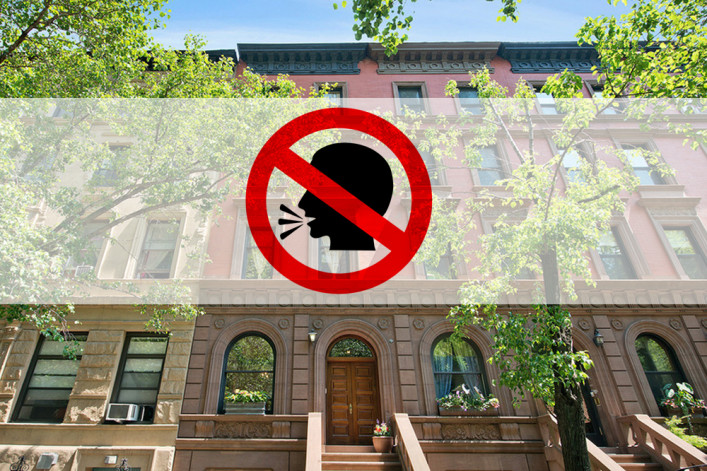 Q: I bought an apartment in a brownstone in Brooklyn Heights, only to discover the walls are paper thin. Forget footsteps--I hear the neighbors having sex, dogs barking, babies crying and everything in between.
Was it the seller's obligation to disclose this issue? Do I have any legal recourse against them?
A: The best way to answer your question is with a Latin phrase: caveat emptor, or buyer beware. In New York City apartment sales, it's the buyer who assumes the risks of the purchase, including the potential for noise transmission, our experts say. 
Here's why: the New York Property Condition Disclosure Act, a state law that requires sellers to disclose all of a house's defects before a sale, specifically excludes condos and co-ops from its definition of residential property, notes real estate attorney Jeffrey Reich of Wolf Haldenstein Adler Freeman & Herz. 
"This is likely due to the fact that individual cooperators and condominium unit owners do not control the common areas and systems of the buildings in which they live," he says. "Thus, they may not have the information necessary to provide the disclosure required by the act nor the ability to address many of the property conditions discussed in the property disclosure form."
In practice, that means buyers have to do their own inspections and due diligence when purchasing apartments, he says.
"In the contract of sale you acknowledge that you have made a thorough inspection of the unit and are familiar with its condition and agree to accept the present 'as is' condition," says real estate broker Shirley Hackel of Warburg Realty. "Before you sign the contract, you have an obligation to inspect the premises thoroughly and even hire an engineer to investigate."
A "diligent" broker may have noticed the problem and tried to negotiate a better deal, including soundproofing, she says. "A smart attorney could also protect you by including a clause in the contract rider that asks the seller to represent he/she is not aware of a laundry list of items, including but not limited to noise, leaks, vermin, bed bugs, odors and vibrations," which would put the onus on the seller to come clean about any issues, she adds. 
Lastly, there is one exception to the "buyer beware" rule, and that's if you can prove the seller committed fraud. Did he or she specifically tell you something about noise transmission that turned out to be a lie?
"If the seller made any false or misleading statements about the walls or the lack of soundproofing, that would be fraud and you could sue," Hackel says. 
Still, it would be tough to prove, says real estate appraiser Jonathan Miller of Miller Samuel. "If the problem is inferior construction/soundproofing then chances are this possible defect is pervasive throughout the building and therefore already somewhat baked into the prices units are selling for."
Related posts:
Room for Improvement: Wishing for a quieter apartment, a bathroom that doesn't rain, and more
Ask an Expert: Does our co-op's 80% carpet rule apply to the renters upstairs?
Is your neighbor driving you nuts--or worse? Here's what to do
Rent Coach: Can I get out of my lease because of noise problems?
---
Trouble at home? Get your NYC apartment-dweller questions answered by an expert! Send us your questions.
See all Ask an Expert.
Brick Underground articles occasionally include the expertise of, or information about, advertising partners when relevant to the story. We will never promote an advertiser's product without making the relationship clear to our readers.