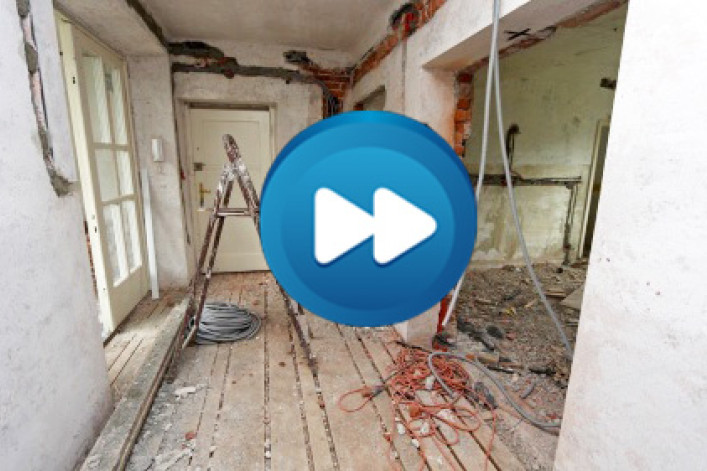 The Expediter is one of the more mysterious characters involved in a New York City renovation.

This is the person who collects anywhere from $2,000-3,000, plus miscellaneous fees, to get city permits and signoffs on non-cosmetic work like moving the bathtub to another location or tearing down a wall.

"While in theory anyone can file a job with the Department of Buildings and get the paperwork produced and okayed, it has turned into such a bureaucratic, Kafka-esque nightmare that an entire industry of expediters has been spawned to walk these applications through," says Manhattan architect David Katz.

So what, exactly, does an expediter do?

To some degree, expediters also act as code consultants. Architects usually keep up with major code issues rather than the constantly shifting minutiae. So the first thing an expediter does is review your plans before they're submitted to the city to make sure they conform to the latest building department memos and ever-changing building laws.
Next, the expediter produces a slew of official forms and checklists that need to be signed by the architect, engineers and building ownership, and the expediter makes sure they get signed.  

Yee Yip, who has worked as an expediter in Manhattan for 15 years, says she spends an average of two hours a day waiting in line.

"I know what forms you need, and if you don't have them you're going to be sent to the back of the line and another week will go by," she says.
Once the expediter files the plans, it usually takes a plan examiner about 3-4 weeks to approve them, or not.  If there are objections, your expediter, not your architect, meets with the examiner and shepherds the project through another round of approvals.

At the end of the job, the expediter gathers the paperwork together for the final sign-off, which officially closes out the job with the department of buildings.
Do expediters pay bribes?

Lots of people assume there is a shady aspect to this profession — after all, "expediter" admittedly sounds a lot like a mob handle,  a la The Enforcer—but the contractors, architects and expediters we spoke to say otherwise.

"Expediters don't pay people in the Buildings Department—they know people. They develop relationships like any other business," says Manhattan contractor Jeff Streich.

Yip confirms that first names are the currency of choice when it comes to getting things done.

"The Buildings' Department is extremely intolerant of gifts and money," she says.

Does everyone use an expediter?

Pretty much, yes.

"I've had a couple of clients who've tried it and severely regretted it," says Katz.   "You can end up spending weeks going back and forth through the Buildings Department.  Considering the frustration and wasted time, two thousand dollars is really a drop in the bucket.

How do you find a good one?

Expediters are usually referred by architects and sometimes by contractors.  

Here's how to assess a potential expediter's expertise:
Ask them about the time frame and the steps involved.  "If they guarantee a short process with little explanation, be cautious about using them. You want to be sure they are being honest with you about the timeframe and are not just telling you something thye think you want to hear, " says Katz.
Ask if they're aware of recent changes in the Department of Buildings rules and of any recent memos that have come out regarding the type of work you're doing.
Ask how long they've been working as an expediter—you want someone with at least 5 years experience, says Yip.  
Ask about the possible complications: "They should sound knowledgeable about what the usual case is but acknowledge that things can come up—they should have a flexible attitude and not come across as combative," says Yip.
How much will it cost?
The average expediter charges around $2,000 for an apartment renovation, though it can range up to $3,000.

"That doesn't include the signoff procedure," says Katz, "because the expediter often has to spend time tracking down the contractor and tradespeople to complete their paperwork. And if the job needs to be filed with Landmarks, the cost will include an extra charge of a few hundred dollars." 
Katz advises his clients to sign agreements directly with the expediter "if for no other reason than to see the contract and understand what the expediter is charging for."

(Where the client is not directly involved with the expediter, some contractors or architects may mark up  services by 10% or even higher.)

Be warned that if you work directly with the expediter, your may need your architect to act as an interpreter.

"Expediters speak their own expediter lingo," says Katz. "As an example, the last response I got from my expediter went like this: 'Have the engineer responsible for controlled inspections sign the TR1 for the new job.  This will be a new application not a PAA on the ALT 1 job.  The ACP5 you already have will be fine. This is going to be an ALT II.  No need to go through LPC."
Related posts:
Does a powder room have to be handicap-accessible?
Brick Underground articles occasionally include the expertise of, or information about, advertising partners when relevant to the story. We will never promote an advertiser's product without making the relationship clear to our readers.